What next for 'dethroned' ANC boss Mudavadi?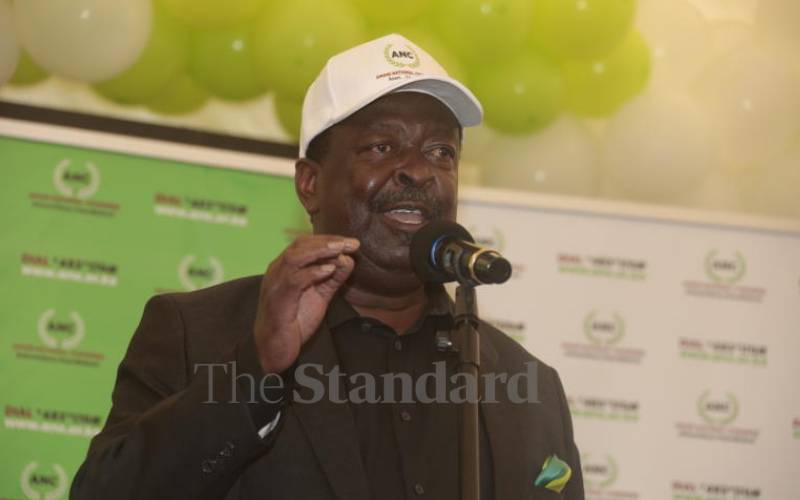 December 31, 2021, marked a turning point in Western Kenya politics.
At Bukhungu Stadium, Kakamega, a majority of Western Kenya leaders held a public meeting in which Raila Odinga was the chief guest.
In Mumias, Kakamega Senator Cleophas Malala held the Cleophas Malala Football tournament that was graced by Deputy President William Ruto.
At both events, Western Kenya political kingpins Musalia Mudavadi and Moses Wetangula were absent.
Until now, Western region has been perceived as Amani National Congress party leader Musalia Mudavadi's political bedroom.
Not anymore.
In Kakamega, Raila received three ANC lawmakers, Lugari MP Ayub Savula, Oku Kaunya (Teso South) who vowed to support the former Prime Minister's presidential bid and nominated MP Geoffrey Osotsi who ditched ANC for ODM. A host of ANC ward representatives also ditched the party in favour of ODM.
However, Savula clarified that he had not defected from ANC, only that he was supporting Azimio la Umoja on principal.
Savula appeared to pour cold water on OKA and singled out Mudavadi as the most indecisive among the alliance's principals.
"We have given them time to name a presidential candidate but they have not done so. Raila is likely to be a one-term president, which means that if Mudavadi joined him, he stands a better chance to inherit the Luo vote after Raila retires. We cannot trust Ruto who is going to get a deputy from Central Kenya," Savula said after the Bukhungu meeting.
"I have talked to Gideon Moi and he supports Azimio la Umoja. Baba told me Kalonzo has been sending emissaries to him. It is only Mudavadi who is undecided."
Political analyst Barrack Muluka says the Bukhungu defections were purely for self-preservation.
"Savula is not sure that he will secure the ANC ticket to contest the Kakamega governorship and since he has been talking ill of Ruto, he decided to join Raila," Muluka said.
What transpired in Mumias where Ruto was is a pointer to possible defections that could add dents not just to ANC, but the OKA armour too.
Mudavadi and Wetangula were missing at an event where they were expected.
While Mudavadi went on vacation in Mombasa, Wetangula held meetings in Kitale with aspirants who want to vie in on Ford- K party tickets.
In what could be an indicator that Mudavadi is gravitating towards Ruto, the DP said, "I come to Western only after receiving permission from Mudavadi."
The inference is clear; that they have been in constant communication.
Earlier, while reacting to whether he was ready to work with Raila or Ruto, Mudavadi said: "Let people not choose friends for others. I will make my decision and nothing is impossible as long as it's constitutional."
"Mudavadi and Wetangula are free to seek coalition agreement with DP Ruto or Raila but our community interests must come first. What we do not want is a scenario where we shall negotiate positions for individuals," Malala said.
In an attempt to draw in Mudavadi, Kericho Senator Aaron Cheruiyot said: "It is not a must for Ruto to be the presidential candidate of the hustler nation, we can discuss and even have Mudavadi as our candidate if he can convince us."
Ruto has invested too much time and resources in UDA and his presidential bid to pass the chance to anybody else. More concisely, the question would be; what is Mudavadi bringing to the table?
Five ANC leaders, Titus Khamala, Alfred Agoi, Cleophas Malala and Beatrice Adagala were present at Mumias as were Jubilee leaders John Walukhe, Benjamin Washiali, Didmus Barasa, Rashid Echesa and UDA vice chair Seth Panyako.
The perception created in Mumias was that these leaders are sympathetic to Ruto and are likely to back his presidential bid once realignments start in earnest.
In fact, Ruto allies from Western seized the opportunity to pile pressure on Mudavadi and Wetangula to consider working with him.
"This is the time our brother Mudavadi and Wetangula should work together with Ruto so that they can form the next government together," said Washiali.
The defection of Kaunya and Osotsi, and Savula's renouncement of his deputy party leadership leave Mudavadi a wounded man.
However, ANC has downplayed the defections. Prof Amukowa Anangwe, ANC Kakamega County Secretary and Mudavadi's chief presidential campaigner said: "The defections have no impact on ANC. ODM should not celebrate. This is a time for political realignments and all parties will be affected in one way or another."
While reaffirming that Mudavadi is still in the presidential race and committed to OKA, Anangwe added, "we will look for new partners. Savula cannot have his cake and eat it too. If he is in ANC, he must support OKA but if he is supporting Azimio la Umoja, he should leave."
Even as he appears to back Mudavadi's presidential bid, many people believe Malala is Ruto's point man in Western and is waiting for the right time to defect, or hand over ANC to Ruto.
In various political rallies held under the OKA umbrella, Malala has been attacking Raila Odinga, but not Ruto who has made more trips to Western Kenya to drum up support for UDA.
"The Bukhungu meeting was designed in a way that was going to humiliate Mudavadi. The defections would have taken place before him had he attended. Malala has been showing signs of joining UDA through his speeches," Muluka says.
Seemingly isolated by the very people who should campaign for him in Western Kenya, can Mudavadi still lay claim to being the Luhya kingpin?
January 2022 video games
Originally known as Tom Clancy's Rainbow Six Quarantine, Extraction is a tactical shooter game, a spin-off of Rainbow Six Siege.