Raila to Musalia: Don't oppose my Sh6,000-for-the-poor plan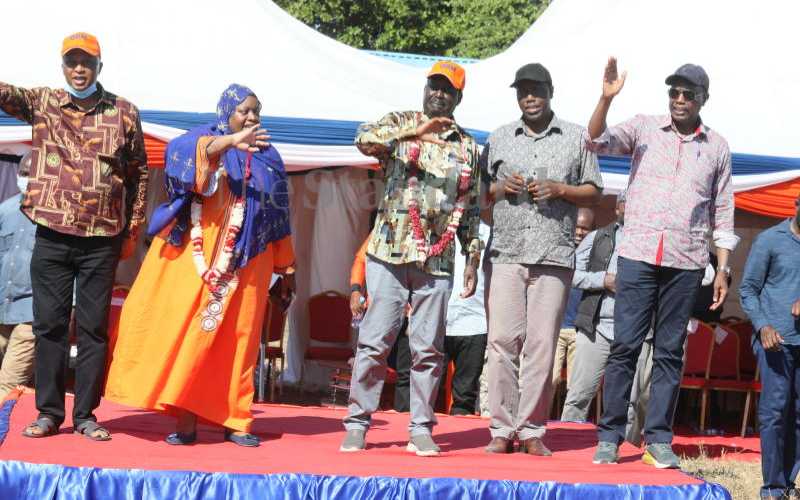 ODM leader Raila Odinga yesterday took a swipe at those opposed to his social protection fund, saying they were beneficiaries of graft which he intends to end once he ascends to power.
Raila took his Azimio La Umoja initiative campaign to Kwale where he defended the programme, saying it will be financed after sealing corruption loopholes.
Raila said he would end cartels that siphon public funds and channel Sh6,000 to each vulnerable household to cushion them against poverty.
"I will launch the Sh6000 social protection fund per household once I win. I will break the corruption cartels and raise enough money to operate this fund," Raila said.
On Sunday, speaking in a church in Nairobi, ANC leader Musalia Mudavadi dismissed Raila's social welfare programme.
"I've heard some politicians promising a social welfare economy model by giving out Sh6,000. My question is; where will they get this money? They are simply lying to voters for the sake of votes. If their programmes were to be implemented, they will force an increase in taxes," said Mudavadi.
Mudavadi added; "Kenyans must be swayed by the content that comes out of the leaders without being bribed, or given fake promises."
Speaking during rallies at Kanana in Lunga Lunga sub-county and Ukunda in Msambweni sub-county, Raila claimed those opposed to his social protection programme were people behind corruption cartels in government who did not want the poor to get assistance from the State.
Raila also took issue with Deputy President William Ruto, claiming he was dishing more money in harambees and rallies than what he earns from his job. "He dishes out more than the Sh2 million per month that he earns. He even carries the money in sacks to churches," he claimed.
Raila said he would tackle land problems facing Coast residents and develop the blue economy, particularly fishing.
Raila wondered why influential people have continued to evict squatters claiming some of them use fake court orders. He said this would end when he ascends to power next year.
"The land problem at the Coast started during the Arab rule and has persisted as many residents remain squatters. This must come to an end. I have a marshal plan to solve the land problems," he said.
"I am aware Coast residents have been victims of historical land injustices for decades now but this will be a thing of the past next year," he added.
Raila also said the Coast has been gifted with a large water mass but the people are poor because the blue economy is yet to be exploited.
He said unlike Namibia where thousands of people are employed in the fish processing, Coast residents remain poor as foreign vessels from Japan and China fish and take away the natural resource.