Ann Kananu: First woman city governor takes charge of weakened office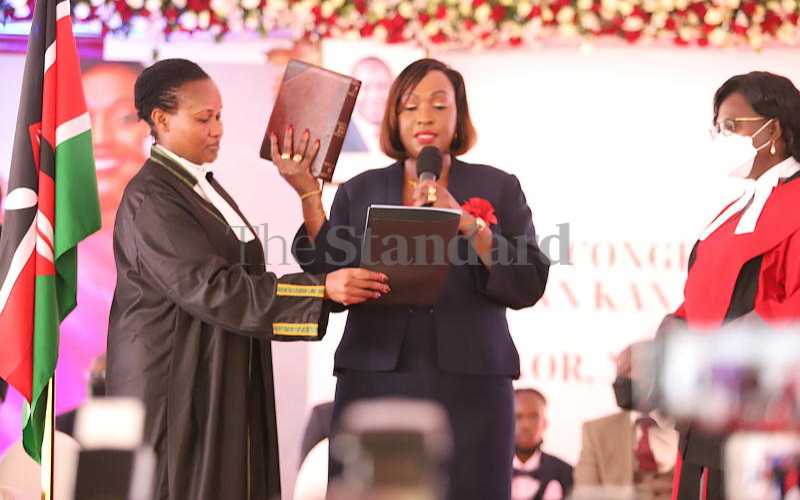 The new Nairobi Governor Ann Kananu takes over an office stripped of its authority and powers.
His predecessor Mike Sonko signed away key functions at the start of last year to render himself lame duck.
In February last year, Sonko surrendered Health, Transport, Public works and Planning and Development Services dockets to the national government.
The functions, which take up 75 per cent of the county's budget, were taken up by the Nairobi Metropolitan Services (NMS) in March last year.
The Lt Gen Mohammed Badi-led entity will run the county until March next year when the deed expires, with discussions for an extension planned for February. She will therefore be at the centre of the controversial debate.
Sonko retained Firefighting Services and Disaster Management, the only roles Kananu took up yesterday.
The new governor finds herself in the same spot as the former governor; a big office but no power. She is in charge of a meagre budget that matches the two functions left in her office.
Perhaps the only difference between the two is that she enjoys cordial relations with the NMS, meaning there won't be friction between the two entities.
Compounding her reign also is that she comes in nine months to the General Election, meaning she may not make much impact.
She may have not declared if she will be vying to retain the seat, but campaigns may take attention away from her official duties.
Lawyer Danstan Omari notes that the new governor still has the power to fire some of the county officials hired by Sonko.
"Her power will be limited to the small tunnel she has been given. She cannot, however, run away from the deed of transfer that Sonko signed. But I foresee her being the greatest puppet of the people who put her there," says Omari.