DP William Ruto rolls up sleeves as succession race hots up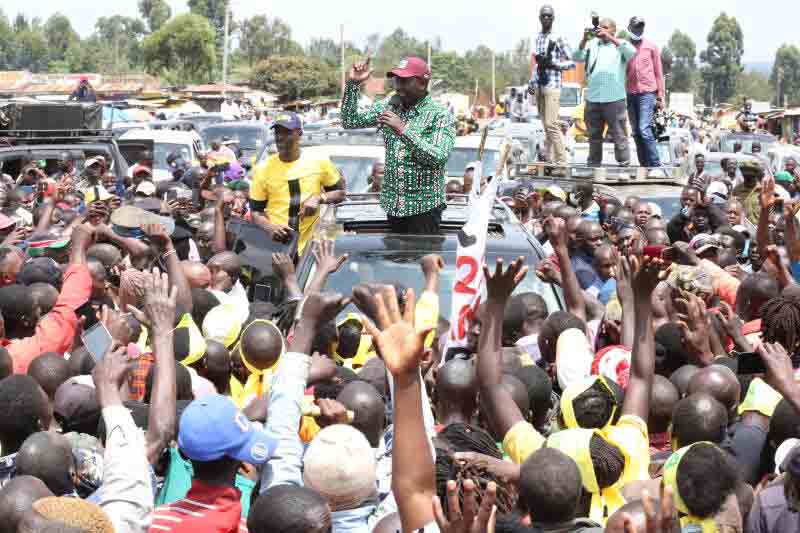 Indefatigable, relentless, hard-hitting. Deputy President William Ruto is leaving nothing to chance in his quest to be president. He has held a series of meetings, in close to 30 counties.
In the last month, Ruto has held 133 meetings in 20 counties in an all-out campaign.
This has not only revealed a man buoyed by the crowds that he has been pulling but also who will stop at nothing to enjoy the trappings of the presidency.
During his visits across the regions, he has met with women, youth, MCAs, the clergy, congregations, school-going children and even the ladies of the night where he has either empowered them by injecting cash into their businesses, commissioned infrastructure or even held consultative meetings on the way forward ahead of the 2022 General Election.
A spot check by The Standard reveals that yesterday alone, Ruto was scheduled to hold seven meetings in Bungoma county. He made stopovers at Naitiri Market,Tongaren market, Kamukuywa and Ndivisi, Matisi, Nalondo market, Ang'urai, Kamolo areas.
On October 3, he held eight meetings in Kiambu and Muranga counties in the Ruiru, Juja Flyover, Ndarasha, Kibichoi, Kigumo, Kwa Maiko, Kirigiti and Witeithie areas. The meetings began as early as 9am and ended at 8pm.
On November 2, he was in Nyamira county where he held meetings in Nyamusi, Magwagwa, Ikonge, Ekerenyo and Kebiringo markets and Itibo Chief's Camp in Bomwagamo. He urged residents to disregard the trickle-down economic model which he said has only served the interests of the privileged minority.
Ruto also held a record 10 meetings on November 1, in Nyamira county where he engaged women, bodaboda operators and youth groups at Rigoma, Magombo, Rekoba, Tombe and Kemare. He also visited Keroka town, Riyabe Mixed Secondary School, Chepilat, Kijauri and Metamaywa.
In October, Ruto visited Makueni thrice, twice in Kiambu and Narok counties.
He has covered all the four counties of Western - Busia, Kakamega, Bungoma and Vihiga, five of the six counties of Coast including Taita Taveta, Kilifi, Mombasa, Kwale and Lamu only leaving out Tana River county.
Notably in most of the trips, apart from Narok and Kajiado, the DP has not had a meeting or tour of his stronghold of Rift Valley.
What is also apparent is the fact that Ruto's campaigns have been costing him an arm and a leg as he has been mobilising these meetings where he has moved to empower a majority if not all of the groups he has been meeting.
Accompanied by his allies, the second in command uses choppers to get to his destinations and a fleet of high powered vehicles to interconnect across the markets and towns within the counties.
On one occasion while visiting Lamu county and sections of the Coast, the DP and his allies used four choppers to navigate the region.
And with seemingly pre-discussed messages to convey to the masses, they hit the ground running where they also use the platforms to lodge scathing attacks at their competitions.
Case in point is on Wednesday when the DP laughed off plans by Jubilee Party to expel him and his allies.
He said the party had already been ruined by the removal of its key figures and maintained that no amount of effort can revive the outfit.
"Those lecturing us about Jubilee are wasting their time. They are the ones who killed it. What are you trying to salvage now?" He posed.
Ruto said it is time those who ruined the party apologised to more than eight million supporters.
"When history is written, the wrecking of the ruling party and its auction to the Opposition will take a defining chapter," he explained.
The DP was speaking in Murang'a and Kiambu counties on Wednesday when he launched various development projects and engaged the public.
Garissa Township MP Aden Duale said that Ruto's heightened campaigns across the country are bearing fruit.
He noted that the campaigns have an impact and that is why many Kenyans are joining UDA.
"Today, UDA is the biggest party in the country in terms of popularity and structures with 155 MPS pledging allegiance to it. We are using these meetings to market our bottom up model and most youth and mama mbogas are buying it. The messaging and narrative is resonating well with Kenyans from all regions," said Duale.
The Garissa Township MP, said politics is about mobilisation and reaching out to voters and they have done enough networking and brainstorming at Ruto's residence in Karen and now is the time to connect with the people.
UDA which has been existence for a few months, Duale said, now has majority MPs in the country because their economic model and unity narrative was in sync with the aspirations of Kenyans.
"In all the 20 counties that Ruto has covered in the last month, thousands of people come to listen to his inspirational message of hope. That is why people are resonating well with his ideologies. I urge our competitors to organise themselves and also work on their messaging so that we can compete on issues.
But Kieni MP Kanini Kega, however, argues that sooner or later the DP will experience burn out for lack of a campaign strategy. He stated that for someone who comes from the community of long-distance runners, Ruto should have known the strategy to win a marathon.
"What he is running is a short race and he will eventually burn out. He is dancing himself lame before the main dance. In Kenyan politics, two to three months is the critical period to sustain a campaign. But we still have eight months and Ruto has already shown all his arsenal before we begin our campaigns with Raila," he said.
"His strategy will work against him. We still have more time to sustain and undo his campaigns. His is a tall order. Like in Central his popularity is going down similar to the Coast region," claimed Kega.
The MP noted that it took Narc two months to win elections, Jubilee six months but Ruto wants to do it in a year.