Kibicho blames politicians for fuelling conflict towards elections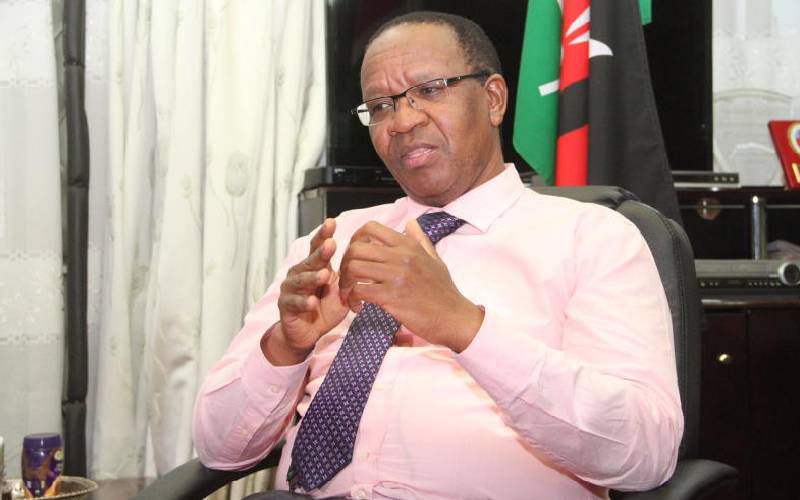 Interior Principal Secretary Karanja Kibicho has blamed politicians for fueling conflicts and divisions among citizens during the electioneering period.
Speaking during a National Cohesion and Integration Commission's (NCIC) symposium dubbed Imani Kwa Amani yesterday, the PS said different government stakeholders have worked for peace, but politicians roll back the efforts during elections.
"Politicians are the problem and they make us waste a lot of time and resources just to make them behave. The peace we enjoy should not be taken for granted," said Dr Kibicho.
"This country, unfortunately, has allowed itself to be tribal. Politicians get some organised criminal gangs who go ahead of them to cause a little trouble. When you talk they cheer and when your opponent speaks, they talk him down," he said.
The PS faulted politicians for using ethnicity to divide Kenyans for their own selfish gain.
"Because we want to incite the environment, we are awakening some inter-ethnic conflicts, even when they don't exist. It seems like we must fire them up so that we can look like the saviours of that situation," said Kibicho.
"We are in a country that almost went into civil war in 2018," he said, citing classified intelligence he received from the Ministry of Interior.
Following a flawed election, its annulment by the Supreme Court and a repeat presidential election boycotted by ODM leader Raila Odinga, there were demonstrations in opposition strongholds and Nairobi.
"We had a section of more than six million Kenyans not happy about anything and they had a right to feel so," said Kibicho.
He said the Handshake between President Uhuru Kenyatta and his political foe turned friend, ODM leader Raila Odinga, was a true testament of statesmanship.
"We must never take this for granted," he added.
NCIC Chairman Samuel Kobia reminded Kenyans that for peace and cohesion, "people should not invest too much in their candidate, but focus more on the institution of governance."
He said the commission has put a lot of focus on social media platforms to curtail hate speech.
"We must remind them there is no leader above the Constitution and that there is hope even after election," said Dr Kobia.
Faith-based institutions also called out the political class, saying their impunity is encouraged by institutions such as Independent Electoral and Boundaries Commission (IEBC) and Ethics and Anti-Corruption Commission (EACC) where individuals with integrity issues are allowed to vie for public office.
"We have seen murderers and corrupt individuals get arrested and released on bail and still continue with their roles in government," said Bishop Emeritus David Oginde.
"We need to see action from the Judiciary. We need to see them act and give you strength. We are getting frustrated as law enforcers because you get someone at the scene of crime, arrest them take them to court and the next day they are released. What are you telling this politician?" posed Kibicho.