Raila and Ruto big winners from western's dominant political leader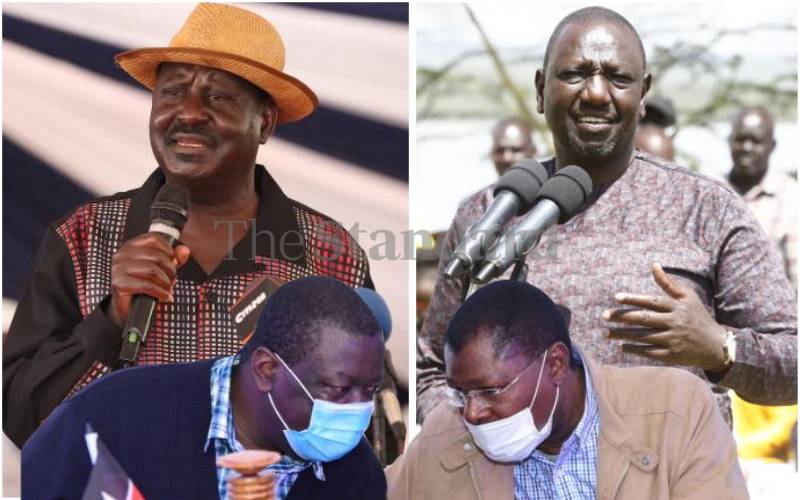 The land of Ingoo is Kenya's sleeping political giant, as the country inches in to next year's election. As in the past three elections, there seems to be no clear sense of purpose, or inspiring leadership to solidify and galvanise the region to take a common course.
It increasingly looks like a deserted boma that belongs to nobody and everybody at the same time. Almost anyone can rip off a fragment and run away with it, at no cost, as Deputy President William Ruto and ODM leader, Raila Odinga have demonstrated time and again.
The region that the Luhya people call Ingoo, or home, is an expansive terrain of rich agricultural lands, and blessed with good rains and big rivers. It runs all the way from Mt Elgon up North to the shores of Lake Victoria in the South. It has a rich mix of the peoples of Kenya, living here as permanent residents, in clearly clustered geographical zones.
In part, it is perhaps this rich diversity, that makes it difficult for Ingoo to find a common social and economic cause, a united political visionary agenda and common path and direction to the cause. As Kenya gravitates towards next year's election, the region seems, more than ever before, lost for focused leadership and visionary agenda.
The populous Luhya nation that constitutes about 15 per cent of Kenya's national population is being looked up to, to provide direction. The searchlight is bearing on ANC's Musalia Mudavadi, Kakamega Governor Wycliffe Oparanya and Ford-Kenya's Moses Wetang'ula. occasionally, it also flashes at Dr Mukhisa Kituyi. As other regions define what they want from next year's general election and the leadership benefits it should bring, Western is lost in the legend of political competition, rudderless and hapless.
Mudavadi and Wetang'ula cozy up to each other in sundry public forums. They proclaim to stand together, but remain two competing continents. Their closeness hardly goes beyond the opportunity to police mark each other, to ensure that the other one does not run away with leadership.
Their proximity has not defined what they stand for, or want for the region. They have failed to develop any compelling visionary agenda with messages that could galvanize the region into massive voter registration and spirited voter turnout, for whatever political formation they should eventually end up in.
Separately, Oparanya has also shown interest in running for President next year. His aspiration is however of a doubtful validity. He concurrently campaigns for Raila, for the same office. Only a few days ago, he urged Raila to find a suitable running mate from Mt Kenya, as one of the sure strategies to victory. The import is that apart from not being a serious presidential contender, Oparanya does not even aspire to be Kenya's number two. In the end, he is hedging for relevance in the post-electoral dispensation.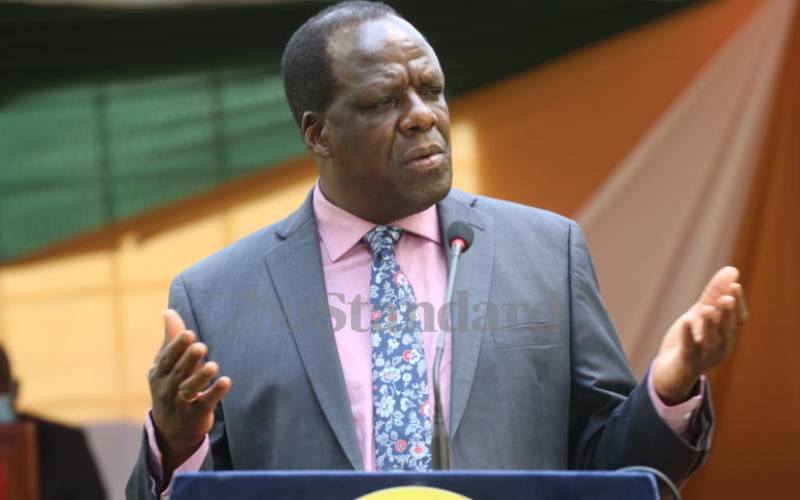 Lessons from Mt Kenya
The other resident communities in this vastly populated region are the Teso, the Sabaot in Mt Elgon; the Kisii in Trans Nzoia, the Luo in Butere, Khwisero, Budalang'i, Butula and Matungu; the Somali in Kakamega and a smattering of other communities in the urban centres. As migrations and settlements go, all these are permanent residents of the Western Kenya's greater Ingoo region that eats into parts of Trans Nzoia and even Uasin Gishu, and Nyanza.
Mt Kenya region has flaunted its electoral numbers and through various formations, taunted individuals who would aspire to the throne to tell them their agenda for the region. Mt Kenya is slowly coming to terms with the reality that it does not seem to have a clear presidential contender in the coming election. It is mitigating by putting forth tough conditions for anyone aspiring for support from the region. They include the position of deputy president and a cocktail of other positions in the National Government, beyond a reasonably defined focus on the national economic agenda.
Ingoo has no such focus, despite the combined numbers closely rivaling those of the Mountain. But apart from a demand catalogue for engagement with the outside, there is no internal catalogue either. The only clear agenda is the vague call for "a Luhya unity" ahead of the elections. It is not clear how it should be achieved, or what it should mean for the other communities in the region. Nor does it point to any clear economic visionary thrust, this despite the fact that Mudavadi frequently talks about the economy as the most important thing to think about in 2022. He is the proverbial porter who eats from a broken piece of earth ware.
Expectations about Mudavadi have been high. In December 2016, the ANC leader was named the Luhya spokesperson through a process that was managed by COTU Secretary General, Francis Atwoli. It was expected that he would rally around him other politicians from the region, and especially those from the Luhya tribe, and go on to define the future political and economic agenda for the region. It is not clear whether beyond naming a spokesperson the Atwoli initiative had any clear agenda, or blueprint towards achieving it. Mudavadi's spokesman's role has, therefore, since fizzled out and few place any premium on it.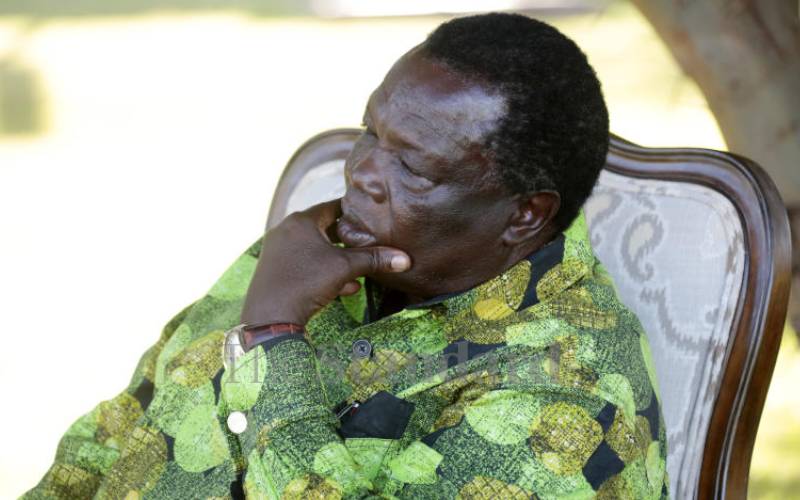 Moreover, even after legislators from the region began trooping and fussing around Mudavadi in 2019, veritably coaxing him to lead them, he failed to muster the killer instinct to seize the moment. Kenyans recall that for about two months in mid 2019, with the exception of a handful of MPs from ODM and ANC rebels – Kakamega Senator Cleophas Malala, his Vihiga counterpart, George Khaniri and Nominated MP, Godfrey Osotsi – virtually all other Western legislators were making political fanfare around Mudavadi. It looked like they had eventually found their political commander-in-chief, to take them to the legendary land of Prester John.
The times are remembered for political rallies that began everywhere in the region, causing panic in high circles elsewhere, and attracting disruption by the police, with teargas and other forms of State high handedness. The initiative suffered sudden death, when speculation began that Ruto, was the true powerhouse behind the initiative. Regardless of the truth, Mudavadi lost an astute opportunity to seize and run away with leadership.
Mudavadi's lost opportunity
This is tragic for a leader who does not command any significant following outside the home base. Moreover, another chance was lost when a significant swathe of the country looked up to him to lead the no campaign against the BBI Bill. When he rose to speak against it at its unveiling at the Bomas of Kenya, Mudavadi drew loud support even from the partisan crowds that had been bused to the assembly by ODM and Kieleweke. It was, however, the fear of being seen on the same side of the debate with Ruto that gave him cold feet. He retreated after a few days, to state that on the average, the Bill was fine. He joined the popularization rallies and signified his support in writing.
Recently, however, Mudavadi has again distanced himself from BBI, after its rejection by the Court of Appeal. He has accused its owners of bulldozing a bad agenda through the public. This waffling speaks of tender-spined leadership. Such wavering will find it difficult to electrify the region behind itself and a common agenda.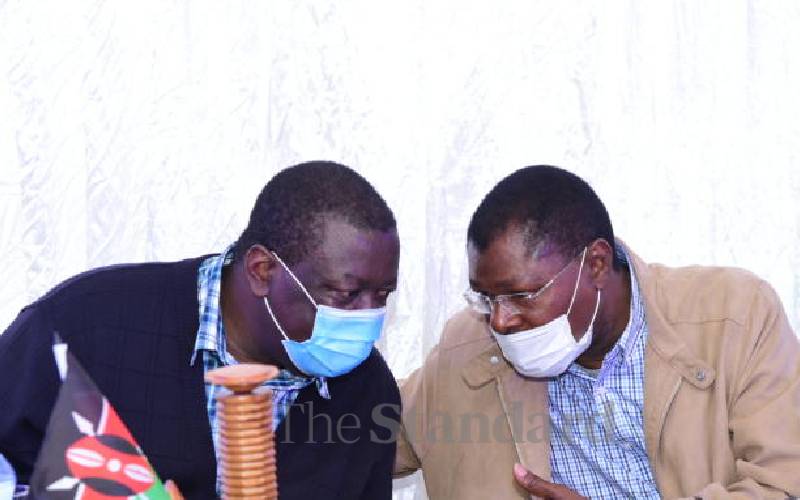 Wetang'ula comes next in tow after Mudavadi. He has had mixed fortunes in recent years, from being boxed into a political marriage of convenience as a junior partner with Raila and Wiper's Kalonzo Musyoka in the defunct CORD alliance, to being humiliated and frog marched from the position of Minority Leader in the Senate.
Before that, he suffered nullification of election as senator, before being restored. Wetang'ula has had to stay in Mudavadi's corner to keep his candle of hope burning, even as he has not fully recognised Mudavadi as the de facto leader of Western.
Away from regional politics, Wetang'ula has unfinished business in his Ford-K party, where Bumula MP, Wafula Wamunyinyi and his Kimilili counterpart, Dr Eseli Simiyu, claim to be the national officials of the party. They staged a coup against Wetang'ula soon after his removal from Senate leadership.
Then there has been the return of Mukhisa's in the politics of Western and Bungoma, in particular. Together with the Ford-K rebels and governor Wycliffe Wangamati, they are keeping Wetang'ula more than sufficiently occupied for him to find time for a meaningful agenda for the region and the country. And he also must keep looking behind his back to see what the Senate Speaker, Kenneth Lusaka, could be up to.
Mukhisa, for his part, comes on board with many political assets that a presidential candidate needs, except for a few blemishes. He is a brilliant academic, with clear ideas about how countries should be led, and a probable agenda for the region, even when he does not like being identified as a regional or tribal leader. He also served well as a Minister in Kibaki's government and left with an untarnished record. His international exposure as Secretary General of UNCTAD is another jab in the arm.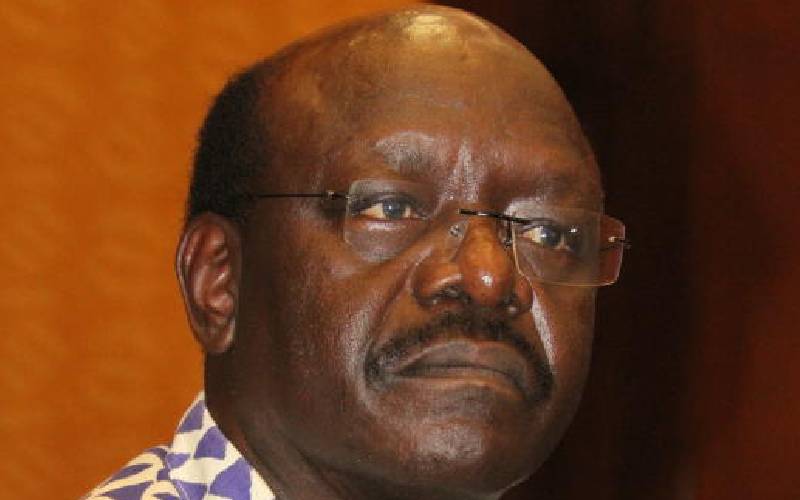 Yet the UNCTAD tour of duty cut him off the local and national electorates alike. He comes in with little ability to connect with an electorate that has forgotten how to think of him as a politician. There is quite some homework to reestablish himself, let alone developing and selling an agenda for the region and the nation.
Prominent in this assignment is finding the money bags in the money hungry Kenyan electorate. His friends say that the State has promised to support him. We can only wait to see how, and hope he does not pick up the pejorated "project" tag.
Kituyi's brilliant mind also ranks among his foremost drawbacks. He seeks to be elected to high office in a country that does not like bright minds. For, it does not know how to differentiate between a brilliant mind and haughtiness. A straight shooting and eloquent scholar and politician easily rubs the wrong way, even some of his less endowed colleagues in the academy. They easily mistake his sparkling elocution for scornfulness. They make it quite difficult for him to fit in and build any useful momentum for himself and for Ingoo.
The rest of the communities in Ingoo are, meanwhile, looking up to the Luhya leaders to craft the way and the vehicle for them. In an environment that spells confusion, they would seem to labour in vain, even as a predatory UDA under William Ruto and a fading ODM under Odinga, try their luck in this terrain. At the same time, each of the local giants has, behind him, an army of self-focused politicians, urging him to go all the way to the wire.
These are happy-go-lucky fly-by-night political opportunists. They understand that by urging Mudavadi, especially, to go all the way to the presidential ballot box, they stand to ride on his back to their own desired electoral advantage. What happens to Mudavadi, Wetang'ula or Oparanya after that is least among their concerns.