Dilemma for political big shots in epic race for State House in 2022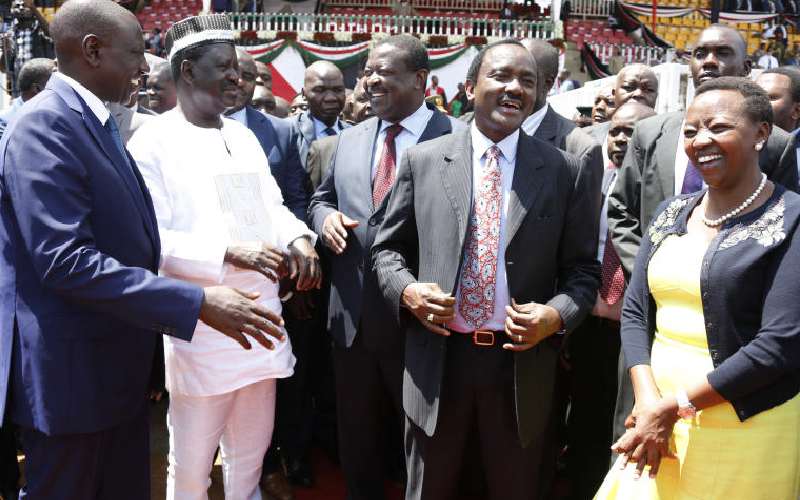 Kenya's top politicians have entered the 2022 electoral homestretch on the horns of diverse dilemmas, even as the Independent Electoral and Boundaries Commission (IEBC) cautioned against early campaigns. There is palpable panic and a pulsating sense of dilemma around the four topmost contenders for the presidency in next year's poll, with Deputy President William Ruto, ODM leader Raila Odinga, Wiper leader Kalonzo Musyoka and ANC's Musalia Mudavadi each carefully weighing their options against a diminishing political horizon.
They are each acutely aware that they have entered a make-or-break season. It is a treacherous political season, when almost anything that could go wrong will most probably go wrong. The concerns begin with the range of choices in the Mt Kenya region and the decisions they will each reach about the Mountain. Foremost is the kind of partners and pacts they will make and what pacts they enter with the political class and voters. These accords could make or destroy their politics.
William Ruto
For some time, it was taken as a matter of course that the Mountain belonged to Ruto. This was especially so in the honeymoon season, when President Uhuru Kenyatta used to say, "Ten years for me, followed by ten years for Ruto." All that is, however, now so much water under the bridge. A region expected to return a good turn to Ruto has, in the wake of the UhuRuto mutual political hostility, now opened itself up to wider possibilities, including fielding a formidable presidential candidate.
Between National Assembly Speaker Justin Muturi and Health CS Mutahi Kagwe, the region has two stalwarts with name recognition and unsullied records that make them easy sales in the region and possibly elsewhere in the country. In other rows are hopefuls like Murang'a Governor Mwangi wa Iria and business magnate Jimmy Wanjigi.
Regardless of how strong their bids could be, the four politicians could make life difficult for the deputy president, should they make serious bids for the presidency. The Mountain could easily assemble around a politician like Kagwe and deny Ruto the votes he badly needs from a region he has heavily banked in, almost at the expense of the rest of the country.
With the possibility of each of these politicians eating into the pie, and the rest of the opposition leaders also having a bite, Ruto could find himself skating on thin ice. As the window of opportunities towards August next year begins closing, he will need to calculate every step he makes in the Mountain and understand clearly what the same step implies for the rest of the country.
Just now, every presidential aspirant from outside the region has indicated that they would want a running mate from the vote rich Mountain. Whoever you choose, you risk losing the rest. The situation is compounded by the fact that the top political class from the region has flatly refused to belong to the same political party with Ruto.
Even his diehards like Gatundu South MP Moses Kuria and former Agriculture CS Mwangi Kiunjuri, have stated flatly that they will support Ruto, but they will field their own candidates for the rest of the seats on their own parties, and not the UDA that Ruto has publicly claimed.
Spinoff future dilemmas pertain to how much muscle he would have as president, should he end up on a platform that brings to Parliament and in the counties legislators he cannot whip as the leader of UDA.
Yet, for now that is the least of concerns. A more critical concern is how to keep everyone inside the proposed alliance, after settling on a running mate. The sings show that each of Kuria, Kiunjuri and even Mathira MP, Rigathi Gachagua, are eyeing the deputy president's position under Ruto.
Relations among them are often caustic even bordering on hostile friendly fire. It is difficult to rule out possibility of final separations after Ruto makes public the matter of running mate. Going forward, he will have to manage keeping everyone within the fold, while also running against local and external competition from the opposition chiefs.
But Ruto's heavy focus on the Mountain could also cost him heavily elsewhere. Every so often, it has been speculated that he could be courting the ANC leader. While Mudavadi's backyard will not take kindly to the thought of their leader understudying Ruto, the DP has nothing to dangle before Mudavadi and his supporters, if he will choose his running mate from the Mountain.
Mudavadi and his supporters will not understand the value proposition in working with Ruto, short of Ruto accepting Mudavadi as the presidential candidate. Yet, that will not make political sense, for Ruto cannot be anybody's running mate, having exhausted the constitutionally permissible two terms.
It is a true horn of a dilemma that goes all the way into his Rift Valley backyard, where there are murmurs the DP has taken the vote for granted. He risks having a low-spirited voter population in his home base. While he could still command the vote, it could also turn out to be a diminished vote in terms of numbers, on account of possible voter apathy.
Raila Odinga
It is a tricky political season like none other for the man christened the enigma of Kenya's politics. His grip on areas that gave him commanding authority in 2007 has continued to erode steadily, leaving him unsure of whether he should declare that he is in the 2022 race or not. The first to go was the Kalenjin Rift Valley, when he fell out with Ruto, over a wide platform of issues.
With Western looking increasingly in the competing grips of Mudavadi and Ruto, and the Coast baying for a political fight with him, Raila has had to look at Mt Kenya region for possible salvage. The Mountain, however, is proving to be everyone's hot favourite. All political hunters have their guns trained on the region.
An outright landslide seems out of the question, even with President Uhuru's endorsement – regardless that it is tacit or expressed. Moreover, Uhuru is himself facing a rebellion in the region. The premium of a public endorsement from him is questionable. Yet it looks like the one vote of confidence that Raila must bank on, if he is to make any meaningful inroads into a mercurial region that has never been too kind to him, except when he endorsed Kibaki in 2002.
Like other candidates, Raila must juggle the marbles of the running mate carefully. While he has recently told his Luo Nyanza followers that he has found a formula to crack the Mountain, it remains true that he has previously been pejoratively marketed in this region. He is still wrestling with the burden of some of the rank negative descriptors that he was given in the previous three elections.
His recent wry joke in Church that there is nothing wrong with being a mganga (witch doctor) may have done more harm than was intended. To this region, Raila symbolises all that the region has never wanted. The voters here would seem to turn out to vote not for the person they give their votes, but to vote against Raila. He must, therefore, bend backwards over to steady his political hand here. Finding a strong running mate could be half the job.
At the heart of the dilemma, however, is how to find that astute running mate. Just who is this political giant that is going to accept to be his running mate? Stripped to the factual basics, the voices rooting for Raila in the Mountain are minnows, in legislators like Ngunjiri Wambugu of Nyeri Town, and Kanini Kega, of Kieni.
With the possible loss of Western, Eastern and swathes of the Coast, Raila must, however, keep trying his luck in the Mountain, or give up altogether. It is a tough call, and little wonder that he has kept everybody guessing as to whether he is running or not.
Musalia Mudavadi
He is known for making just about the most expensive political miscalculations, largely as a factor of what is seen as never having been his own political man. The ANC leader belongs to the class of politicians whom President Moi brought up by the hand. Even by his own admission, Mudavadi acknowledges the role others have played towards making him a politician. Regrettably, he has never walked out of those shadows.
Even when he is right, he seems to lack the nerve to stand his ground. His best chance in recent times seems to have been when he disagreed with Uhuru and Raila on BBI, at its unveiling at Bomas of Kenya on November 27 last year. Regrettably, he quickly turned coat and began campaigning for BBI, even after he had threatened to boycott what was largely seen as a BBI campaign in Kakamega, in the guise of a national day celebration, graced by President Uhuru.
It is behind this background that Mudavadi throws his hat in the presidential ring for the second time, in ten years. Outside his native Western Kenya, the ANC leader has little traction elsewhere. His party boasts a collective less than 20 MPs in the Senate and National Assembly, with Matuga MP, Kasim Sawa, as the only one from outside Western. Even in Nairobi County the ANC party does not have a singly MCA. To its credit, however, there are smatterings of MCAs in such other places as Tana River, Uasin Gishu, Trans Nzoia, Nyamira and Marsabit. The party following is, however, far too paltry to fire political imagination and enthusiasm.
Yet Mudavadi must remain in the presidential race, or bow out for good. Within his Western bedrock, there are those of the opinion is that even if he loses the election, they will fall with him. The more zealous supporters believe that he could actually win. They will hear nothing about Mudavadi not running. Then there is the lot whose only interest is to hang on his coattails, regardless that he wins or not. Their urging him on is testament to the following he enjoys at home. Anyone who is not with Mudavadi in Western may as well cut their losses and move on. He has profoundly eclipsed other hopefuls like Bungoma Senator Moses Wetang'ula, and Mukhisa Kituyi. Even Kakamega Governor, Wycliffe Oparanya would seem to be a walkover for Musalia in Western. He must, accordingly, either surrender or seek salvage from Raila.
Regrettably, Mudavadi's appeal hardly goes beyond the coordinates of Western Kenya. It is behind this background that he is likely to make a second bid for a running mate from the Mt Kenya region, as intimated recently on a radio interview. His deputy party leader, Ayub Savula, has hinted that they are eyeing Kirinyaga Governor Ann Waiguru.
The merits and wisdom behind the hunt will possibly become clear in the future. The Mudavadi effort, however, seems to bank on the dream of a Uhuru endorsement. But Mudavadi does not have much choice, if he must remain in politics. He must field candidates and run. Even if he loses, a good parliamentary harvest could give him a reasonable bargaining space in post-election coalitions with whoever forums the next government, or even in a rerun.
Kalonzo Musyoka
The more he tries to shake off the moniker of watermelon, the more traction it seems to gain. The unflattering signature was given to him when he seemed unable to take a clear stand on the draft constitution in 2010. It has stuck. Like Mudavadi, he is the handiwork of a medley of kingmakers; from Kitili Mwendwa family of Kitui, to President Moi.
He rose to Kanu's National Organising Secretary at the height of the party's hegemony. He was also Deputy Speaker in Parliament and is remarkably remembered for some of his harsh decisions against the media; particularly when he would ban media houses from the precincts of Parliament for weeks on end. The Kanu days history did not cast him favourably for the role of president. His star, however, began rising when he defied President Moi's Uhuru Project in October 2002.
He resigned from the Moi government, to join the soaring opposition against Moi . In 2005, he did it again, this time defying President Kibaki's government's attempt to give Kenyans what was largely seen as a bad Constitution in that year's referendum. His star continued rising and it was thought he would be the person to beat Kibaki in the 2007 presidential poll. Hostile internal competitions in ODM Kenya (where he belonged together with Raila, Uhuru, Ruto, Mudavadi and a galaxy of other stars) threw all that to the winds.
By the time he was running for president on the ODM-K ticket, having run away with the party from Raila and the rest, his support had dwindled to a narrow following from Ukambani. He returned a poor third, behind Kibaki and Raila. His hope to bag a joint ticket with Uhuru and Ruto in 2013 miscarried, after the ICC-duo cold-shouldered him, leaving him little choice besides accepting to be Raila's running mate. He has played that role twice.
While he displays confidence and political bravado, the truth on the ground seems different. He faces rebellion in Ukambani, markedly from governors Alfred Mutua and Kivutha Kibwana, and a battery of political subalterns from the three Akamba counties.
It is behind such a background that Kalonzo is making a second bid at the presidency. This is thin ice. Besides pockets of Akamba support in parts of the Coast, there is not much else to bank on. And like all the other major aspirants, Kalonzo will probably be looking at the Mountain for a running mate. This will in itself be a dilemma, for in the rest of the country, Akamba Lower Eastern is perceived to be too close to Mt Kenya. The perception that it is the Mountain and the greater mountain on the same ticket will not work out well for him. This means Kalonzo must look elsewhere for a running mate. But where? That is the big puzzle.