Pay your taxes, Jubilee party tells DP William Ruto, questions his source of income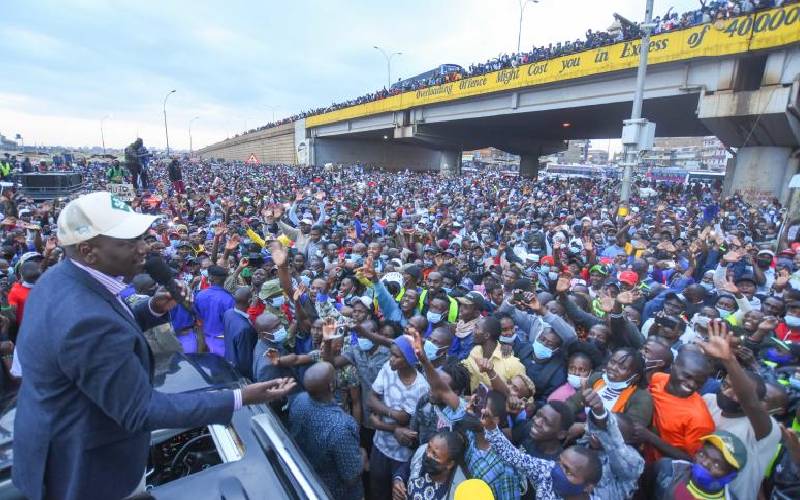 Jubilee party has questioned Deputy President William Ruto's source of income and challenged him to pay taxes commensurate with his financial muscle.
Speaking in Nairobi today, party secretary-general Raphael Tuju said, "We have the truth by our side."
Tuju said in 2015, DP Ruto publicly declared that he was worth Sh100 million.
However, in seven years, added Tuju, the DP has acquired assets like choppers, hotels, and land worth billions of shillings, all while studying for his Ph.D and being very busy as the number two man in Kenya.
"With an income of Sh1.5 million a day … the only thing left is to show us the figures with respect to his very big payment to the Kenya Revenue Authority," Tuju said.
"As a Christian, he should give to Caesar what belongs to Caesar."
The secretary-general said Ruto made strides in business while running an empire and carrying the heavy burden of working as DP and attending presidential campaigns.
"He has been more generous than Safaricom and some other bluechip companies," Tuju said.
He added that while the exact size of what the DP owns may be debatable, he has accepted the ownership of at least 3,600 acres while most of the Hustler Nation citizens are only dreaming of owning 0.2 acres.
Tuju said Kenyans do not expect him to give his personal land, but "given his good heart … he can greatly help here."
Last week, Ruto admitted that he owns 70 per cent of the property listed by Interior Cabinet Secretary Fred Matiang'i when he appeared before the National Assembly National Security and Administration Committee.
However, Dr Ruto noted that the list of his assets presented before the committee fell short of documenting all his wealth and welcomed a lifestyle audit.
Tuju said as a leader who pushes the youth empowerment agenda, Ruto ought to teach the masses the secret to amassing wealth in such a short time.
"He should teach us, the clueless adults in this country, how we can do the same.
"We may not possess his supernatural powers of hard work, but at least he should teach us something else apart from the wheelbarrows."
Tuju took a jab at the DP, further congratulating him on his success in the chicken farming business.
Isiolo Senator Fatuma Dulo accused the United Democratic Alliance (UDA) party of endangering the lives of Kenyans.
This was hours after Ruto and his campaign team made an impromptu stopover at Githurai on Sunday and addressed hundreds of residents.
"We have Covid-19 regulations as far as public gatherings are concerned. We saw the crowds in Githurai yesterday. That is unacceptable to the Kenyans we call hustlers. We advise politicians to help save Kenyans' lives," she said.