Uhuru calls talks with Raila, OKA leaders as Jubilee okays ODM pact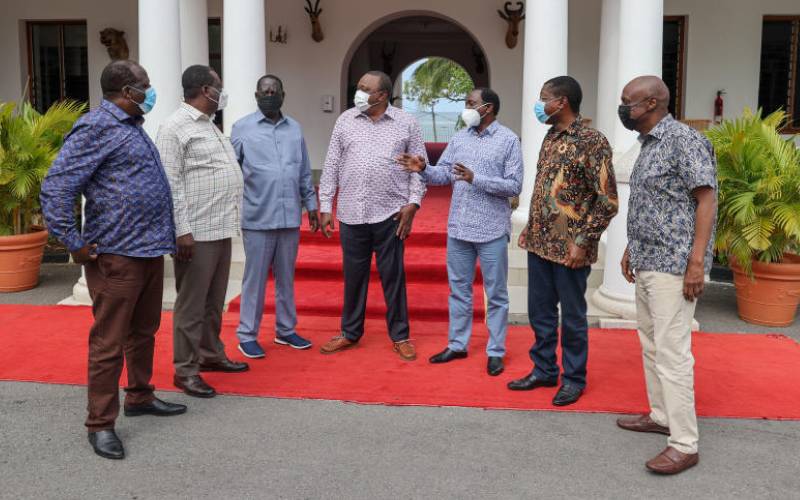 President Uhuru Kenyatta has convened another meeting with ODM leader Raila Odinga and the One Kenya Alliance (OKA) at the State House, Mombasa, today.
The meeting comes a day after the president's Jubilee Party resolved to formally enter into a coalition pact with ODM in what sources said is a culmination of his decision to back Raila to succeed him.
Uhuru met the leaders a week ago at the same venue.
Insiders say this is a follow-up on the meeting, which focused on forming a formidable alliance to face off with Deputy President William Ruto in the next year's General Election.
"The president has convened a meeting tomorrow (today) of party principals Raila, Kalonzo Musyoka (Wiper), ANC's Musalia Mudavadi, Kanu chairman Gideon Moi and Ford Kenya's Moses Wetang'ula to take stock of what they have done since their engagement last Tuesday," said a source.
Yesterday, Jubilee wrote to the four OKA affiliate parties informing them of its decision to enter into a pact with ODM while informing that they were free to join in the "spirit of fostering national cohesion".
"In terms of pecking order, we have already started working with ODM. They have supported Jubilee in the Parliament all through," said a Jubilee official.
Fruits of handshake
On the same day, Raila also issues a statement in Nakuru reaffirming the commitment of Jubilee and ODM to come together. The ODM leader was launching his 2022 roadmap accompanied by four Mt Kenya governors and a host of lawmakers.
According to sources, the game plan entails thawing opposition against Raila's candidature within OKA before he is finally unveiled as the team's flag bearer.
Kalonzo and Mudavadi have repeatedly indicated they will not back Raila again, having supported his bid in 2013 and 2017, insisting that they can only work with the former premier if he was ready to back one of them.
Yesterday, the Jubilee's National Management Committee (NMG) and parliamentary leadership held a consultation that instructed the secretariat to sign a deal with ODM.
"The NMC granted permission to the party secretariat to formally engage with the ODM in drawing a framework agreement on a pre-election coalition arrangement," said the party Secretary-General Raphael Tuju.
"The two-party leaders, President Uhuru Kenyatta and Raila Odinga, have also cultivated a working relationship for the good of the country in an act of statesmanship that has won praise internationally."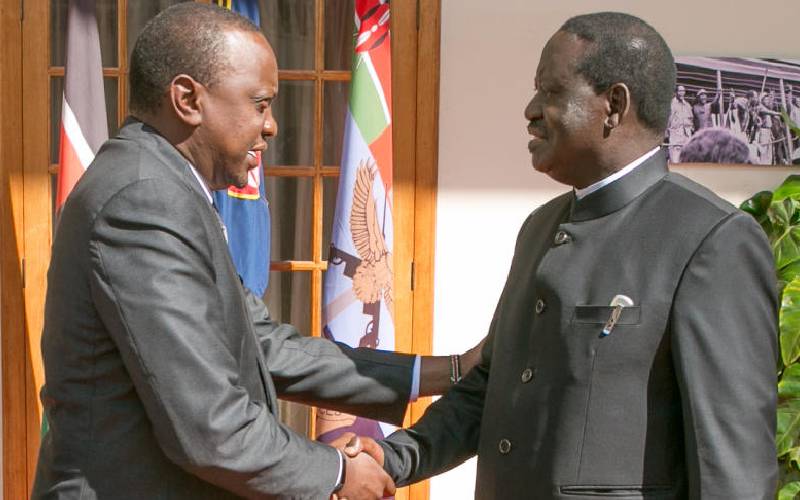 Sources said that Jubilee's decision to prioritise the pact with ODM was informed by ODM's numerical strength in Parliament as well as its support base across the country.
ODM enjoys support in Nyanza, Western, Nairobi, Coast, Maasai land and other regions.
Its elected leaders in Parliament and counties are more than the combined numbers of ANC, Wiper, Ford Kenya and Kanu.
"We are talking about a political contest that can only be won by numbers on the ground. They (OKA) are our friends but we must make a decision that will be of benefit to all players by backing someone with a clear support base," said a party source.
"It is just natural that the other parties back someone who has numbers on the ground. It is always the small river that joins a bigger one."
Jubilee coalition joint secretary in Parliament Adan Keynan said the country will soon wake up to a new formation that will form the next government when Uhuru retires.
"In due course, you will see many parties working together for the sake of the nation and for the sake of coming up with a workable coalition that will give Kenya hope," said Keynan.
Jubilee Vice Chairperson David Murathe said the deal with ODM was just the beginning of a grand coalition that will capture power in the next polls.
Murathe said engagements with like-minded political parties were ongoing before a major coalition is unveiled.
"There will be new political formations and this is just the beginning. We are carrying along all like-minded political parties moving forward," he said.
In a statement yesterday, Tuju said since the March 9, 2018 handshake, ODM has remained a reliable ally of Jubilee in passage of critical Bills.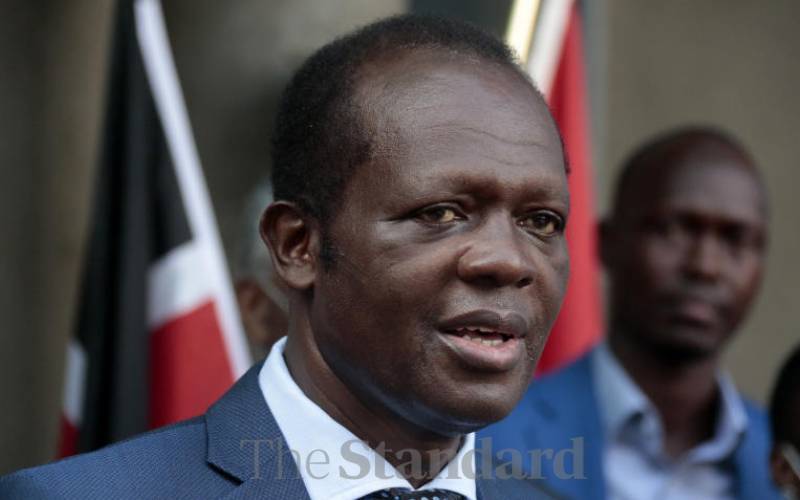 Jubilee announced it would inform the Independence party Kanu and Kalonzo's Wiper of the latest development.
Jubilee and Kanu entered into a coalition agreement after the 2017 General Election. The ruling party also signed a cooperation agreement with Wiper of Kalonzo.
"With this decision, the Jubilee Party will be formally writing to its coalition partner Kanu as is required by our agreement and etiquette about this development and seek their constructive engagement on the same," said Tuju.
Open doors
Jubilee also wrote to ANC and Ford Kenya over the decision, citing their good working relationship in Parliament.
The ruling outfit informed the two parties that its door remains open for possible engagement in ensuring national cohesion.
Kanu Secretary-General Nick Salat had on Sunday said OKA cannot ignore ODM leader Raila in its game plan and accused a section of principals of taking hard stance on who should be the flag bearer.
"Everybody is insisting on their preferred candidate, but that is not the way to run things. It is important for people to sit down and talk. It is about what formula will hand us a win not the question of who has what numbers," said Salat.
He said focus should be on forthcoming ruling on the Building Bridges Initiative (BBI).
"There are many things at play. You can't jump the gun at the moment. You can't find exclusive right now before we are sure with the BBI. Where do you leave Raila in this? You can't ignore Raila. The only formula that we pray for is that we get a favourable ruling on BBI," he said.