2022 presidential candidates have had stints a heartbeat from power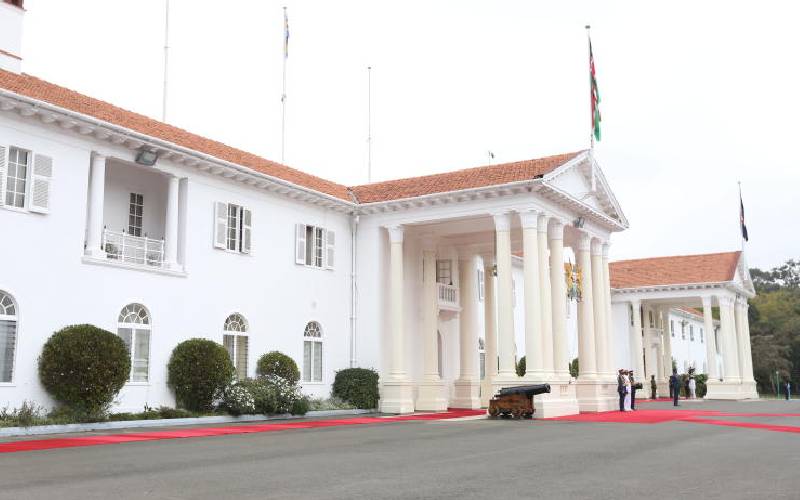 Three of them have deputised a sitting president, one has been a prime minister and the other is the son of a former president.
The five share many things in common, chief amongst them being that they want to succeed President Uhuru Kenyatta, who has one year left as Head of State. Two of them will be making their first attempt.
The other thing they share is that they have been so close, yet so far from power. William Ruto, Kalonzo Musyoka and Musalia Mudavadi have all been a heartbeat away from the presidency. Raila Odinga has been part of an arrangement that made him a co-president of sorts. Gideon Moi has been in the first family.
Four of them have held positions of decision-making, having served in the Cabinet in different capacities. But despite all their previous titles, all these men currently leading the pack of presidential hopefuls never wielded real state power, which is reserved for the president.
In the first term of Jubilee Party's administration, Ruto almost appeared to be President Kenyatta's equal. The pair sported matching outfits and appeared jointly to announce key decisions of their presidency. They had an equal say in the composition of their Cabinet and the Executive at large. That changed in their second term, and Ruto's 'powerlessness' has revealed itself in bits.
First, as Ruto has complained numerous times, he was stripped of his functions, which the president handed to Interior Cabinet Secretary Fred Matiang'i. In the years that would follow, he would skip government functions, saying he had not been invited.
The DP's recent embarrassment in the hands of junior Immigration officials in his botched trip to Uganda revealed where power truly resides – not at his Karen residence. Ruto hopes to move a pay grade higher next year in his first stab at the presidency.
And he hopes that his 'hustler' narrative cum bottom-up economic approach can sway votes his way. Boxed out of the ruling party, he will be banking on the United Democratic Alliance to carry him home in 2022, but it won't be an easy ride. For to finally get to power, the DP will have to surmount hurdles, which include his former boss in the grand-coalition government, with whom he shares the experience of a co-presidency that never was.
At the tail-end of his co-presidency with former President Mwai Kibaki, Raila and his allies lobbied in vain to secure Kibaki's endorsement through their rallying call 'rudisha mkono' (return the favour). They had hoped that Kibaki would remember Raila's gesture in 2002 when he declared 'Kibaki tosha!'. Kibaki's endorsement would never come, and it may have had a lot to do with the pair's rocky relationship that began with a fallout, a truce and what Raila would later claim to be mistreatment.
After his second unsuccessful stab at the presidency in 2007, Raila and Kibaki came together to stem months of bloodletting that had claimed the lives of more than 1,000 Kenyans and displaced more than 500,000. Theirs was meant to be a co-presidency that would see them share power equally.
But in the prevailing years, Raila found himself isolated and sometimes snubbed by his subordinates in official visits across the country. His "nusu mkeka" rant in 2009 was in response to poor reception in Mombasa. In all his political career, Raila was closest to power during his stint as prime minister but he was never really in charge as he would later claim that Kibaki slighted him in making key government decisions.
In previous years, the former prime minister has banked on his credentials in the struggle for the second liberation. But with younger people voting in subsequent polls, he has changed his messaging and is now selling his trickle-down economic agenda, which seeks to pump more money at the top, hoping to create employment for the youth.
Unlike previous elections that have majorly been two-horse races, Ruto and Raila may end up facing the emerging One Kenya Alliance (OKA), which plans to present a joint candidate in next year's contest. OKA comprises Raila's former allies in the National Super Alliance and Kanu's Moi. Two of the OKA principals have been running mates of the ODM leader.
The four principals – Kalonzo (Wiper Party), Mudavadi (Amani National Congress [ANC]), Moses Wetang'ula (Ford Kenya) and Moi (Kanu) – have all secured the endorsement of their respective parties to contest the presidency. OKA is on record stating that it welcomes a reunion with Raila.
Kalonzo, who has been Raila's running mate twice, will be running for the presidency for the second time, having come third in 2007 behind Kibaki and Raila. Just like the former prime minister, Kalonzo had lobbied for Kibaki's endorsement in 2013. In the wake of the violent 2007 contest, Kalonzo joined Kibaki, gifting the former president some semblance of legitimacy that he had lost in what election observers concluded was a rigged victory.
In January 2003, Mudavadi concluded his two-month stint as vice president, having been appointed in November 2002. He was Moi's replacement to former vice president George Saitoti, who fell out with President Moi after the latter picked Uhuru to succeed him.
After five years in the cold, Mudavadi rejoined the government as the deputy prime minister, serving for five years before he unsuccessfully vied for the presidency in 2013, polling third behind Uhuru and Raila. The 2022 election presents Mudavadi with the chance to try his luck a second time.
Kanu's Moi does not need any introduction, owing to his family name. His father served 24 years as president. The Kanu chairman will also be banking on the fame of his party's history as the longest surviving in Kenya's history, which has wielded the presidency for close to four decades.