Inside Raila Odinga's new plan to grab the hustler agenda from William Ruto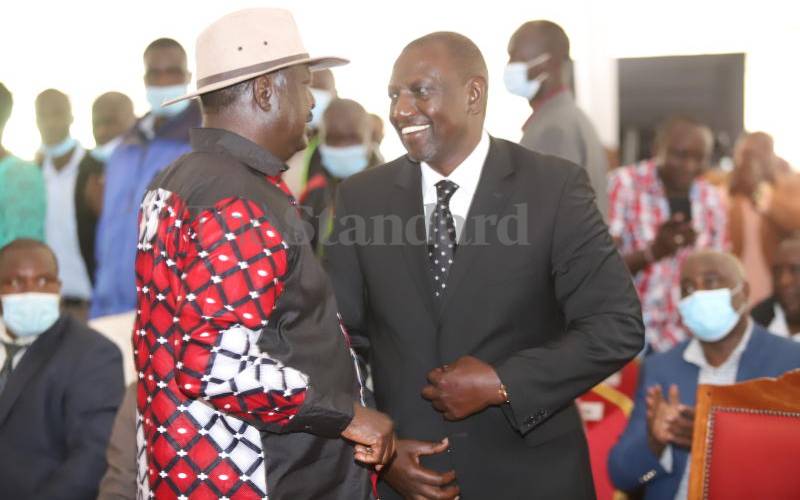 ODM leader Raila Odinga plans to turn tables on Deputy President William Ruto's run with the hustlers' agenda through, among others, sustained and strategic communication of his vision and lifelong quest for power.
In the plan mooted by his strategists, Raila aims to reclaim what he believes has been his main agenda throughout his political life and has been grabbed by Ruto for quick gains.
The phased doses of his campaign manifesto released on his social media pages are part of the initiative, which will be rolled out to include strategic engagements with target groups, including meet-the-people tours and e-engagements.
Yesterday, Raila released yet another treatise on how to tap into Kenya's pool of talent in mechanics, tailors, carpenters, hairdressers, cooks and artists. These are the core of the "hustler" philosopher that Ruto has been propagating through his so-called "bottom-up approach".
"Social justice, politics of change, concern for the lowly, that has been our brand of politics for eons. For them, it's a fashion, for us its life and a mission. This is what led to formation of KPU in the first place. Raila is reclaiming what is rightfully his," Wafula Buke, a long-term Raila ally, told The Standard.
Leading financial centre
According to Buke, Ruto's side was out to con Kenyans so that they can return the benefits to the elite. He says Raila's team had seen through the game and was surging forth to assert its place as harbingers for genuine change that will add value to the masses.
"In history, whenever we push them to a corner, conservatives adopt our agenda and run us out of town so that they can create political monopoly. We have compromised too much in the process and this time round we are going for what is ours; change," Buke said.
In the treatise released yesterday, Raila said a system that mixes skills and knowledge was the path to industrialisation, jobs and the future. He said the country was experiencing high graduate unemployment or underemployment, with many corporations adopting technology to do the work humans used to do.
On Tuesday, he had released another one pitching for the fortunes of rural Kenya. He claimed that transforming Kenya from a poor to a prosperous country would require a deliberate focus on turning around the fortunes of rural areas.
The previous week, he released a 15-point transformation agenda that he said would transform Kenya into a leading financial centre, logistics, shipping and aviation hub, and Africa's headquarters for global business, manufacturing and diplomacy. "We need to convince our people that academic papers are good and our children still need them. But we need to appreciate that societies that have placed equal emphasis on both knowledge and skills have done better," Raila wrote in yesterday's treatise.
He said the country had done little to identify the passions of the youth and close to nothing in turning those passions into professions. He said the country needs to have a permanent central Human Resources Development body dedicated to identifying skilled youth, organising domestic skills competitions, picking the best performers, organising training camps and sending them out to compete with the world.
The body, he says, will keep a data bank on the skilled youth, source support, including extending specific incentives to SMEs run by craftsmen and artisans and ensure that their passions become professions, industries and jobs for the nation.
The body will source incentives for existing industries to extend rewards and scholarships to those with technical skills who want to continue perfecting them.
It will also establish a tradition of apprenticeship training to help skilled youth keep updating their skills in line with changing times.
Promoting skills
"As we keep data on and support skills, we must open pathways for a steady flow. We need to recreate mainstream vocational high schools and have clear parallel education paths."
The former premier says the Ministry of Education has made some good strides in promoting skills education, but there is little or no effort to channel those skills once students leave school.
Raila argues that a concerted campaign was needed against the societal mindset that takes a dim view of skilled manual workers; a massive campaign on how our society has traditionally defined success, what we, the parents, expect of their children, and what individuals expect of themselves.
His call on Kenyans is to appreciate that the people who design and produce the fine suits and dresses, the handbags, the expensive watches, the elegant shoes, the fine music, the movies, the chairs and all the other things that they love and import are essentially artisans and skilled workers who chose to hone their skills.
Raila noted that every two years since the 1950s, young people with exceptional skills have gathered in some city in some part of the world for World Skills Competition, otherwise known as "Skills Olympics".
This competition is described as "the gold standard of skills excellence that inspire young competitors to reach new heights, helping them turn their passion into profession."
He said Kenya must participate in this competition henceforth, adding that developed nations like Japan, Canada, Germany and Korea take this competition seriously.