Governors leave air conditioned offices to solidify political bases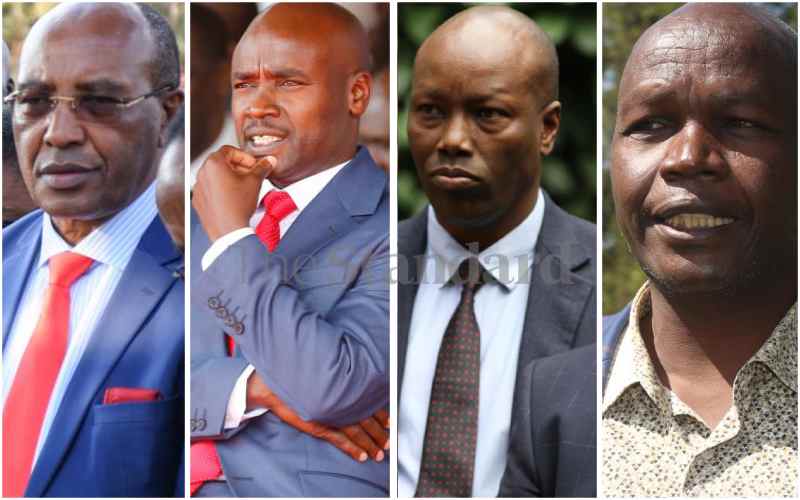 With only 14 months to the next General Election, governors serving their first term in office are no longer in their comfort zones.
A majority of them have embarked on 'meet the people tours' to solidify their base and are now more present in events which they previously assigned their deputies. They have been launching projects, initiating new ones and promising voters that they will ensure that all projects are completed with their re-election.
Such activities have been witnessed in Nakuru, Nyandarua and Baringo counties, where sitting governors are leaving nothing to chance as they face stiff competition from new entrants and their usual political rivals in form of sitting senators, MPs and County Assembly speakers.
The political scene in Nyandarua has been restless since the year began with Governor Francis Kimemia recently intensifying his visits across the county. During his forays, Kimemia has been firing salvos at real and perceived political enemies, with the most evident being his war with Speaker Ndegwa Wahome who intends to unseat him in 2022.
To him, retaining the seat will be a bruising battle as Water Cabinet Secretary Sicily Kariuki is also said to be eyeing the post. However, her duties have been holding her back from politicking.
"My critics must be ignorant if they cannot see what the county government has done since I took over. Before listening to them, I urge residents to judge the performance of my government by what it has achieved," Kimemia said during a tour in Kinangop Sub-county.
Nakuru Governor Lee Kinyanjui has since his election in 2017 kept a low profile on politics with a focus on implementing policies and development projects behind the scenes.
It is only recently that Kinyanjui has gone full throttle in both national and county politics and occasionally touching on international matters. Locally, he has been meeting different groups with the most recent being youths to whom he donated assorted equipment worth Sh100 million on June 7.
"This is part of our youth economic empowerment programme. The items include motorcycles, shaving machines, blow dryers, fishing nets, market umbrellas, food warmers, floaters, helmets and reflector jackets," said Kinyanjui.
He described the programme as a way of creating jobs for the youth, most of who lost their jobs as a result of the Covid-19 pandemic.
Kinyanjui's political nemesis Senator Susan Kihika has been giving him a hard time in the quest to elevate Nakuru town to city status. While the Senate approved the proposal, Kihika's affirmative vote came as a shock even to the governor, who accused her of weaponising the Senate for her political gain.
Kihika has already declared her bid for the gubernatorial seat in 2022 while former Governor Kinuthia Mbugua is also said to be plotting a comeback.
Bomet Governor Hillary Barchok will face off with political heavyweights from the county, among them former governor Isaac Ruto, who has intensified his political outreach schemes.
Ruto's political activities have seemingly moved Barchok from his air-conditioned office and he is now attending public gatherings, funerals, fundraisers and inspecting projects.
Barchok, who took over as county chief following the death of Joyce Laboso, has declared his interest in vying for the seat in 2022 and has aligned himself with Deputy President William Ruto.
In Baringo County, Governor Stanley Kiptis is set to face off with former Governor Benjamin Cheboi, who has already launched his grassroots campaigns. Former Cabinet Minister Musa Sirma is also set to join the race.
Like his counterparts, Kiptis has intensified formal and informal meetings with the electorates.