MP locks horns with senator as BBI vote shakes new party trust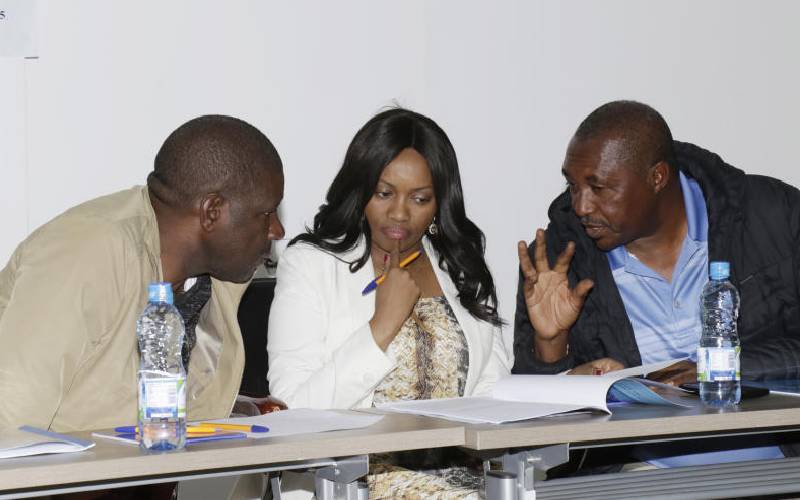 The falling out between Bahati MP Onesmus Kimani Ngunjiri and Nakuru Senator Susan Kihika does not augur well for Deputy President William Ruto and the United Democratic Alliance (UDA) Party that is associated with him.
Cracks are already emerging in the nascent UDA after Ngunjiri and Kihika fell out following the MP's decision to vote for passage of the Constitution of Kenya (Amendment) Bill, 2020, which was bitterly opposed by lawmakers allied to Ruto.
Ngunjiri told The Standard that he voted for the Bill after realising that it would allocate additional legislative seats to Nakuru County and, therefore, more resources through the National Government Constituency Development Fund as well as the proposed 35 per cent revenue allocation for county governments.
"I voted out of my own conscience because of those benefits. Nobody can stop me from doing the right thing for the people of Nakuru," said Ngunjiri.
But Kihika accuses Ngunjiri of being indecisive about which camp to support, adding that his decision was a betrayal of his colleagues in UDA who rejected the Bill.
"We cannot dare trust this unreliable man who blows hot and cold every other day and switches sides depending on where his bread is being buttered in the evening," said Kihika. The senator noted that Ngunjiri had actively campaigned against the BBI Bill for the last two years and warned that it will be difficult for anyone to trust him in future if he continues flip-flopping in politics.
But speaking in Naivasha, Ngunjiri asked Kihika to respect President Uhuru Kenyatta and stop attacking him at campaign rallies.
The MP is also not happy that Kihika is allegedly preparing to field UDA candidates she hand-picked to vie for county assembly and parliamentary seats in 2022, saying such decisions will boomerang on the party.
The senator was reported to have recently hosted 50 supporters of the Deputy President from Mt Kenya region at her Karen home.
Hand-picked leaders
"She wants to be the governor but it will be detrimental to the party if she imposes her will on the people by hand-picking leaders instead of allowing democracy to function in the party," said Ngunjiri.
He regretted that despite playing a key role in Kihika's marriage ceremony by representing her family, something that her father should have done, she has no respect for him.
"I'm like her father and she should not be throwing words at me because I have been in Nakuru politics for long," the agitated MP said.
He cautioned the senator against grandstanding and abusing senior people and those in authority, saying such behaviour "will not take her far in modern-day politics."
But just as quickly as his anger flared, Ngunjiri adopted a conciliatory tone, saying he has forgiven the senator and his only interest is to see UDA grow into a national party.
"My aim is retaining the Bahati seat and to concentrate on building UDA.
"But if she continues using force, money and threatening democracy in UDA, I promise Ruto that he will get votes for president but candidates in Nakuru will run on tickets of different parties, which will be dangerous."
Given that President Kenyatta will not be on the ballot in next year's General Election, his deputy is the man to watch in the region but only if he keeps his troops together, says the MP.
The outspoken Ngunjiri argues that counties like Nakuru, whose politicians were in the Opposition during the one-party rule, were ignored when constituencies were shared out and it is only now they are receiving their equitable share.
Political scientist Amkoa Anangwe elaborates on Ngunjiri's argument: "He argues that he supported BBI because a place like Eldoret, which deserved an MP, was divided into small sections that were allocated to rural constituencies just to deny its cosmopolitan residents a representative in Parliament."
Prof Anangwe, who was a Cabinet minister in the Kanu government when Ngunjiri was elected to serve as the Kanu deputy national organising secretary, however, describes the war of words between the two legislators as a challenge for Ruto.
Potential fallout
He says that given time, the exchanges could turn ugly because Ngunjiri's vote was an "alarm bell and a sign of potential fallout with Mt Kenya politicians in Ruto's camp."
The love-hate relationship between the two leaders started in 2013 when Kihika unsuccessfully ran against Ngunjiri in Bahati, the constituency where her father, the late Kihika Kimani, once held sway.
Kihika Kimani, who died in 2004, was an outspoken and powerful Nakuru politician who supported the government crackdown on Opposition activists and proponents of multiparty politics.
Ngunjiri says the senator should reciprocate what he has done for her, including campaigning for her to become speaker of the Nakuru County Assembly after she lost her bid to unseat him.
To observers, the Bahati MP, who views himself as the senior-most politician in Nakuru, feels slighted by the first-time senator.
Ngunjiri has established himself over the years as a stubborn politician who is not easily cowed especially when defending the rights of the Kikuyu community both in Rift Valley and other regions.
To him, politics is more about championing local agenda rather than advancing national issues that will not endear him to his community.
"I have always campaigned for peaceful co-existence in the Rift Valley. That has always been my brand of politics so that we do not have politically instigated violence in each election cycle," he said.
Anangwe opines that while Ngunjiri looks content with the title of elder statesman and kingpin of Nakuru politics, Kihika is a young ambitious lawyer and politician who's not only gunning for the seat of governor but top UDA office in the Rift Valley.