Is cold war in ODM scuttling Joho's 2022 presidential dream?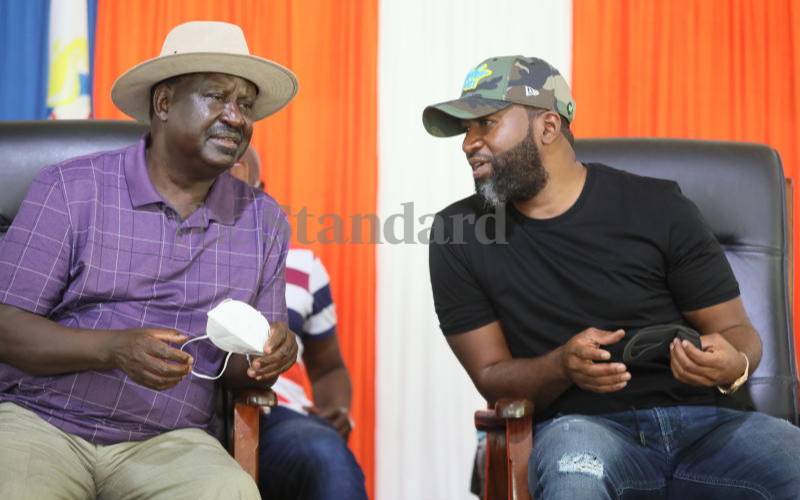 Coast ODM leaders will next week meet at Vipingo Ridge to deliberate on the region's political future and formally endorse Mombasa Governor Hassan Joho's presidential bid amid reports of fallout within the Orange party.
Joho has indicated that he will run for the presidency in 2022 and has already forwarded his name alongside his Kakamega counterpart Wycliffe Oparanya to the party's National Election Board (NEB) as possible suitors through ODM.
Seen as a Coast political Supremo, Joho is facing a political battle in ODM with some opposed to his possible presidential candidate keen to have him drop his bid. The cold war in the Orange party was over the weekend reignited after party's Secretary-General Edwin Sifuna appeared to dismiss Joho over his take on the recent by-elections in Juja, Bonchari and Rurii mini-polls.
Yesterday, Joho's political allies in Mombasa said some forces within ODM were hell-bent to force him to drop out of the race for ODM presidential ticket. Mombasa Deputy Speaker Fadhili Makarani yesterday said attacks on Joho increased after the governor refused to drop his presidential bid and support the ODM leader Raila Odinga.
"It is clear someone knows that Joho is a threat in the contest for the ODM ticket. A tree that bears fruit will always be stoned," Makarani said.
In March, Joho told Raila during a rally in Likoni that he was ready to face him at the ballot during the nomination for party's flag bearer. Raila said it was Joho's democratic right to contest for the party's presidential ticket, saying as a democratic party, ODM welcomes anyone to contest.
Joho and his Kakamega counterpart Wycliffe Oparanya have declared they will battle for the ODM ticket. They have both applied for it. On Saturday, Sifuna appeared to censure Joho's statement on the recent Juja, Bonchari and Ruiri mini-polls.
Joho said it was time for both winners and losers to end blame games, extended celebrations and focus on uniting the country.
"These by-elections are now gone. Others are on the way. None of them will be indicators of what lies ahead in our politics," said Joho in a statement.
Sifuna appeared to differ with Joho after he re-tweeted Raila's statement condemning police brutality during the by-elections with a catchphrase. "This remains the party position."
This ignited a fierce debate among the ODM supporters on social media with some criticising Sifuna for disrespecting Joho. Yesterday Makarani who is also Portriez MCA said it was clear that since Joho rejected the proposals from some party leaders to step down from the contest, he has been subjected to attacks.
"Remember when he voiced his concerns about the extension of the party's presidential aspirants' application. It is like he has no say. Do they want to push him out of the party?" posed Makarani.
Yesterday, we could not reach Joho for a comment as he was out of the country. His Chief of Staff Job Tumbo said the governor sees the "so called cold war as divergent opinions."
"The governor does not see these as attacks against him. He sees it as differences in opinion which is allowed," said Tumbo.
He said the governor "as his nature will not reply to Sifuna or any ODM member. If there are issues, the party has internal mechanism to address them."
"Joho as the deputy party leader spoke through a statement. If someone wants to reply to him, he should do so through a statement and not on Twitter," said Tumbo.
An MP from Mombasa, who did not want to be seen as taking sides, said the matter has been raised with Raila who promised to address it.
"These guys want people to think that they have the blessing of Raila to attack Joho. Nothing could be further from the truth and Raila and Joho consult regularly," said the MP.