Iria loses bid to lift property freeze in Sh542m graft probe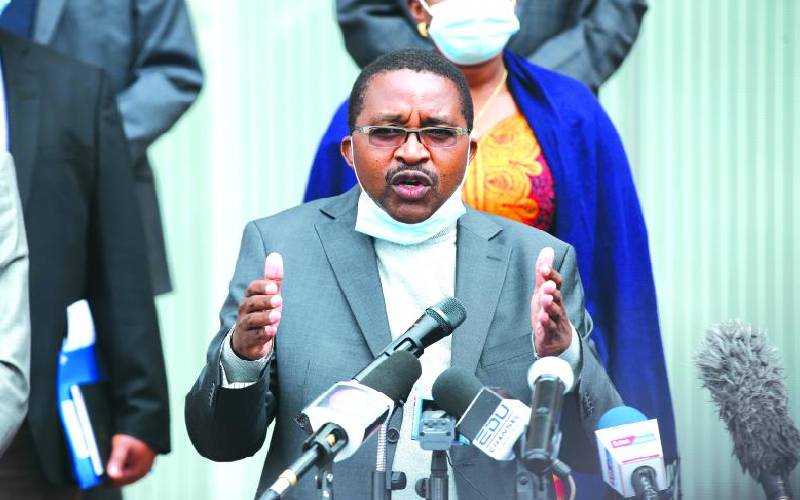 Murang'a Governor Mwangi wa Iria has accused the anti-graft commission of being used by his political enemies to link him to an alleged loss of Sh542 million from the county government.
The governor claimed that the suit to freeze his property filed by the Ethics and Anti-Corruption Commission (EACC) was a witch-hunt by his political adversaries who are unhappy with his 2022 presidential bid.
"It is curious to note that the suit was filed immediately I made the announcement that I will be a presidential candidate in 2022. The intention is to create an impression that I am corrupt, incompetent and criminal governor who is guilty of the will allegations made by EACC," said Wa Iria.
Mr Wa Iria asked the court to discharge the order that blocked him and two companies from dealing with property in Nairobi and Nyeri, worth more than Sh16 million, suspected to have been acquired using public funds.
The governor argued that EACC misled the court to order the freezing of the property that he does not own.
Wa Iria swore that he did not own the property in Umoja Innercore, Nairobi and 13 acres in Mweiga, Nyeri, saying EACC should have verified details of ownership.
Injure my reputation
"Their intention was only to injure my reputation since they have access to official records to confirm who owned the property before presenting the case to court. It was a clear abuse of the court process for political reasons," he said.
EACC, on January 22, obtained orders barring the governor, Top Image Media Consultants and Value View Limited, whose directors are said to be Wa Iria's wife and his brother-in-law, from dealing on the property for six months.
The commission, in its application, claimed the government irregularly awarded tenders to Top Image Media Consultants between 2013 and 2017 amounting to Sh542 million.
The anti-graft commission believes that Top Image Media Consultants wired the money to Wa Iria, which he allegedly used to buy the property in Nairobi and Nyeri.
Not involved
But Wa Iria, in his replying affidavit, stated that he was not involved in the procurement of media services and that the commission merely took the total expenditure for media services for the eight years he had been governor.
Justice James Wakiaga, however, declined to discharge the orders that froze the assets and directed the governor to serve EACC with the application before the hearing on February 10.