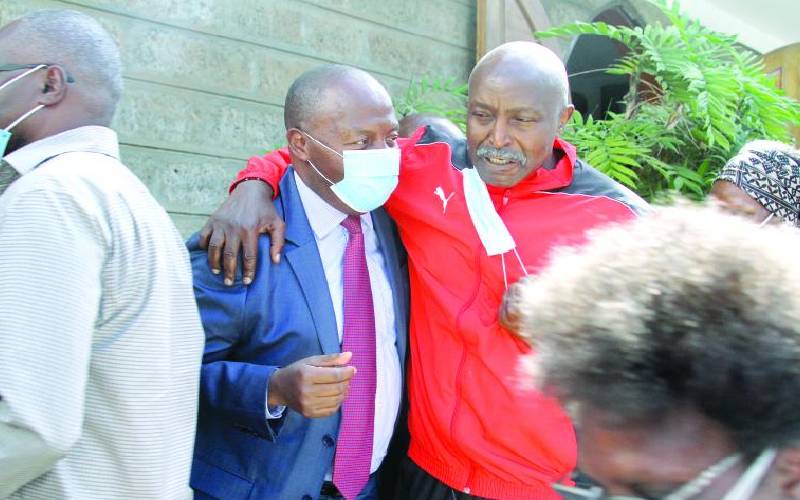 Five days shy of his 89th birthday, the uncompromising politician and polished administrator, Simeon Nyachae, took the final bow.
The news of his passing, which had been circulating around the country like bush fire, and fueled by social media, was ultimately confirmed yesterday at 3.05pm by his son, Charles Nyachae.
The younger Nyachae broke the news of his father's death at the Lee Funeral Home, where his body was lying after it was transferred from the Nairobi Hospital where he breathed his last.
At that time, Charles said his father had died about an hour-and-a-half ago after a fairly long illness.
According to the family, doctors at the Nairobi Hospital had done their best to ensure that the former powerful administrator survived, by giving him a cardiac resuscitation at around midday, but this time, he lost the battle.
Members of his family were with him at the hospital to wish him a quick recovery.
"What I want to confirm is that our father the honourable Simeon Nyachae has about an hour-and-a-half ago rested here in Nairobi Hospital after a fairly long illness that he has bravely borne," said Charles.
Charles said Nyachae had been hospitalised for several weeks. The Nairobi Hospital CEO James Nyamongo said he had been admitted for about a month.
"We thank God for this life and what he has been able to do. The only other thing I would want to say at this point is really to record our appreciation as a family, to the Nairobi Hospital and to the doctors who have looked after him for not just the several weeks he has been in hospital, but for the previous occasions that he has also needed medical attention," said Charles.
He said that he spoke to President Uhuru Kenyatta who has been in contact with the family since his father was hospitalised and the Head of State conveyed his condolences. "We appreciate that, and we appreciate the concern from him and all our other friends and extended family who have expressed their condolences," he said.
President Uhuru mourned Nyachae as an icon of Kenya's progress over the years.
The President said Nyachae's successful transition from public service to the world of business and politics was a demonstration that focus and hard work pays.
"I am deeply saddened by the passing away of Mzee Simeon Nyachae, a distinguished son of Kenya, a friend, and a man whose contribution to the making of the Kenyan nation will remain with us for eternity," said the President.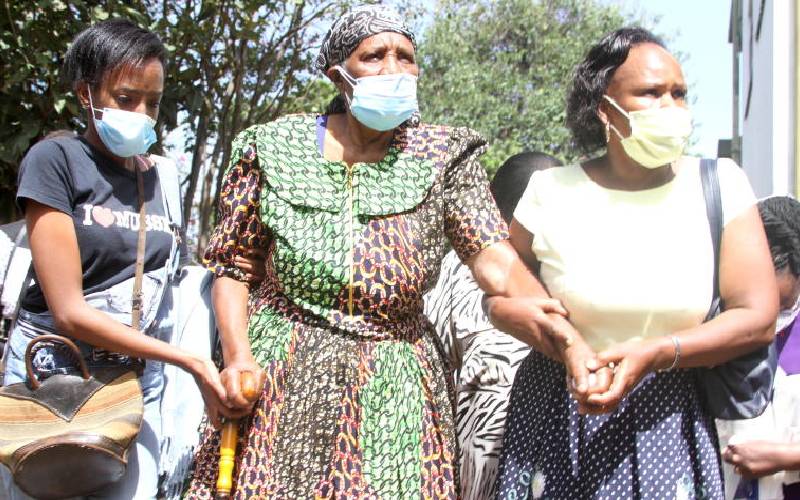 Deputy President William Ruto said Nyachae was a progressive, selfless and steadfast leader who was genuinely passionate about public service, politics, and uniting people in a common cause.
Interior Cabinet Secretary Fred Matiang'i, who was present at Lee Funeral Home, said Nyachae was a father, mentor and servant to many people.
He asked for calm and prayers for the family as they organise the send-off of the family patriarch. He tweeted saying he would miss Nyachae. "I am devastated. Mzee Simeon Nyachae was many things to many people but he was my mentor, role model and foremost teacher. An accomplished administrator endowed counsellor and pillar of leadership. I will miss him in a very personal way," he tweeted.
ODM leader Raila Odinga said the Abagusii community had lost one of its illustrious sons, while Wiper leader Kalonzo Musyoka said the passing-on of Mzee Nyachae has deprived the country of one of its most illustrious leaders.
Baringo Senator Gideon Moi said Nyachae was a politician of repute and career civil servant whose strict sense of discipline and hard work saw him rise from a DO to Chief Secretary.
"I wish the Nyachae family strength to bear the pain of the loss," said Gideon, who is also the Kanu party chairman.