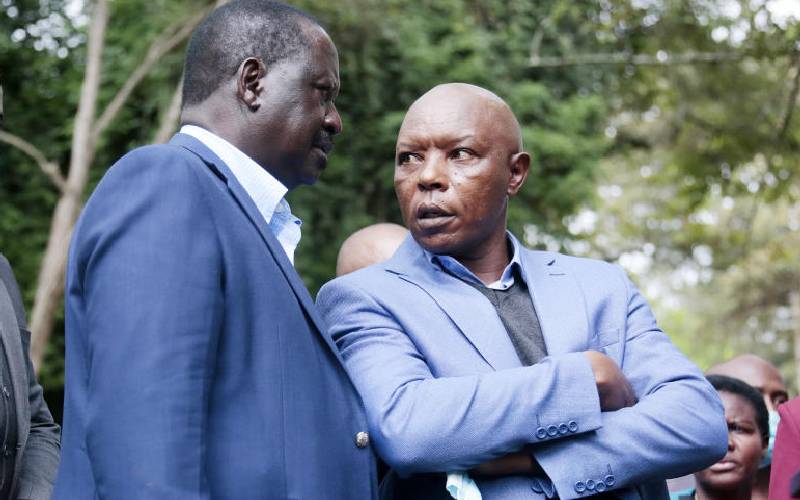 ODM leader Raila Odinga yesterday appeared to back President Uhuru Kenyatta's call to have another community produce the next head of state.
Speaking when he hosted youth under the umbrella of Team One Nation, led by Amani Sasa CEO and former Mungiki leader Maina Njenga at his Karen residence, Nairobi, yesterday, Raila said the presidency is sensitive as the country is a multi-ethnic society.
"As you know Kenya is a multi-ethnic society, and because of this we are actually sensitive to the ethnic differences that we have in our country," said Raila.
President Uhuru Kenyatta's remark that only two communities have ruled Kenya since independence has elicited mixed reactions.
Read More
The Head of State said if the thinking is that some individuals should not run for political office because of their family background, then he could as well say that the same should apply to the two communities that have ruled the country since independence.
"If that is the thinking or the logic then even I can stand here and say that it is only two communities that have ruled the country and maybe it is time for other communities to rule," Uhuru said on Saturday during the burial of Hannah Mudavadi, the mother of ANC leader Musalia Mudavadi.
Raila cited countries that have successfully applied the rotational presidency.
"In Switzerland, they have the rotating presidency, they have got the cantons and the presidency rule from one region to the other, and that is the way they have done it," he said.
He added: "In the US if you are running for president, then the Vice President must come from another region, so different countries have dealt with this issue differently."
The ODM leader maintained that he sees no harm in rotational presidency, especially when appointments are made by the president that favour people from other communities.
"I really see no harm in this issue here, if particularly when you see that particular people are there (in the presidency), the appointments that are made, favour the people from the respective communities," Raila said.
He called for a more representative government, citing the 2013 Jubilee administration, which he said did not reflect the face of the nation. Raila further cited the grand coalition government which he said was "a very different ball game."
"If you just go and look at the Cabinet of Jubilee of 2013, look at it, look at the permanent secretaries, and then go and look at the heads of parastatals, I wish somebody in the media can do it and publish it even tomorrow (today), so that Kenyans can see for themselves what we are talking about," he said.
He added that leaders must embrace inclusivity and look at each person as a Kenyan.
Team One Nation met Raila to discuss the Building Bridges Initiative (BBI).
The group's chairman Njenga said BBI is good for the country as it will allow every region to be represented by a leader.
"We have decided that this country must come together for one purpose, we have to have one system of leadership so that we can run the country in a good manner," he said.
The former Mungiki leader declared himself the national ambassador for BBI and the national coordinator for Team One Kenya.
"So those people calling themselves hustlers, we are the best hustlers in life, and we have been there. We are known in history that we used to go without shoes, now that we are driving, we are able to tell people of this republic that they should not pray to be hustlers but wealthy people," Njenga said.