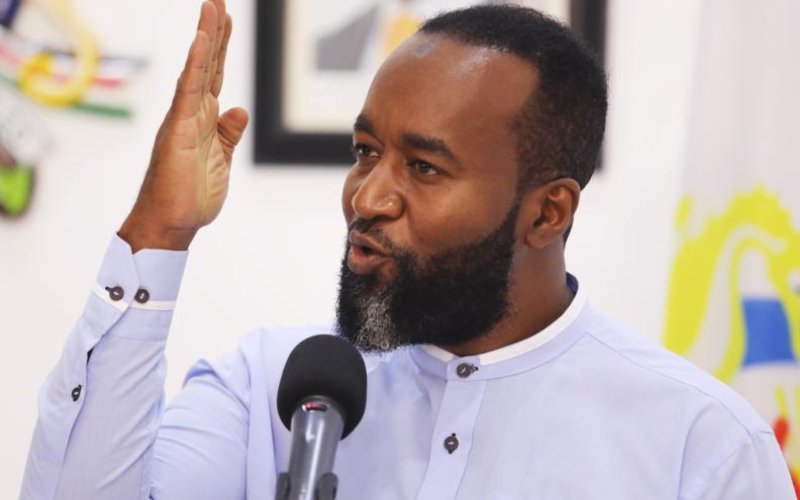 Stung by rising revolt from erstwhile allies, Mombasa Governor Hassan Ali Joho has hatched a strategy to consolidate his support base in the region.
Close allies said Joho plans to intensify campaigns to popularise the Building Bridges Initiative (BBI) in the region and also stake his claim to the region's leadership.
Joho is also said to be planning to bypass MPs hostile to him and engage residents directly. In the new strategy, according to his allies, Joho will also target small communities in Tana River and Lamu.
On Thursday, Joho held day-long meetings with the Pokomo and Orma elders and declared that he would make sure the region is part of the next government.
He said proposed changes in the BBI report would guarantee the Coast one of the top seats of leadership after the next elections.
Read More
"I am pushing for the BBI so that we can be part of government and unite the whole country. Don't listen to propaganda and insults from others," said Joho addressing a public rally in Garsen.
On Thursday, he received a boost after Coast Parliamentary Group Chairman and Galole MP Said Hiribae, and a host of regional legislators, vowed to stand with him.
"We respect Joho, you are (the) undisputed Coast kingpin because you lead a county with a rich history of Kenya. We are all behind you to wherever you will lead us to," said Hiribae.
Kilifi Senator Stewart Madzayo said Joho had exhibited leadership that would liberate the Coast region, adding that the BBI project will propel him onto the national political stage.
Criticism
In the recent past, Joho has found himself on the receiving end of verbal attacks from leaders allied to Deputy President William Ruto in the region.
The leaders led by Nyali MP Mohamed Ali, Kilifi North's Owen Baya and Malindi's Aisha Jumwa have criticised Joho's style of leadership. They claim Joho's influence has waned.
Criticism against Joho reach fever pitch after ODM failed to retain the Msambweni seat in the recent by-election.
The DP's allies in the region are now pushing for the formation of a regional party headed by Kwale Governor Salim Mvurya.
But Joho allies said the unity of the Coastal region was a unity of purpose. "Our unity is to ensure that in 2022 one of us will be in the presidential race and that is Ali Hassan Joho. Our colleagues who think they aren't with us they should come up with their candidate so that we chose between Joho and their candidate instead of insulting each other," said Mvita MP Abdulswamad Sharrif.
"We have decided to walk with Ali Hassan Joho and we must support BBI because, especially, the Tana River people were about to lose a constituency as per the 2010 constitution but in the BBI there will be no scrapping of constituencies," he said.
Support governor
Kilifi Women Rep Getrude Mbeyu, and her counterparts Asha Hussein (Mombasa), Ruweida Mohamed (Lamu); MPs Abdulswamad Sharrif (Mvita ), Omar Mwinyi (Changamwe), Teddy Mwambire (Ganze), Ken Chonga (Kilifi South), Badi Twalib (Jomvu), Andrew Mwadime (Mwatate), Rabai's William Kamoti and Likoni's Mishi Mboko also vowed to support the governor.
Others are Kilifi Senator Stewart Madzayo and Kwale Senator Issa Juma Boy.