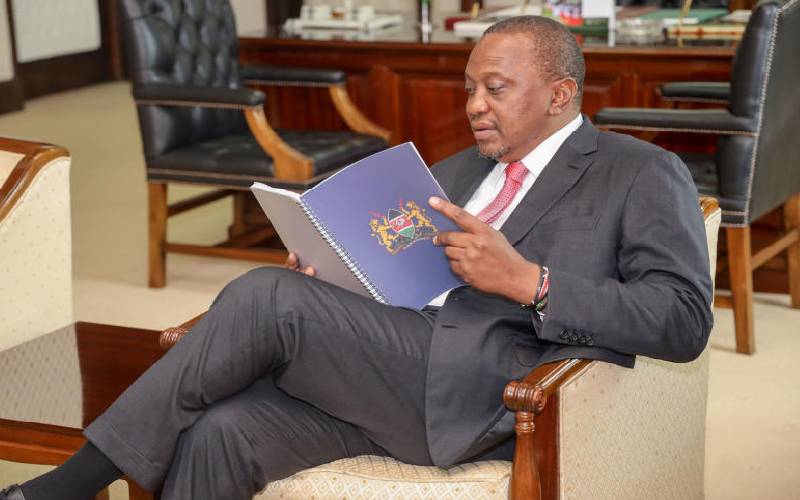 After an eventful year characterised by a fight for the soul of Jubilee Party, President Uhuru Kenyatta enters the twilight of his presidency with a full in-tray on his desk.
Forget his legacy wishes. That will entirely be dependent on how well he is able to manage the immediate tasks at hand, like stabilise the economy, retain his grip on power and cultivate the respect of a diverse and restless group of potential successors ready to mercilessly tear into each other.
Senate Majority Chief Whip Irungu Kang'ata is of the opinion that Uhuru's focus will remain on delivering his many projects, among them water and roads. "He wants Kenyans to achieve political reforms, but I think his focus remains on legacy and development and not politics," said Kang'ata.
Political analyst James Mithika concurs that delivering the constitutional reforms under the Building Bridges Initiative (BBI) will be Uhuru's key preoccupation in 2021.
Read More
Ruto allies
"Personally, I also think he will give a clear indication of whom he prefers as a successor to sustain and build rather than scuttle his legacy," added Mithika.
Even with the ravages of Covid-19, 2020 was a good year for the president politically. With the cooperation of his handshake partner — ODM leader Raila Odinga — he has managed to stem the simmering rebellion marshalled by his ambitious deputy William Ruto within Jubilee.
All the key Ruto allies in the party are now on the sidelines, robbed of their House positions and privileges that had previously made it impossible to deny them the podium. They are now outsiders in a government they were key in establishing. Yet 2021 might be a different kettle of fish for the president.
Pushed to the wall and literary gasping for air, Ruto's closest allies such as Soy MP Caleb Kositany — who is also the Jubilee Party Deputy Secretary-General —have previously made it clear that they are in Jubilee only technically. And as the year came to a close, the impending disintegration of the party was as real as day transiting into night.
The first pointers have already been thrown with last week's application by the Ruto allied Party for Reforms and Development to change its name to United Democratic Alliance (UDA) with "Kazi ni Kazi" and the symbolic wheelbarrow as its slogan and symbol, respectively.
Insiders in Uhuru's camp are said to be thrilled that the DP's camp has finally swallowed the bait. They point out that setting up a party from scratch is not a child's play, and that picking a completely new party controlled by his backyard allies will likely alienate those from other regions who have always been under a misguided notion that they will have a major stake in a future Ruto government.
Those of this school of thought point at other earlier parties formed by allies such as former Cabinet Secretary Mwangi Kiunjuri who leads The Service Party of Kenya (TSP) and Moses Kuria who was previously associated with The National Alliance Party (TNAP) and lately the People's Empowerment Party (PEP), which fielded candidates at ward by-elections in Kahawa Wendani (Kiambu) and Gaturi (Murang'a), winning the latter.
Jubilee vice-chairman David Murathe said the party's minor loses meant nothing about Tangatanga's popularity.
"We know they are on a crest of a wave over those by-elections. But if they really are that popular, why can't they just take over the No vote against the BBI and we see where they will get," Murathe said.
Delivering BBI reforms seem to rank high on Uhuru's priorities and as this journey comes to a close in 2021, it will be interesting to watch how it plays out in view of Ruto's bravado about the number of elected MPs loyal to him — a direct inference to his voter support.
Political commentator Gitile Naituli believes that successful BBI reforms will not be a walk in the park. He thinks many Kenyans continue to see BBI as a wrong priority, coming at a time when the economy is taking a battering from Covid-19.
"Kenyans have been saying that they need a government that feels their pain and demonstrates authentic concerns for the poorest," Naituli, who teaches Leadership and Management at the Multi-Media University, said.
Naituli also lists another task for Uhuru in early 2021 — getting a new governor for the capital city of Nairobi.
This presents a scenario in which Jubilee nominates a governor and ODM a deputy and both campaign for the pair. His verdict is that there is a high possibility of loss as Nairobi is seething in anger due to the poor economy.
Nairobi governor
In his scenario two, ODM and Jubilee offer different candidates. This presents a problem of how they campaign against each other. If Ruto's faction fields a candidate in this scenario, he reckons they are likely to win.
The analyst reckons that the ODM/Jubilee joint candidate could still lose in scenario three when pitted against an independent candidate supported by former governors Mike Sonko and Evans Kidero alongside ousted Kiambu governor Ferdinand Waititu.
Although Uhuru has a grip on management of the city through the Nairobi Metropolitan Service, getting a supportive governor would be an added bonus, and it could help matters a lot if the new city boss fits in the president's regional succession game plan in Mt Kenya region.
Uhuru's political moves in Mt Kenya have remained opaque on his succession game. Many in the crowded cast of hopefuls think he is not keen to leave the scene.
It is seen as a risky gamble for a region that always elaborately thinks about the next generation of leadership. An expected Cabinet reshuffle that would have brought more hopefuls into government has long been delayed.
Also in the president's in-tray is a prominent unopened envelope about what to do with the diving Kenya shilling. On Tuesday, December 29, the shilling was trading at over 108.7 to the dollar, 146.8 to the sterling pound and 132.7 to the Euro.
On January 1, 2020, the comparative rates were 101.7, 128.7 and 109.3, respectively - a demonstration of how deep the economy has bled in the year and not just due to Covid-19, but also because of reckless borrowing, wanton theft and pilferage and high public wage bill.
One of the most popular phrases in the last days of 2020 was a comparison of Uhuru and his predecessor Mwai Kibaki's cost of doing roads.
Critics have been saying that road construction under Uhuru has been very costly and such criticism is likely to be amplified in 2021.