Ruto to back Gideon Moi for presidency in 2022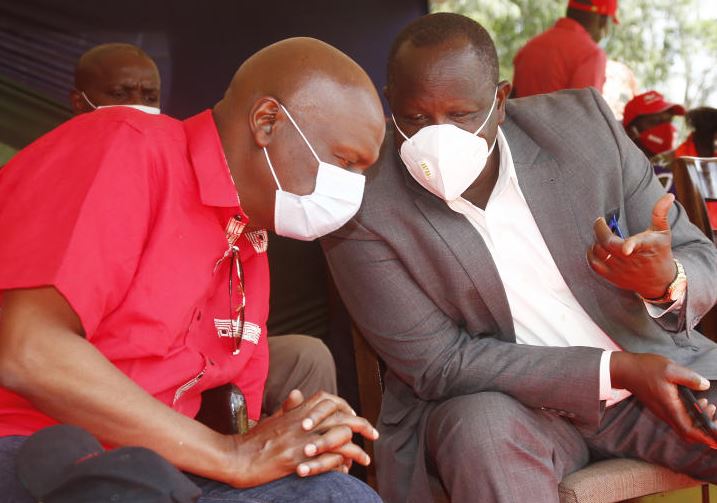 Chama Cha Mashinani (CCM) led by former Bomet Governor Isaac Ruto, will back Baringo Senator Gideon Moi's presidential bid in 2022.
Speaking in Bomet County in the presence of Gideon yesterday, Ruto said the party plans to field candidates in all other elective positions except the presidency.
He said should the Kanu national chairman enter the race to succeed President Uhuru Kenyatta, CCM will rally behind him.
Gideon is yet to declare his candidature for the presidency, but his close allies have maintained that Kanu will have a presidential candidate in the 2022 elections.
Kanu Secretary General Nick Salat and Tiaty MP William Kamket are on record telling party members and supporters that Gideon will be on the ballot.
Yesterday, Ruto challenged the senator to go for the top seat, saying many would love to see his name on the ballot.
He was addressing Kanu delegates and supporters during a BBI sensitisation campaign.
"We are ready as a party to support you. Our party will field candidates up-to county level but for the top seat, we will support you," Ruto told Gideon, adding that no one interested in the presidency in 2022 has approached him for support.
However, Gideon did not respond to Ruto's challenge. He said he was fully behind the BBI and that he belonged to a political formation that reflects the face of Kenya led by President Kenyatta and ODM leader Raila Odinga.
Civic education
"People have accepted and realised that BBI will assist them. We are moving to the second stage of civic education and to the county assemblies. We only need 24 counties, which we believe we already have," he said.
The senator thanked voters who appended their signatures in support of the referendum, saying it was evident from the turn out that many were in support of the proposed amendments.
He exuded confidence that the Constitutional (Amendment) Bill 2020 would sail through the county assemblies and eventually at the vote because majority of Kenyans fully support the process.
He said Kanu will continue to popularise the document as the party's top leadership meets members across the country.
Gideon has so far toured five counties to rally the masses behind the BBI and revitalise his party.
His first port of call was Kilgoris town in Narok County where he launched the collection of BBI signatures. The Kanu team later went to Migori County before taking the campaign to his home county of Baringo, then Embu.
Nominated MP Wilson Sossion said the more than 5.2 million signatures was a good endorsement.
Sossion, who is also the Kenya National Union of Teachers (Knut) secretary general, said the process should be fast tracked to grant Kenyans their wish.
He said the contents of the BBI Bill are good for Kenyans and should not be delayed.
"There is no reason whatsoever to delay the referendum and in fact it should be brought forward because already Kenyans have spoken by signing en masse," said Sossion.
Salat hit out at Deputy President William Ruto for going against President Kenyatta.
"It is sad that while Ruto is the principal assistant and despite pledging to help the president achieve his agenda, he is doing the opposite," he said.
Mixed signals
"Do you need more time to sign for the BBI referendum when your boss has already signed for it and you are his principal assistant?" he posed.
Salat said Ruto should come out and declare that he is opposed to BBI rather than sending mixed signals.
"Let us not beat around the bush, Ruto is on the No side while the president is on the Yes side. That is an open secret," he said.
Baringo Woman Representative Gladwell Cheruiyot said said it was time to unite and stand for one thing.
On amending the Constitution, Isaac Ruto said many Kenyans were for the plebiscite and any delay, as suggested by the deputy president, was unwelcome.
He said the changes would see increased allocation of funds to counties and creation of new constituencies that would benefit Kenyans.