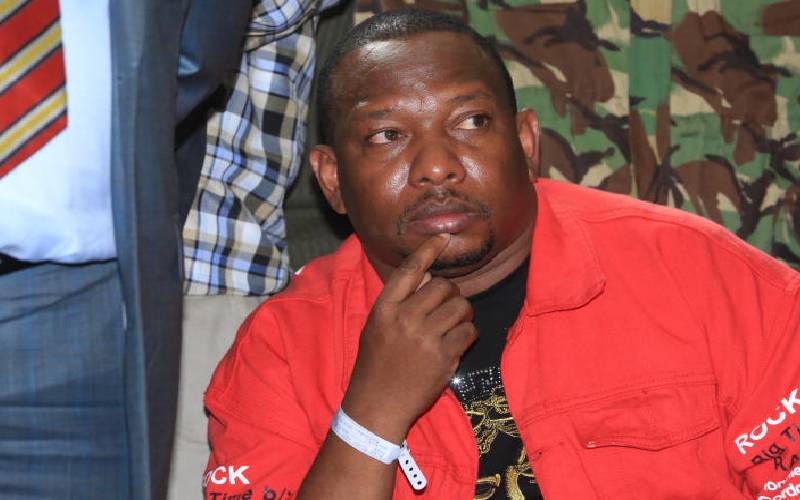 City lawyer Steve Ogolla has said the Senate is likely to confirm Nairobi Governor Mike Sonko's impeachment once submitted before it.
Speaking to KTN News on phone on Friday, Ogolla cited Sonko's recent frosty relationship with President Uhuru Kenyatta as one of the reasons why he will not survive in the Senate.
He said the handshake politics will be against Sonko (pictured) because one of the reasons why he is being removed is for constantly undermining President Uhuru's decisions in relation to Nairobi Metropolitan Service (NMS).
"What was witnessed in the Assembly where Sonko's motion of impeachment was moved by an ODM MCA will play out in the Senate,"
Read More
Ogolla also said claims by some MCAs that their logins were used to vote during the Thursday impeachment will not save the governor, adding that it will require time for such claims to be verified.
"The allegations that their security passwords were breached for purposes of voting can only be resolved in full hearing it, meaning it won't stop impeachment immediately," he said.
The lawyer said the Impeachment process has a timeline in the constitution for finalisation and within seven days from now, the Assembly Speaker transmit the decision to impeach Sonko to the Speaker of the Senate.
Once the Senate Speaker gets the ouster commination from the county assembly, he will convene the Senate to determine whether it will go to the whole House or sub-committee.
On whether Sonko can still move to court to stop the process midway, Ogolla said the court cannot stop the impeachment process once there is prima facia evidence of two-third MCAs voting either virtually or physically it.
He said Sonko will now wait until the Senate confirms his ouster to challenge the whole process in court.
After the impeachment is confirmed by the Senate, the governor will now move to court to challenge the whole impeachment process.
Nairobi County Assembly on Thursday impeached Governor Sonko in a vote that saw 88 MCAs out of 122 in favour of the ouster motion.
Two Members of the County Assembly opposed the vote while twenty others abstained.
By-election
Ogolla said Sonko's ouster will trigger a by-election in Nairobi county following the resignation of Deputy Governor Polycap Igathe.
On whether Igathe could return following Sonko's removal, Ogolla said the law cannot permit Igathe to come back because he resigned and has been absent from the office.
"He cannot come back sensing there is a vacancy yet he resigned and has not been performing the duties of a deputy governor. It would be illegal," he concluded.
Sonko's attempts to name a deputy have flopped in the past.