Raila drums up support for law reforms in Central Kenya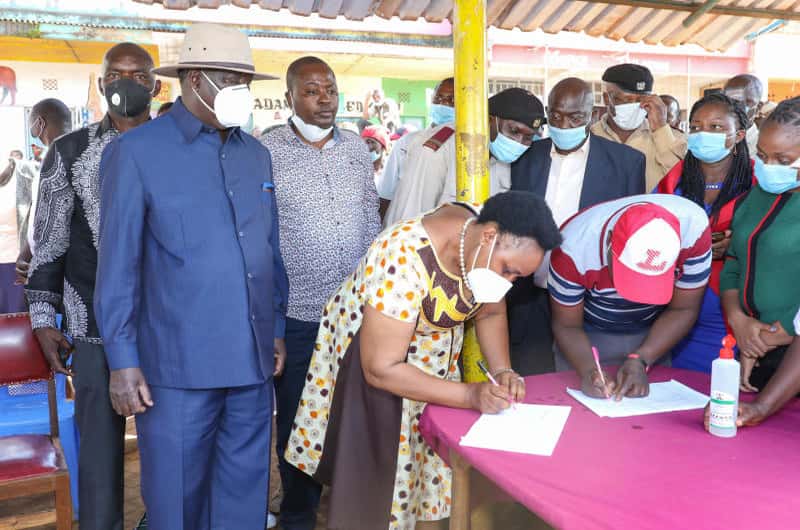 ODM leader Raila Odinga took campaigns for the Building Bridges Initiative (BBI) report on Wednesday to Murang'a County.
Raila, who explained the significance of the Handshake between him and President Uhuru Kenyatta in March 2018, said the BBI would ensure equal opportunities for all.
He said the handshake sought to address the political rivalry that has existed between the Luo and the Kikuyu communities.
He spoke at Kangari market in Kigumo constituency in Murang'a where he was received warmly by the residents. He said the BBI report, which birthed the Constitution of Kenya (Amendment) Bill 2020, has been accepted by millions of Kenyans.
He said the document proposes to increase the allocation of resources to counties from 15 per cent to 35 per cent for development at the grassroots.
"Education will be free from nursery school to university and we will ensure equal job opportunities to improve living standards," said Raila, who was accompanied by Kigumo MP Wangari Mwaniki.
Raila lauded former Kigumo MP, the late Kariuki Njiiri, for stepping aside for Kenya's founding president, Mzee Jomo Kenyatta.
The ODM party leader said the Handshake was aimed at "restoring the river back to its course", in an apparent reference to the camaraderie that existed between Mzee Kenyatta and his father Jaramogi Oginga Odinga in pre- and post-independence era.
Braved persecution
He reminded the crowd how his father demanded for the release of Mzee Kenyatta through the famous Kenyatta na Uhuru slogan, and how he later joined hands with Kikuyu leaders led by the late Kenneth Matiba and Bildad Kaggia to push for multi partyism, adding that they braved persecution in their quest for democracy.
"Mzee Oginga corrected those who had started a movement on Uhuru na Kenyatta and changed that into Kenyatta na Uhuru, meaning that he wanted Mzee Kenyatta to be released first and then seek independence.
"We later joined hands with the likes of Matiba and fought for multi-partism. Later, I came up with the "Kibaki Tosha" slogan in support of Kibaki presidency...," he told the gathering that responded, "Ndio Baba".
Take a quick survey and help us improve our website
Take a survey
Raila backed plans to amend the 2010 Constitution, saying the changes sought to have a "united, liberated and an advanced nation, ready for an economic takeoff."
"BBI envisages social transformation where the interests of fishermen, pastoralists and others will be taken care of, with the aim of uplifting them from poverty," he said.
He urged Mt Kenya region to resist leaders whose style of politics is like that of "a man who wants to eat chicken, uses maize to attract it and then slaughters it and feeds on it."
Ms Mwaniki urged residents to embrace Raila for his devotion and selfless agenda entrenched in the BBI report, which was birthed by the Handshake between him and Kenyatta.
"Both the President and Baba (Odinga) swallowed their pride for the sake of the nation and Central Kenya should embrace him (Odinga)," she said.