Be flexible on BBI debate, says Ruto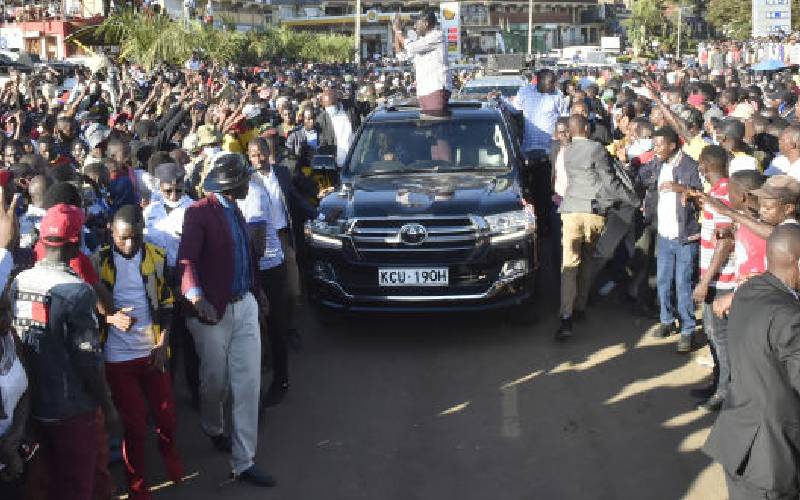 Deputy President William Ruto yesterday urged proponents of the Building Bridges Initiative (BBI) to drop their hardline position on the document.
The DP said consensus building among Kenyans was the only way to avoid a contentious and divisive referendum on the BBI report's recommendations.
Speaking at Munyange Presbyterian Church of East Africa in Othaya, Nyeri County, at the end of a three-day charm offensive in Mt Kenya, Dr Ruto said the report should be all-inclusive.
He said even President Uhuru Kenyatta backed consensus building during the unveiling of the BBI report at Bomas of Kenya in Nairobi last week.
"The Head of State was categorical that dialogue must be given a chance. Those taking a hardline position on the report are only interested in engaging in politics of "us versus them", which in the end will be destructive," Ruto said.
He said those opposed to discussions on the document were acting contrary to what President Kenyatta and Opposition leader Raila Odinga desire.
Ruto said chest-thumping among leaders would only cause divisions on the proposed reforms, noting that subjecting the country to a divisive referendum was unnecessary.
Amended document
Speaking at Marima market in Tharaka Nithi County, Ruto said he wished to see the document amended to have more input on policy and programmes that support the common mwananchi.
"We are saying that if this document remains only about expanding the Executive, we shall stop this reggae," he said.
Ruto said that he was frequenting the region to ensure they don't forget him at his hour of need.
"Someone told me that when you want to cook good porridge, you should keep on stirring it," he said.
The DP accused some BBI proponents of being keen on seeing a contested referendum due to personal interests.
"Others want to use BBI to revive their political fortunes. Let them use something else to do so," he said.
He said some people had started raising concerns on the reasons behind his frequent tours of the region, adding that more such visits should be expected in future.
"Those who voted for Uhuru Kenyatta must have noted that my name was also on the ballot and that is why I am going around doing the work that Kenyans gave us," he said.
Ruto was accompanied by several leaders, mainly from the region.