The rib-cracking moments of the BBI report launch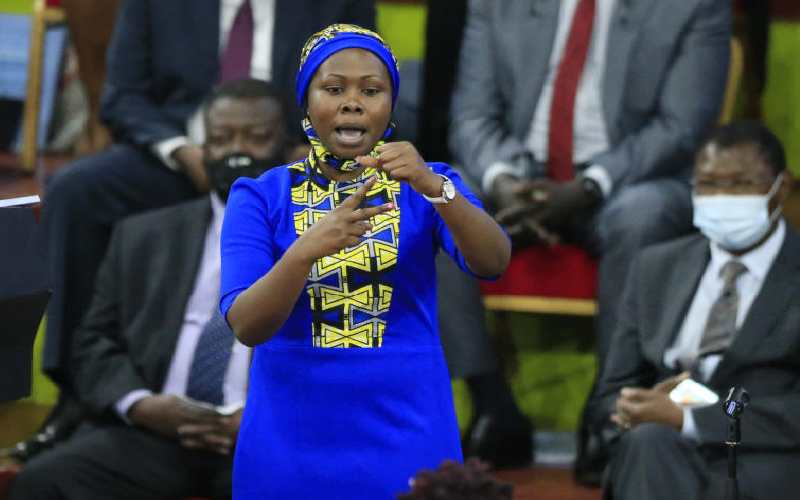 Serious as it was, the launch of the Building Bridges Initiative (BBI) at Bomas of Kenya was a potpourri of serious speechifying and laughter.
As speakers rose to the podium showering praise to the document with a promoted reputation of liberating the country, it is Ashura Micheal that set the mood for laughter and ease in the discourse around the BBI.
Ashura, the valiant representative of persons of disabilities, had the Bomas BBI launch in stitches when she gave President Uhuru Kenyatta the go ahead to take a wife from Nyanza region.
She was alluding to last President Uhuru's tour of Kisumu County when he joked about taking a wife from the region if the First Lady was agreeable.
"Your Excellency, you recently went to Kisumu and I heard you wanted a mpango wa kando from there. I know the first lady accepted. My father Raila Odinga is here and I know he is ready to take the dowry and if my brother the Deputy President William Ruto agrees, he will be the best man," joked Ashura.
As if taking the button in a four-by-one rely, West Pokot Senator Samuel Poghisio ignited Bomas with laughter by telling the president that he could show him the scriptures that support his interest in marrying more than one wife.
"Your Excellency if you want to marry many women you can find it in the Bible. It depends on what you want to read," said Poghisio in bold serious demeanour.
When President Uhuru Kenyatta took to the podium, he thanked everyone who worked to ensure the BBI was able to be presented to the country and humorously called out his Deputy for his early campaigns sending the crowd a frenzy of laughter.
"I thank him (Ruto) because we moved together and then along the way 2022 came into the picture," said president Uhuru while breaking into an unending chuckle.
In deep chuckles, President Uhuru finalized his speech by revisiting the issue of marriage that had been the source of the rib-cracking joke. The president said that even though Wiper Party leader Kalonzo Musyoka spoke about the marriage act, all he could remember was what Senator Poghisio said.
"What I grasped is what Poghisio told me that there is a verse in the Bible that says it is possible. When we are done you will show me what chapter that is then I can read keenly then we can talk later mummy (first lady)," Joked the head of state marking the end of the event at Bomas.