Governor Obado attends Raila's Bondo function, pledges to back his unity quest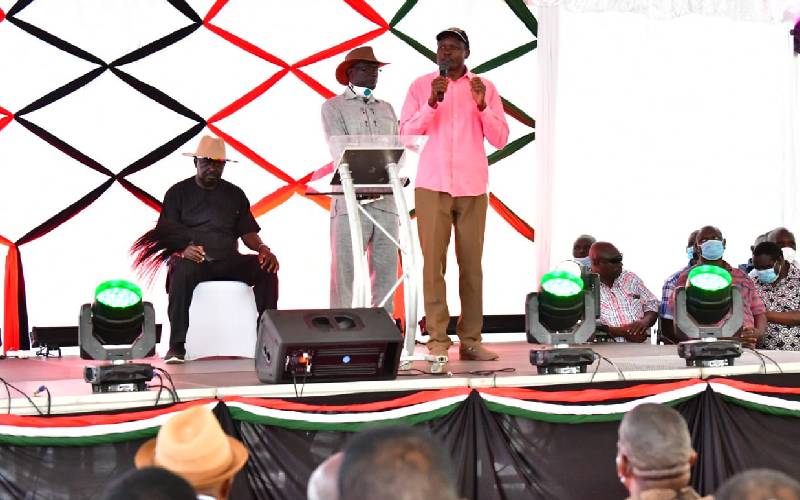 Migori Governor Okoth Obado could have mended fences with ODM Raila Odinga after the former was among the guests who attended a political function at Raila's Bondo home on Saturday.
Raila hosted more than 500 elders from Mt Kenya at their Kang'o Ka Jaramogi home in what is seen as an endorsement for his 2022 presidential bid.
Raila invited elected leaders from Luo Nyanza as he welcomed Mt Kenya elders in a political function that could shape the country's political future going into 2022.
While addressing the Bondo function, Obado praised Raila as a man of wisdom and an experienced politician who has what it takes to lead Kenya.
He hailed Raila's initiative to bring Kenyans together by inviting Kikuyu Council of Elders to Nyanza and urged that such invites should be extended across the country to foster unity.
"We want people from Central to come live with us in Nyanza and people from here visiting Central freely in the spirit of nationhood," he said adding that he was ready to help Raila to unite the country.
Obado and ODM leadership has been at loggerheads since August 31 when he was charged with graft and barred from accessing his office.
While releasing Obado on Sh8.7 million cash bail in August, Chief Magistrate Lawrence Mugambi ordered that Obado be barred from accessing Migori County offices until the case is concluded.
Party through chairman John Mbadi and secretary-general Edwin Sifuna have been pushing for Obado's impeachment, a move that the governor has termed political.
Plans by ODM to push for Obado's impeachment motion failed after chaos rocked the Migori County assembly when they attempted to introduce the motion.
Sources told Standard Digital that the two leaders could have reconciled whey they met in Ombasa Village in Awendo Sub-County on Friday during the burial of Peter Sirawa, the father of Awendo MP Walter Owino.
While addressing the mourners in Awendo, Raila downplayed the Obado ouster motion, saying he will reconcile the two warring factions.
He said the Building Bridges Initiative (BBI) is about uniting the country including political leaders.
Obado has avoided direct confrontation with Raila since the party started pushing for his ouster, blaming his woes on some powerful people in the party.
He, however, warned some people using ODM party to fight him, saying he will fix them at the right time.
"I cannot be cowed by a few political demagogues nursing losses in previous elections. I will sort them out when the right time comes," he said
Prior to the Awendo meeting, Migori MCAs led by Speaker Boaz Okoth had developed cold feet after chaotic assembly sessions that left a female MCA with a broken arm.
MCAs allied to Governor Obado are reported to be keen on shooting down the bill should it be tabled
ODM could be facing challenges in tabling the ouster motion after reports from Migori indicated that most elected leaders in the county are against the move.
The latest developments will leave some ODM leaders disappointment after they indicated that the push for Obado's ouster had Raila's blessing.
Mbadi refuted claims by Obado that it is only a few individuals in the party who are after his ouster.
He told ODM delegates in Migori in September that the impeachment decision had come from Raila himself.
"When I say something and the party leader does not disagree with me, then this means it is the position of the entire ODM leadership to have Obado out of office," said Mbadi.