Mudavadi accuses State of selective ban on political gatherings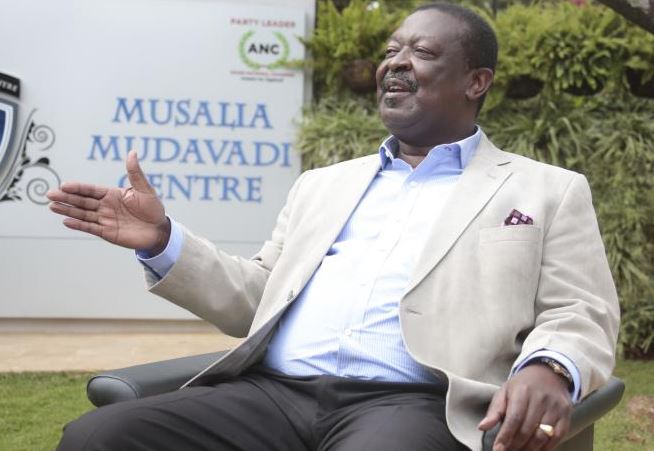 Amani National Congress (ANC) leader Musalia Mudavadi (pictured) has hit out at the state for selective ban on political gatherings.
Mudavadi yesterday said a group of political leaders, Cabinet Secretaries and civil servants have been allowed to hold "huge public gatherings" against health regulations that have outlawed such meetings to contain spread of the coronavirus.
He singled out heightened political activities in Western region, which he said risk exposing people to a surge in infections.
President Uhuru Kenyatta in his last address on the pandemic extended the ban on political and social gatherings for a further 30 days as part of the measures to contain the spread of Covid-19.
In a statement, Mudavadi demanded that Interior Ministry ensure a total ban on all political and public gatherings.
"Let them stop all public meetings that go against the set health regulations. Let them not allow anyone to hold these meetings. What we are seeing in Western Kenya are big political rallies," said Mudavadi.
"We risk having a surge in the number of cases in the area. The government has to strike a balance of either having the meetings or no meetings at all," he added.
He accused security agencies of bias in implementing the regulations, citing instances where one group was allowed to hold rallies while another was violently teargassed by the police.
"There is a problem with the enforcement of the regulations. Every weekend there are political rallies in the region; there are groups given protection by the police while others are teargassed, including in their homes," protested Mudavadi.
He went on, "What is happening in Western is unfortunate because the government through Health Ministry has issued guidelines that political rallies should not take place. But because we have seen selective enforcement of these regulations, meetings have been going on."
He questioned the decision by some Cabinet Secretaries to hold public gatherings in the area while launching development projects.
He said the projects can go on – so long as they are budgeted for – without the gatherings risk exposing the locals to the disease.
CSs Peter Munya (Agriculture), James Macharia (Transport) and Eugene Wamalwa (Devolution) have been in Western Kenya for various government development projects. They have, however, since been recalled by the President following ban of countrywide tours by top government officials.
Wamalwa and Kakamega Governor Wycliffe Oparanya have also held a series of political rallies in the region to woe locals to back President Uhuru and ODM leader Raila Odinga's handshake agenda.
Ironically, Mudavadi has also had a series of political rallies in the region alongside his Ford Kenya counterpart Moses Wetangúla.
On July, 11, the two leaders attended a meeting convened by elders at Esirulo in Emuhaya. A similar gathering was held in Kiminini and another at Nambale MP Sakwa Bunyasi's rural home at Madende village in Busia on July 5.
But yesterday, he said the public gatherings were likely to expose thousands if not millions of Kenyans to the virus whose vaccine is yet to be found.
"It looks like there is a political gold rush in Western Kenya. We have seen Governors, Cabinet Secretaries and other elected leaders camping in the region day in day out. What is it that is in Western Kenya yet the general elections are in 2022," posed the ANC party leader.
Both Lugari MP Ayub Savula and former Kakamega Senator Boni Khalwale have been arrested for flouting the regulations.
Khalwale was arrested for hosting a gathering in his compound in Mungusi village, Ikolomani, on June 5, while Savula was arrested when he accompanied Mudavadi for a rally in Nambale.?