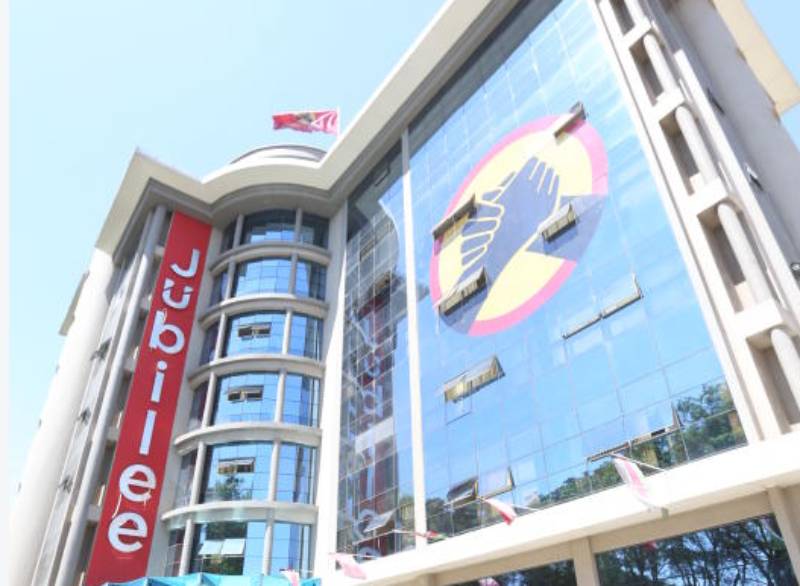 President Uhuru Kenyatta's allies in Jubilee have now trained their guns on deputy secretary general and Soy MP Caleb Kositany as they seek to complete removal of Deputy President William Ruto allies from the party hierarchy. Jubilee Party was crafted on a 50-50 basis between President Kenyatta and his deputy. However, in the last four months, under the cover of the Covid-19 pandemic, the Head of State has weakened the DP's side. Vice chairman David Murathe said Kositany has been disloyal to the party leader and has also been undermining his immediate boss, Secretary General Raphael Tuju, something which can no longer be tolerated.
SEE ALSO: Cat fight earns family a home and cash for kind shopkeeper
"The party must have order. We will discipline anyone seen to go against party ideals and who disrespects the party leader. And this includes the deputy secretary general. No one will be spared disciplinary actions where necessary," said Murathe. Removal of Kositany could happen in the coming week when the party is expected to reorganise its National Executive Council and formally usher in the newly reconstituted National Management Committee (NMC) that will be in charge of running the day-to-day activities of the party. The new NMC is comprised of Ms Lucy Nyaguthii Macharia, Prof Marete Marangu, former Kitutu Masaba MP Walter Nyambati, Ms Jane Nampaso and Mr James Waweru. This is the same team that triggered the purge when Ruto's wing protested its inclusion, claiming they were not consulted. Ruto's side protested to the Registrar of Political Parties through letters but in vain. Yesterday, Kositany said those who want him out should go ahead and execute his their plan. He said the party leader is yet to call a meeting of the NEC.
SEE ALSO: Threats, blackmail claims in fight over cash-sharing
Cohesive country
"Let them go ahead. When we formed the party, we had noble intentions, to unite the country and build a firm, developed and cohesive country. That dream was hijacked by busybodies. In any case, I am fighting with my consciousness on whether I should continue serving a party where even my little idea is not recognised or listened to," said Kositany. He said he expects to be fired and this is because of staying true to the dreams of the party and that those currently in control of the party don't understand this. He ruled out resigning saying he would wait to be fired. "If they no longer want us in the party, God will give us options." Murathe did not give a date when Kositany will be removed only saying the party is planning to meet soon. The meeting, Murathe said, will discuss internal affairs of the party, including reorganisation of the NEC.
SEE ALSO: 2022: Every man for himself
Kositany has become the face of Tangatanga in the Jubilee Party. Any formal complaints from the Tangatanga wing on the way the ruling party is managed, are normally channeled through him. The ouster of Kositany will give Uhuru a near total control of the party at the NEC and the powerful NMC, clearly locking out Ruto from the control of the political vehicle he helped build after a merger of 11 parties into a monolithic outfit. Initially, NEC was made up of the president, Dr Ruto, Tuju, Nelson Dzuya (chairman), David Murathe (vice-chairman), Kositany (deputy SG), Albert Mutai (Treasurer) and Shukri Fatuma (Deputy Treasurer). Others members were Abdul Haji (organising secretary), Pamela Mutua (deputy organising secretary), Veronica Maina (vice chairman for strategy), Aden Duale (National Assembly Majority Leader), Benjamin Washiali (Majority Whip, National Assembly), Kipchumba Murkomen (Senate Majority Leader) and Senate Majority Whip Susan Kihika. Duale, Murkomen, Ms Kihika, Washiali, Kositany, Mutai, Shukri, Mutua are perceived to be Ruto allies. Removal of Duale, Washiali, Murkomen and Ms Kihika, from their parliamentary offices, technically quashed their NEC membership. Their replacements; Kipipiri MP Amos Kimunya (National Assembly Majority Leader), Majority Whip Emanuel Wangwe and Senate Majority Whip Irungu Kang'ata, all President Kenyatta's allies, tilted the balance of scale in Uhuru's favour. Another inclusion into the NEC that further complicated matters for Ruto is Eldas MP Adan Keynan, who is now the Joint Secretary for Jubilee Coalition Parliamentary Group. Others in the NEC are chairpersons of Jubilee Foundation, National Business Council, governors and MCA caucuses, Women's, Persons with Disabilities, Diaspora, youth Leagues and Operations. With possible removal of Kositany, the DP and the party Treasurer Albert Mutai will be the only ones in their wing, alongside a small fraction of chairpersons in the leagues. An April statement by the National Advisory Committee (NAC) that is made up of former party leaders of each of the 12 parties that dissolved to form Jubilee and whose representatives sit in NEC, indicated that they were leaning towards the Uhuru wing of the NEC.
Earlier interview
"At the moment, we have control of the NEC," said Murathe in an earlier interview after the changes in Senate and National Assembly. Nyeri Town MP Ngunjiri Wambugu said there is urgent need to kick out Kositany saying the MP has tarnished the name of the party. Wambugu said Kositany has been a senior official of the party since its formation and his claims that the party was misusing funds were unfortunate. Kositany said Ruto's supporters want the Auditor-General to audit Jubilee Party's financial books. "What the party deputy SG Kositany was attempting to do was cast aspersions on Jubilee in a bid to destroy the party. I urge the party leader to reorganise the Jubilee leadership outside parliament," he warned. He said Kositany should have used the protocols within the party to make his complaints instead of going to the media. "This is simply an attempt to portray the party and the party leader in a negative way. If there was fraud, then he must have been aware of it. His statements are an attempt to destroy the party," said Wambugu. Before the crackdown, Ruto had a firm control of both houses and a slight majority in NEC. In parliament, confidants held most leadership positions.