Ruto's Mt Kenya ally dumps Jubilee to form new party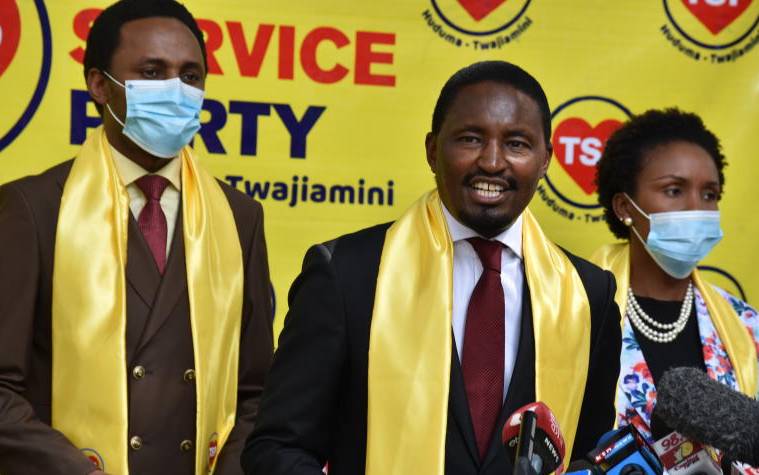 Former Agriculture Cabinet Secretary Mwangi Kiunjuri has formally severed links with the ruling Jubilee Party by launching a new political outfit.
Political observers say that by launching The Service Party (TSP) yesterday, Kiunjuri, who lost his Cabinet position in January over what pundits say was his support for Deputy President William Ruto, is trying to reinvent himself politically.
After President Uhuru Kenyatta sacked him from Cabinet where he had served since 2015, Kiunjuri had been quiet for the past few months until yesterday when he turned up to launch TSP. Kiunjuri hopes to position the outfit as the alternative party in Mt Kenya.
The party, he said, during the launch in Nairobi, will offer an alternative avenue for the voices of Kenyans and revolutionise governance.
"At a press conference 131 days ago I said I would remain independent, principled and firm and that I was not going anywhere," said Kiunjuri.
"As you are aware, parties are established to either form governments or influence government's decision making," he said.
The party's symbol is a heart inside a circle nested in the background of its colours - yellow and navy blue.
"This symbol is our promise. It stands for our genuine desire to serve humanity and fellow Kenyans," said Kiunjuri.
He said current political events in the country were a clear signal of what parties were planning for the 2022 General Election and beyond.
Kiunjuri announced he had no intentions of running for Laikipia governor's seat in 2022, but that his party would be fielding candidates across the country.
The party is already preparing to field candidates for vacant ward rep seats in Kiambu, Kilifi and Nakuru counties.
The party's organising secretary, former ward rep Karungo wa Thangwa, said the new outfit was ready to take on its competitors.
"As TSP, we call upon the Independent Electoral and Boundaries Commission to come up with measures and protocols that will enable those without representatives to elect new ones. We are ready to field candidates in these areas," said Thangwa.
The new outfit will be Kiunjuri's second stint as party leader.
In 2013, he defied political waves in Mt Kenya by going against Uhuru's The National Alliance (TNA) and sticking with the Grand National Union (GNU) that he had formed in 2008.
That decision cost him the Laikipia governor's seat to TNA's Joshua Wakahora Irungu.
Although he was not elected, GNU bagged a governor's seat in Nyeri with the election of Nderitu Gachagua - who later died in office - and a handful of county assembly slots in Laikipia and Nyeri.
It was one of the parties that were dissolved in 2016 to form the Jubilee Party.
Kiunjuri was among the few politicians in Uhuru's Cabinet that was largely dominated by technocrats, before falling out with his boss and getting fired.
The Service Party was launched at a time when fissures in Jubilee are becoming visible cracks.
There is growing disillusionment among Jubilee Party members, especially those allied to DP Ruto, with all indicators pointing at a possible break-up.
Kiunjuri's party is expected to provide a soft landing for leaders who fall out with Jubilee in the ongoing purge.