Covid-19: Speakers Muturi and Lusaka to take 30 per cent salary cut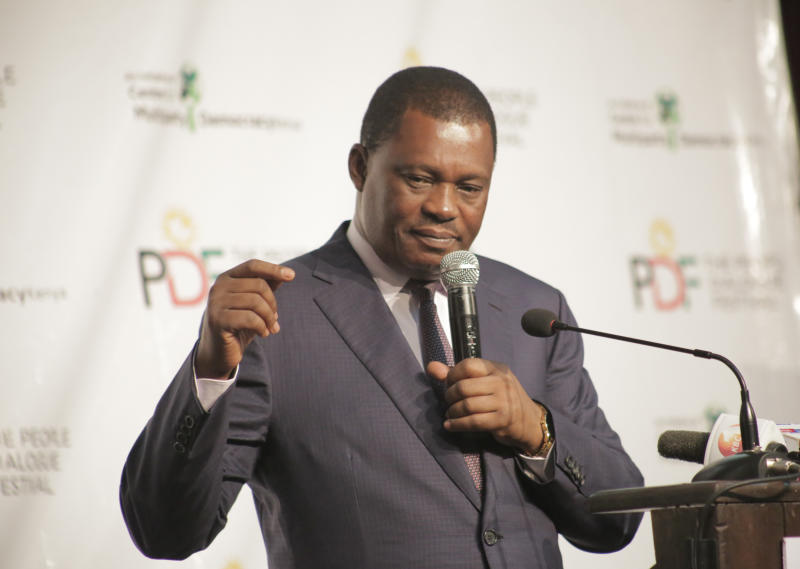 National Assembly and Senate speakers Justin Muturi (pictured) and Kenneth Lusaka will both take a 30 per cent pay cut to aid in the fight against coronavirus.
Addressing the media, Senate Speaker Lusaka said, "We have agreed to take a 30 per cent pay cut for the next three months to help improve the fight against coronavirus."
National Assembly Speaker Justin Muturi said that members of parliament will give a separate address on whether they will be taking salary cuts themselves.
The move comes after President Uhuru's announcement yesterday that the National Executive will take voluntary pay cuts as the global crisis continues.
President Uhuru and his deputy William Ruto will take a 80 per cent pay cut, Cabinet Secretaries and Chief Administrative Secretaries 30 per cent and permanent secretaries 20 per cent.
President Uhuru challenged MPs, who have been under scrutiny over their pay, to consider going the same route.
"We hope that other arms of government will follow suit and have their salaries reviewed. The MPs have heard and know what Kenyans want," he said.
Speaker Muturi also said that both houses will hold special sittings to deliberate on Uhuru's tax breaks.
"If there could be reason for urgent business to be transacted, the leaders will write to either speaker, by which we are obligated to recall the house," Muturi said.
Social distancing
The question of social distancing in the August House also came up, seeing as the National Assembly chamber is designed to accommodate 350 persons.
Muturi said: "If we are 350 members, we are unlikely to practise the requisite 1-metre distance and we also cannot be oblivious to the fact that some members are scared of congregating."
However, he reassured that parliament staff would advise on how to best deal with the situation, should it arise.
Parliament has put measures in place to curb the spread of the pandemic, for instance, placing hand-washing faucets at specific places within the building, sanitizers and having guards record temperatures for any entrant.
Big shots in the corporate sector have also take paycuts with Kenya Airways' Allan Kilavuka and his management foregoing 65 per cent of pay check amounts to support the war against the Coronavirus while at same keeping the struggling national carrier going.
Companies and firms across the country have also put in place measures to cushion their employees from the economic effects of the pandemic.
On Monday, Vitafoam, in a memo to its staff said they would provide basic necessities that include foodstuff and other household utilities, to share in their burden during the tough economic times.