Jubilee faces acid test ahead of party elections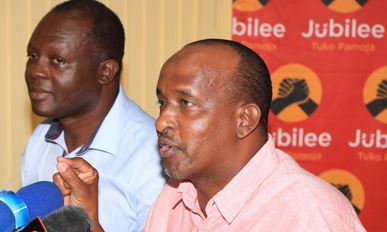 A sharply divided President Uhuru Kenyatta's Jubilee Party faces an acid test as it prepares to conduct its elections ahead of the March 31 deadline to comply with requirements of the political parties' law.
With just two months to the deadline set in their own constitution and the agreement with the Registrar of Political Parties as per the requirements of the Political Parties Act, Jubilee now races against time to be compliant, even as its members accuse the interim secretariat of poor planning.
Party members allied to Deputy President William Ruto, who is also the party's deputy leader, are accusing the secretariat, led by interim Secretary General Raphael Tuju, of failing to provide a roadmap on the party's preparations for elections.
They argue that Mr Tuju, who they claim is biased in Jubilee's divided house, could be out to frustrate the process hence the delays in giving members direction on the activities that should culminate to the grassroots polls and finally that for national office bearers.
Parties Act
It is a requirement under the Political Parties Act that every party holds its polls as per its constitution, failure to which it risks deregistration.
But despite the apparent lack of preparations, Senate Majority Leader Kipchumba Murkomen downplayed the issue, saying there was no leadership crisis in the party to warrant a rush.
"We shall do the elections when we are ready and after the party leader and his deputy will have consulted all the stakeholders and taking into account other prevailing national interests," said the Elgeyo Marakwet senator.
The Registrar of Political Parties Anne Nderitu yesterday confirmed that Jubilee had, upon its registration in 2017, requested for a three-year period to furnish the office with substantive office holders. It had in the meantime given interim officials to oversee the party's activities pending the elections.
MPs contacted yesterday confirmed that this request was in line with Jubilee's constitution, which required that the party must have its substantive officials by end of March 2020.
"The party undertook to have substantive office bearers in three years' time. That is what was filed with our office. In the event that the three years lapse and there are no elections, then the party -- through its National Executive Council (NEC) -- has to give a way forward: Explain why they have not been able to hold the elections and commit to new dates and time," said Ms Nderitu.
But MPs were categorical that the party had no option but to hold the polls within the set time, urging the secretariat to get its act together and promptly start a membership recruitment drive to kick-start the grassroots elections.
"We are worried that, yes. By law we are supposed to hold our elections by end of March, but on the ground there seems to be no plans for such an activity. We hope that the secretariat will start (preparations) immediately now that the festivities are over. They must come out of the slumber and be alive to the requirements of the law," said Murang'a Senator Irungu Kang'ata.
Gatundu South MP Moses Kuria said there was a feeling among some party members that Jubilee's top leadership was somewhat afraid of confronting the challenges facing the party, even as it continues to disintegrate.
Mr Kuria said party leaders had no option but to summon its organs to give a way forward.
"This party belongs to all of us as members. They should stop fearing us and call the National Governing Council and the Parliamentary Group to discuss these matters. We cannot run away from them," said Kuria.
Members trained their guns on Tuju over his running of the party, even after it emerged that there was a plot to force him out of the election preparations over what they termed as his open bias against a section of the party membership.
They particularly took issue with Tuju's recent "sweeping" statement that the party will block from office people who are implicated in graft.
"Some of these conditions that he (Tuju) is setting are strange. It is baffling how a party official will be able to make a determination on who is corrupt and who is not. Corruption is not good, but we wonder from where he would derive such powers," said Mumias East MP Benjamin Washiali, who also doubles up as the National Assembly's majority whip.
Kimilili MP Didmus Barasa revealed that there was a group, under the leadership of an MP from Rift Valley, that will be pushing to have Tuju step aside from election planning and have the process driven by an independent electoral board.
"If Tuju wants to run for the secretary general's position, then he will face off with other candidates who will be interested in the position," said Mr Barasa.
But Tuju has defended his sentiments on barring those implicated in corruption from running for elective office, saying it was provided for in the party's constitution and the code of ethics.
"Why do some people have a problem with a part of the constitution, and why do they believe that any references to corruption targets them as individuals?" posed Tuju.
He said a timetable for the polls was yet to be released, but called for patience noting that the party would meet the set deadlines.
"We want to consult the party leadership on modalities of conducting the polls before communicating the same to party members. We have been on Christmas break and are resuming on January 6. Once we resume, we will hit the ground running and majority of these matters will be addressed. Let members not be jittery," he said.
He said he was looking forward to a free and fair democratic contest, adding that elections will be held per county and will be guided by the Political Parties Act.
''We will not block any member who will not meet the decision and rules set by the party... We will also be guided by the register of party members,'' he explained.
Logistical problems
But he expressed fears that Jubilee may run into financial or logistical problems given that they do not have the billions of shillings that IEBC uses to hold polls.
"These are some of the sticking issues we will have to relook when we meet in the course of next week to come up with election timelines," he said.
He reassured the members that none will be blocked based on which side they support and that everyone, including himself, will be free to defend or run for a seat of choice.
Another of Ruto's close ally, Kikuyu MP Kimani Ichung'wa, said the secretariat must begin preparations for the polls in earnest.
But Kiambaa MP Paul Koinange dismissed the "incessant calls" and blame targeted at the secretariat, saying party polls should be devoid of such personal attacks.