Friends turned foes: Outa now goes all out for Nyong'o's top seat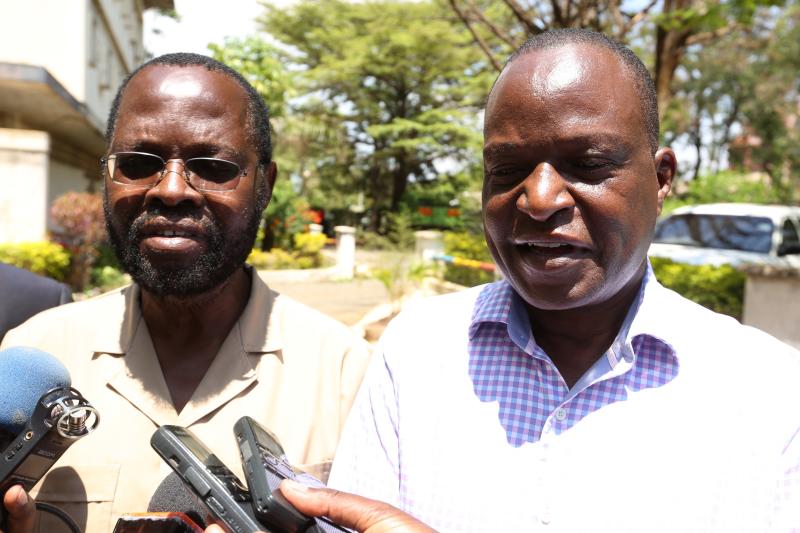 In the 2017 General Election campaigns, then Kisumu Senator Anyang' Nyong'o and Nyando MP Fred Outa pooled their resources and synergies to unseat former Kisumu Governor Jack Ranguma.
The motivation was driven by a mutual benefit; Prof Nyong'o would be governor, leaving his Senate seat for Mr Outa.
That is how Team Kali was formed and the two politicians agreed to share the county power on a 50-50 basis.
But the loyalty between the two leaders is now fast wavering, with each pulling parallel to the other for their political survival.
Sources close to Nyong'o say the governor feels that Outa and his allies are disloyal to his office and working against him, while the senator's team feels dissapointed with the governor.
Outa's allies say the governor has reneged on their pre-election pact and is now losing the grip of county politics, while Nyong'o believes he is working tirelessly.
"The only problem we have is people who are entangling our work into too much politics of dissent, making us lose productive time," says Nyong'o.
After they both won their seats, Team Kali metamorphosed into 'Tich Tire' (loosely translated to 'we are working') and a WhatsApp group was created with the aim of consolidating their support base and keep the electorate informed. This further widened the space for dissent.
The Tich Tire forum allowed for more divergent views to be expressed at will, with supporters from both sides using it to settle political scores.
But while 2022 general election is still three years away, Outa has already started a campaign to dislodge the governor.
So intense is the rivalry that last week, Nyong'o fired three of his executives reportedly close to Outa. They were Energy and Industrialization Executive Alice Moraa, Richard Ogendo (Trade) and Thomas Ondijo (Roads).
Outa asked those fired to humbly accept the governor's verdict and retreat to strategise how to pay back in 2022.
"We are assembling our team and we will get there, too, in a matter of two years," the senator said.
He implored the fired CEC's to be patient.
According to Outa, when they formed the Team Kali, their intention was to share power on a 50-50 basis with Nyong'o.
Share out slots
Both the governor and senator were to share out available slots in the county government and each was to give names of those to be nominated.
Ondijo was the Team Kali chair. Moraa and Ogendo were active members whose financial contributions oiled Nyong'o's campaigns.
Impeached County Assembly Speaker Onyango Oloo was also a member.
Moraa's role was to mobilise the Kisii community to vote for Nyong'o and Oloo and others mobilised the diaspora votes.
Prior to the sacking of the three and impeachment of Oloo, former Chief of Staff in the governor's office, Patrick Ouya, was also shown the door.
Ouya played a key role in Nyong'o's campaigns, especially in his home turf of Nyando, where they teamed up with Outa to deny Ranguma the populous Kano votes.
Ondijo told the Sunday Standard that they will make sure they return to the Cabinet in 2022.
"It will be no easy ride in the pack. We will bounce back," he said.
He said they were honest servants who had done their best to promote the governor, but it is unfortunate he had let them down.
Ogendo however said he had no bad feelings.
"We have been axed, let the governor now work with those he is comfortable with," he said.
Moraa said she will forget and move on.
Victims of politics
"We have been dismissed without notice. All the good things we did were overlooked. We are victims of politics," she said.
Nyong'o however denied claims of victimisation on political grounds, saying it was purely based on service.
The governor's Communications Director Alloyce Ager said the changes made were arising from public hue and cry over the declining performance standards.
Ager said some of the executives were not performing to the governor's expectation, hence the decision to fire them.
"No matter what side of the political spectrum we are on, there is bound to be someone complaining about how the other side is horrible or slanderous," he said.