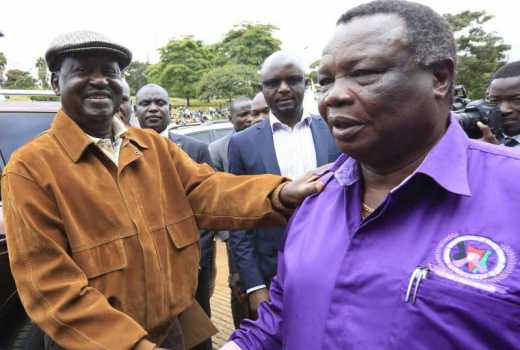 A call to create a prime minister's post for President Uhuru Kenyatta when he retires has sparked fresh debate on the change-the-Constitution campaign.
Central Organisation of Trade Unions (Cotu) boss Francis Atwoli ignited the debate during Labour Day celebrations yesterday.
Mr Atwoli argued that Uhuru was still young and should not be let to retire at the end of his current second and final presidential term.
Uhuru is 55 years and will be 59 at the end of his term.
Russian system
The Cotu boss' proposal is modelled on the Russian system that saw President Vladmir Putin and Prime Minister Dmtry Medvedev swap positions at the of Putin's term.
"Let us amend this Constitution and adopt the Bomas draft to fight exclusion, realising that not all of us can be president. This will allow us to accommodate President Uhuru Kenyatta, who is very young. Otherwise where are we going to take him?" asked Atwoli.
The Bomas draft constitution proposed transferring the bulk of presidential powers to a prime minister elected by Parliament.
Opposition leader Raila Odinga, who was present during yesterday's celebrations at Uhuru Park, Nairobi, did not comment on the matter, only saying his unity deal with Uhuru was unstoppable.
Deputy President William Ruto has in the past opposed the push to amend the Constitution to create new posts.
National Assembly Speaker Justin Muturi and leaders of Majority Aden Duale (National Assembly) and Kipchumba Murkomen (Senate) dismissed Atwoli's call, terming it 'shortsighted'. Mr Muturi said although every Kenyan had the right to comment on the matter, calls for amending the Constitution should not have a specific individual in mind.
"Constitutions are never made for an individual or community. If we go that way, we shall lose. Even if there is an amendment to the Constitution, let it be to strengthen governance institutions and for posterity. It is his opinion (Atwoli), but matters to do with law and the Constitution should be about institutions," Muturi told The Standard at Jomo Kenyatta International Airport, where he had arrived after a week-long tour of the US.
Constitution changes
Mr Duale advised those agitating for a change of the Constitution to pursue the matter as provided by the law.
"President Kenyatta has made it clear that he is happy to retire. If Atwoli is looking for jobs for some people, he should state so and stop using the President's name," Duale said.
Mr Murkomen described Atwoli's sentiments as 'warped'.
"Atwoli's suggestion is warped. Our focus is not how to create jobs for individuals but for millions of Kenyans. The President is well catered for and does not need any position created for him," said Murkomen.
East African Legislative Assembly MP Simon Mbugua cautioned against rushing to amend the Constitution, saying it would be too expensive.
"A referendum is a costly process and this matter must be weighed very carefully. We have just come from a general election and a repeat presidential election, both of which were very costly," said Mr Mbugua.
Ford Kenya leader Moses Wetang'ula said he supported amendments to expand the structure of the Executive and not to accommodate individuals in the Government.
"We must not amend the Constitution because we want to accommodate individuals but because we want the country to be run in a better way and the benefits to reach everybody," said Mr Wetang'ula.
Parliamentary system
He said the current Constitution was restrictive in the structure of the Executive and backed a parliamentary system with a hybrid structure of the Executive.
Orange Democratic Movement (ODM) Secretary General Edwin Sifuna said the party would support any amendments that would bring all communities together.
"We are not amending the Constitution with someone in mind. We were always supportive of the Bomas draft because it captured the aspirations of the people," said Mr Sifuna.
Kakamega Governor Wycliffe Oparanya said changes to the law should not be done for an individual but to accommodate more communities.
"I support amendments that accommodate more communities. They should be for posterity," said Oparanya on the phone.