Mombasa MCAs to pass people's assembly motion before Raila's 'swearing in'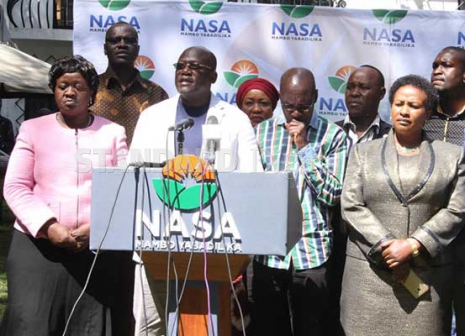 Mombasa County Assembly is preparing to pass the people's assembly motion before opposition leader Raila Odinga is 'sworn in' on 12th December 2017.
On its Facebook page, NASA has indicated that the County Assembly will be discussing and passing the people's assembly motion on Wednesday 6th of December.
The motion which has received the highest approval ever since the devolved house began its operation in 2013 has so far received a unanimous endorsement from all MCAs who are set to pass it on Wednesday.
NASA has also indicated that all Bunge la Mwananchi leaders in Mombasa and several senior opposition leaders will be present in the county assembly to witness the historic event.
"It has been said before that no peace for the oppressors if there is no justice for the people. And things are no different for the illegitimate government in the coming days. Mombasa County being the epicentre of the quest for justice is not exceptional in realising this dream," read part of the NASA statement on Saturday.
15 counties in the NASA strongholds have so far passed the people's assembly motion as more counties are expected to debate it.
On Friday, the NASA team unveiled a seven-member committee to guide the coalition on the way forward of the People's Assembly to press for a people driven government.
The team is chaired by economist David Ndii and will be responsible for coordinating programmes of all county assemblies that have so far formed the People's Assemblies.
The Ndii team is expected to hand over its report to the NASA principals before December 12, a date the opposition leader Raila has announced he will be 'sworn in' as the people's president. The committee will also provide a list of activities for December 12.
Raila declared on November 28th that he will be 'sworn in' during this year's Jamhuri Day celebrations after police stopped supporters from holding a memorial service at Jacaranda grounds in Nairobi's Eastlands. The memorial was meant for honouring supporters that NASA say were killed by police.
Raila's declaration on Tuesday came shortly after President Uhuru Kenyatta had been sworn in for a second term in office at the Kasarani stadium, Nairobi.