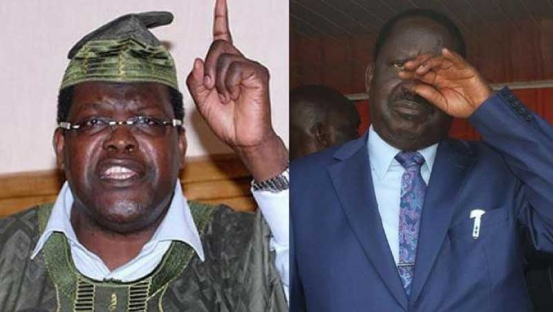 Former Nairobi gubernatorial candidate Miguna Miguna has alleged that the National Super Alliance (NASA) presidential candidate, Raila Odinga, won the August 8 General Election. According to Miguna, Raila defeated President Uhuru Kenyatta and his deputy William Ruto, based on the panic that the two leaders have shown since the nullification of presidential results by the Supreme Court. "Based on the unprecedented panic President Uhuru Kenyatta and Deputy President William Ruto have exhibited, I BELIEVE THAT Raila Odinga won on August 8
th
," Miguna posted on Twitter.
Based on the unprecedented panic @UKenyatta & @WilliamsRuto have exhibited, I BELIEVE THAT @RailaOdinga won on August 8th. #WakoraNetwork

— Dr. Miguna Miguna (@MigunaMiguna) September 19, 2017
He had also launched a scathing attack on Ruto (Monday) for allegedly blocking him on Twitter.
SEE ALSO: Why politicians want nicknames on ballots
According to Dr Miguna, DP Ruto blocked him because of criticising him on matters governance. "Mr. William Ruto has blocked me for criticizing him. He is not a private citizen. He sucks billions from my taxes," Miguna stated. The popular and vocal lawyer also hit out on President Uhuru, stating that he was jobless before he met former President Danel arap Moi who nominated him. "Mr Ruto sold chicken before he became an MP. Uhuru Kenyatta was jobless before Moi nominated him. They have no right to shout at us," Miguna stressed.
When I stated that live TV debates are critical to winning elections, @UKenyatta and @WilliamsRuto ignored because they knew they would rig.

— Dr. Miguna Miguna (@MigunaMiguna) September 19, 2017
When you see an ILLEGITIMATE GOVERNMENT hold demonstrations against the #Judiciary - an arm of government - know that it has SURRENDERED.

— Dr. Miguna Miguna (@MigunaMiguna) September 19, 2017
You will not count the fake ballot papers you stuffed with the connivance of @ezraCHILOBA and his thugs. The #WakoraNetwork has been caught.

— Dr. Miguna Miguna (@MigunaMiguna) September 19, 2017
PATRIOTS won't allow @JubileePartyK to subvert the Constitution by MALIGNING the #SupremeCourt judges. #NoReformsNoElections #WakoraNetwork

— Dr. Miguna Miguna (@MigunaMiguna) September 19, 2017
We dare @JubileePartyK & their goons to bring the police & the army on the streets: The people will never be defeated. #NoReformsNoElections

— Dr. Miguna Miguna (@MigunaMiguna) September 19, 2017
SEE ALSO: DCI grills Baringo politician for badmouthing President Uhuru