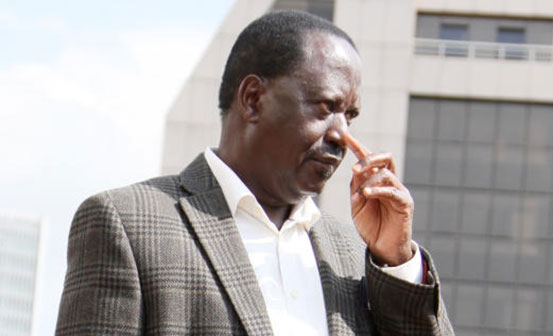 NASA Presidential candidate gave his first ever television interview after the Supreme Court declared a repeat presidential election on Tuesday 12 September, 2017. He was hosted by Yvonne Okwara Matole on KTN News.
Is NASA boycotting the October 17 re-run of the presidential election?
In his book, "boycott" was a creation of the media. He told the anchor there will be no elections unless certain irreducible minimums were met, key among them being the removal of IEBC officials he accuses of conniving with his rivals to rig the election. Jubilee nominating itself, would be fine but wananchi would not accept it, he said, stressing that an election was a competition between parties.
ON Jubilee having an absolute majority in the National Assembly and the Senate
In a broadside aimed at his archrival, President Uhuru Kenyatta, he termed this "as delusions of grandeur, " his argument being that Jubilee is 20 seats short of the numbers that would allow it to amend the constitution. In the Senate, He said Jubilee had 13 more Senators than NASA.
In his last, years he explained US Barrack Obama achieved a lot minus a majority in the Senate and the House of Representatives
So, is there going to be a political settlement if it is evident that a re-run cannot be held?
After a "yes", he shifted gears and stressed that does not mean "Nusu mkate" (coalition government in Kenya's political parlance.) Nusu Mkate is Kiswahili for half a loaf of bread.
Is he ready for an IEBC-run election?
Absolutely not. To him, the electoral agency does not appreciate the gravity of the situation in Kenya now. He was surprised commissioners could hole-up in Naivasha, settle their differences and voila, they are ready to run the poll. Are they now united to rig the vote? he wondered pointing out the fact the fact that they had settled on Dubai printing firm, Al Ghurair, indicated that they had learnt no lessons from the debacle of forms 33 and 34 As. Some of the forms he said had been printed without serial numbers, security features and logos. This he said formed the basis of his petition evidence, rubbing him the wrong way was also the retention of the French ICT firm Saffron, which he accused of colluding with poll riggers.
He also latched onto memo from Chebukati that required the commission's CEO Ezra Chiloba to explain 12 irregularities that, most likely, led to the annulment of the presidential election. So far, he said, it was not clear how the issues had been solved but was categorical that solving differences in Naivasha wasn't a solution.
But IEBC as the name suggests, is autonomous.
Not really, he told Okwara. Commissioners were under duress to do Jubilee's biding, he said. Some he added, have had their security withdrawn and trailed, he said in regard to its Chairman Wafula Chebukati and commissioners who are offering "alternative views". To him, that would explain Chebukati's softening after firing a memo that required the commission's CEO Ezra Chiloba to explain 12 irregularities that, most likely led to the annulment of the presidential election.
The IEBC, he said had been turned into criminal enterprise by people who accessed its servers and started posting results on August 7, day before elections. Later, he said they altered results from 10,000 polling stations which is a quarter of the units nationally.
So what happens if Jubilee wins the polls without NASA's participation?
"We will decide that when the time comes," was the answer.
But, is there time for jostling given that the election is 34 days away?
A lot of it, according to Raila. The Supreme Court, he said gave IEBC 60 days to organise a fresh presidential election. "It can be held on September 24 or October31," he maintained.
What about the economy?
This didn't come from Yvonne but himself. He said a lot of money had been lost and the sooner an election was held and put behind us the better.
How would he rule without the numbers in Senate and National Assembly?
The Executive always negotiates with the Legislature. Remember there are also independents, he explained.
Kenya is split down the middle. How would heal the nation?
He would eschew the politics of exclusion, which he accused Jubilee of practising, and unite all the people.