Jubilee Party to recruit and lock in members with Sh20 smart cards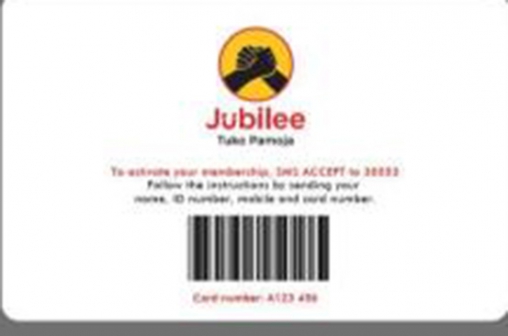 Jubilee Party will roll out a high-powered re-election campaign strategy next week, The Standard on Saturday can report.
The initial phase entails a massive registration of members using superior technology in a campaign to be launched by President Uhuru Kenyatta on Friday at the party's headquarters in Nairobi.
The launch was set for Monday but was pushed to Friday to allow the President attend the burial of former Kanu stalwart Mark Too, who resigned as Nominated MP to pave the way for his nomination to Parliament.
Yesterday, JP Vice Chairman David Murathe said it is necessary for party members to validate their membership and guard against infiltration.
The President will inaugurate a unique smart membership card that will contain a member's name, identity number and mobile phone number, making JP the first political party in Kenya's history to use smart technology to recruit supporters.
It will cost every member Sh20 to acquire the card. To activate it, a member will send a text message with the word accept to 30553, after which they will be prompted to complete registration by sending their name, identity number and card number.
The smart card is connected to the database of the Registrar of Political Parties and that of the Independent Electoral and Boundaries Commission (IEBC). This will ensure supporters are duly registered as JP members and registered voters.
"This is not just any other registration, you will use your phone to activate your card. We want to ensure that our members are not just members. They must be people who are registered as voters and officially as JP members. If you are a member of another party and try to register through our card system, it will prompt you to respond to questions like 'sorry you are a member of another political party, do you wish to resign and register as a JP member?'. But if you are a member of JP, then it's a fairly straight forward procedure," said Murathe.
The smart card is meant to assure all aspirants on the Jubilee bandwagon free and fair primaries.
"One way of guaranteeing free and fair nominations is by having a readable barcode on the smart card which will contain a member's details. Only members registered under the smart card programme will participate in the JP primaries," said Murathe.
Following the launch of the membership recruitment drive on Friday, the party will then embark on the second phase of its strategy, which will involve inauguration of interim party officials from the national to the ward level.
"We've been working round the clock and we are now ready for the campaigns. There will be many more activities happening in quick succession and culminating in the polls," a highly placed source at the centre of the strategy team said.
Sources privy to the campaign strategy said an agreement has been reached to hold elections for party officials three months after the August 8 General Election.
The launch comes at a time CORD has threatened street protests against the passing of amendments to electoral laws.