MP Serut, former MP Kapondi in another scramble for Mt Elgon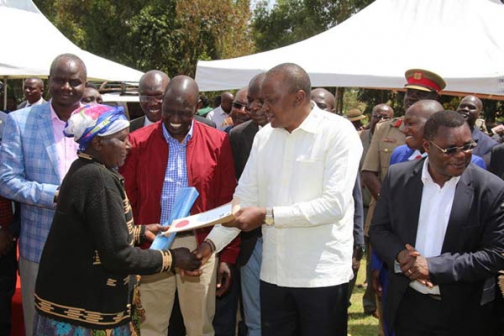 The battle lines for Mount Elgon parliamentary seat in the expansive Bungoma County have been drawn. Sitting MP John Serut will do battle with longtime nemesis and former MP Fred Kapondi, again.
If what happened last week during a tour of the region by President Uhuru Kenyatta and his deputy William Ruto, is anything to go by, Seruti and Kapondi are set for fierce showdown. Serut, who run as an independent candidate in 2013, beat Kapondi to whom he had lost the URP nominations.
But the MP is now back to the Jubilee Party - he took advantage of President Kenyatta and DP Ruto's visit to announce his defection.
"Those thinking that Jubilee belongs to them are cheating themselves. From now onward, I am going to lead Jubilee campaigns in Mt Elgon," declared Serut.
But the President asked him to make a firm decision on whether he was in Jubilee or out. "John is my friend, he has stood here to say he is in Jubilee, but I don't know whether tomorrow I will again listen over the radio that he was somewhere talking a different language," said the President.
Kapondi exuded confidence that he will win the Jubilee nominations in 2017. Kapondi had a brief chat with the President after the commissioning of Kopsiro-Kapsokwony road.
"Many people have an interest in the Mt Elgon parliamentary seat. The weight is on my side as my people want me to go back to Parliament," he said.
Uhuru and Ruto assured that region that Jubilee nominations will be free and fair and that the loser will support the winner. Jubilee is keen on Mt Elgon's 60,000 registered voters.