Jubilee has given Coast people a raw deal, says CORD leader Raila Odinga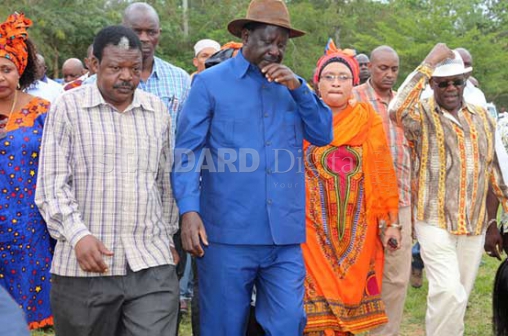 CORD Principal Raila Odinga and other Opposition leaders have accused the Jubilee government of failing to implement land reforms in Coast.
They also blamed the government for the poor performance of the tourism sector following increased cases of insecurity.
Speaking in Kilifi County yesterday, the leaders pledged to reopen investigations into political assassinations since independence if CORD takes government next year.
At the same time, CORD accused Jubilee of protecting commissioners of the Independent Electoral and Boundaries Commissions and promoting totalitarian rule to win next year's elections.
Addressing supporters outside Pwani University, Raila declared CORD is not afraid of Jubilee and claimed that President Uhuru Kenyatta and his deputy William Ruto had failed to implement economic, political and social reforms.
The CORD leader said the government had given the Coast people a raw deal and termed the recent appointment of former political leaders to parastatal boards "a ridicule to veteran politicians".
He said this was aimed at luring the region to support President Kenyatta's re-election in the next polls but he said it was too late.
Speaking in Rabai Constituency, Raila claimed that the funds the government had acquired had been stolen and stashed in offshore accounts. "All appointments to the big posts in this government are going to two tribes. The recent appointment of old politicians from the region to parastatals is like leftovers given to dogs," said the former PM.
Raila ended his two day tour in Kilifi where CORD leaders in the county also criticised ODM's Secretariat for failure to crack the whip on members who have deserted the party.
"I have personally written to the secretariat asking it to remove one.