Small parties eye stake in CORD stronghold ahead of next year's elections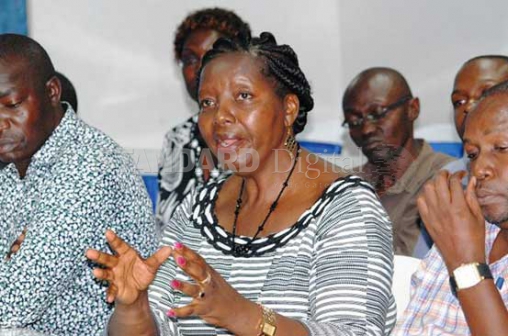 The Coalition for Reforms and Democracy (CORD) appears to be the target of political parties eyeing the opposition's Nyanza and Western Kenya strongholds.
And it is not just CORD's main rivals Jubilee that wants to raid the party. Even smaller parties in the region seem to be lying in wait to woo members of CORD's affiliate parties in anticipation that the choice of a presidential nominee will result in a fallout among the coalition's co-principals.
The Citizens Conventions Party (CCP), which was launched two years ago in Kisumu, is targeting youth and women who feel neglected in more established political parties such as the Orange Democratic Movement (ODM).
"We are targeting youth and women because they are the most affected by shambolic nominations in the bigger parties," said CCP leader Grace Akumu who wants to become Kisumu Women Representative.
Mrs Akumu says CCP wants to offer voters a chance to choose leaders they want and not those imposed on them by the more established political parties. The party will soon open an office in Kisumu, said Akumu.
"We have received an approval from the county government to construct Kisumu office," she said.
Although it has not been independently confirmed, Akumu said the CCP would be an affiliate of CORD but asked its leader Raila Odinga to allow other parties to field candidates for elective seats.
The National Alliance (TNA) party is also hoping to raid the strongholds for members and consolidate its position in the opposition zone.
The party's Secretary General, Onyango Oloo, said they would begin to canvas for support once TNA and the United Republican Party (URP) are merged under the umbrella Jubilee Alliance Party (JAP).
"We are looking at a multi-faceted approach in marketing Jubilee and making inroads to areas perceived CORD strongholds. Much of this will become more evident after the merger," said Oloo.
Nevertheless, TNA has embarked on recruitment drive to strengthen the party in a region that voted overwhelmingly for CORD in the last General Election, said its County chairman Ben Adega.
Mr Adega said they have tasked their members at the sub county level to ensure each member enlists 20 newly-registered members.
"We have also moved from a small office along the Kisumu-Kakamega Road to a larger one which was branded few weeks ago and is already functional," he said.
Intriguingly, URP has not left the recruitment to TNA, a partner in the ruling coalition.
Nyanza URP Chairman Zuberi Liete said they are targeting the youth, and noted that recruitment is underway in Kisumu, Siaya and Homa Bay.
"This time we must get five to 10 MCAs for URP across Nyanza so they can champion Jubilee's agenda and provide oversight over counties in CORD strongholds," said Liete.
Another political outfit, the People Democratic Party (PDP), also wants to have a go at recruiting CORD members.
However, its endeavours have been hampered by a lack of funds, party leader Omingo Magara said.
In the last General Election, the party capitalised from the fallout after the ODM's shambolic nominations in parts of Nyanza. Some disgruntled ODM members defected to PDP and clinched seats. They included Migori Governor Okoth Obado, Muhoroni MP Onyango K'oyoo and a host of MCAs.
Federal Party of Kenya (FPK) is seeking to have at least one governor elected under its banner in addition to five senators, 20 MPs and 150 MCAs. Currently, they have one elected Senator Ali Bule (Tana River), three MPs and 16 MCAs in Nyanza and Western.