Opposition coalition CORD alleges plot to rig 2017 polls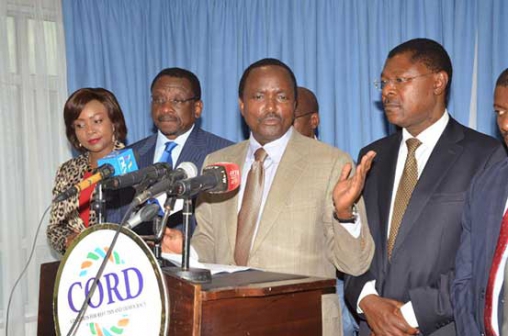 NAIROBI: The Opposition has alleged a plot by the Government to use security agencies to manipulate next year's General Election.
CORD leaders also warned that time was running out for the Independent Electoral and Boundaries Commission (IEBC) — which they accused of favouring the Government in the recent Malindi and Kericho by-elections — to demonstrate to Kenyans that it had the independence and competence to run next year's polls.
"The use of security forces and Provincial Administration sends worrying signals ahead of 2017 elections," CORD leaders Kalonzo Musyoka and Moses Wetang'ula told a press conference in Nairobi, citing heavy police presence in Malindi.
They claimed that Jubilee was poised to lose the 2017 elections, adding "its sole plan for retention of power is clearly the use of force, bribery and manipulation of IEBC".
They questioned why IEBC had not acted on alleged cases of voter bribery and vote buying.
Separately at Parliament Buildings, 15 Opposition lawmakers warned that they would press for disbandment of IEBC should it fail to take action against Cabinet secretaries who were involved in campaigns for the two mini polls.
Led by Kitutu Masaba MP Timothy Bosire, the MPs called on the electoral body to speedily take legal action against Energy Cabinet Secretary Charles Keter and his Mining counterpart Dan Kazungu, whom they accused of openly violating the Constitution and the Elections Act by acting like the chief campaigners of Jubilee candidates.
"The Constitution requires State and public officers to be neutral and keep off supporting any political party activity at all times, and those who do are liable to criminal proceedings and there is overwhelming evidence to convict them," said Bosire.
"The blockade of Malindi before and during the polls was similar to the 2013 elections when stage-managed attacks at the Coast, followed by blockade of the area, was used as an excuse to block residents from going to the polls in the name of security," claimed Kalonzo.
The Wiper Party leader further compared the happenings to the "blockade of the Kenyatta International Convention Centre (KICC) and the entire city of Nairobi ahead of the declaration of fraudulent election results in 2007."
The Opposition leaders also took a swipe at the IEBC, terming it partisan and working at the behest of the Government.
The coalition said there would only be a credible election if the electoral body was reconstituted and insisted that the country must go for the Okoa Kenya Initiative, which among other things seeks to reconstitute the commission.
"We equally congratulate Kanu for a battle well fought in Kericho against monumental odds mounted by a partisan and incompetent IEBC and equally partisan Government agents that were determined to give Jubilee the seat," added the former vice-president.
"Our people will not accept another rigged elections. We know IEBC is siding with the State to frustrate a free and democratic electoral process," he said.
CORD said the ruling coalition had lost all the by-elections it had occasioned, and had now resorted to intimidation of the Opposition.
But in a quick rejoinder, Jubilee's majority leaders in Senate and National Assembly Kithure Kindiki and Aden Duale dismissed allegations by CORD, terming them as a "familiar narrative" that its leaders have always employed whenever they sense defeat at the polls.
Prof Kindiki said Jubilee would not employ any extra-legal mechanism to win the elections, claiming they have still maintained to hold their 2013 support base and made serious forays in hitherto CORD strongholds.
On CORD's congratulatory message to Kanu for impressive showing in Kericho, Duale said the statement did not come to them as a surprise.
"We all along knew that CORD was supporting Kanu in Kericho. I hope the statement we made in the polls was also an indicator to them that they have no room of winning any votes in the Rift," said Duale.
Use logic in mobilising voters to register
Kenyan politicians have resorted to bizarre and reprehensible tactics of coaxing reluctant would-be voters to enlist with the Independent Electoral and Boundaries Commission (IEBC) ahead of the August 2017 General Election.