ODM in delicate balancing act as it woos rebels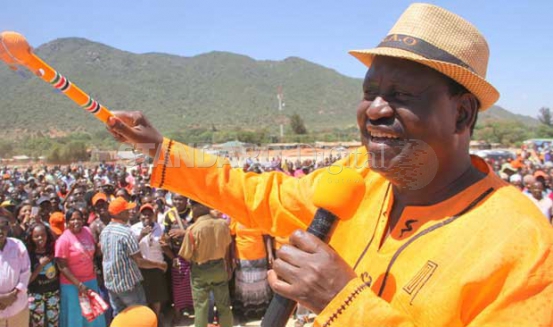 Orange Democratic Movement (ODM) is facing a delicate balancing act and is torn between punishing rebels and winning back defectors who are popular among voters.
A few days after Coalition for Reforms and Democracy (CORD) cracked the whip on rebellious members of the National Assembly, anxiety is building up in the party.
While the party's leader Raila Odinga has welcomed defectors to return "home", ODM Chairman John Mbadi has maintained that they can no longer tolerate indiscipline in a message directed at rebels and defectors.
In an open show of defiance, MPs Gideon Munga'ro (Kilifi North), Mustafa Iddi (Kilifi South) and Kwale MP Zainab Chidzuga have openly been campaigning for the Jubilee candidate ahead of the March 7 Malindi by-election.
As part of the disciplinary measures, the party withdrew their membership from committees in the National Assemly.
Reacting to the current happenings at the party, Kisumu West MP Olago Aluoch said: "While Raila is welcoming us back, chairman John Mbadi and some leaders are treating us with suspicion."
Asked whether he plans to rejoin ODM, Aluoch said he has not decided whether or not to make that move.
"My loyalty to Ford Kenya is steadfast and I am enjoying some peace in the party, even as I study the wrangles within ODM," said Aluoch.
Part of the reason Aluoch is undecided is because he feels he was treated unfairly during the ODM primaries in 2013.
The Kisumu West legislator wants ODM to stop intimidating other candidates who want nomination.
With rising cases of indiscipline among members, Mbadi has asked the disciplinary committee to expedite pending cases at the Orange House.
"There are many MPs who have publicly denounced our party and declared their support for our rivals. Some do not even vote with us in Parliament," said Mbadi.
The ODM chairman accused the Fred Athuok-led disciplinary committee of failing to crack the whip on renegades even when evidence has been presented in the Hansard. However, Athuok said many of those cited had been presented with findings of the disciplinary committee.
However, Mbadi does not think the committee has moved fast enough.
"The committee needs to speed up investigations, give us the outcome so that they can be pushed to the Registrar of Political Parties for action," said Mbadi, even as he warned voters to be wary of potential defectors.
Idd and Chidzuga have protested their removal from the National Assembly committees.
"What the party did was undemocratic. I was elected to represent my people in Parliament and in committees and so my removal from these committees amounts to partial representation," said Idd.
Idd and Ms Chidzuga said they chose to support Jubilee Party's Philip Charo in the Malindi by-elections to protest against what they described as ODM's flawed nominations process. Willy Mtengo secured the ODM ticket.
"We cannot be forced by ODM to support somebody we feel had lost in the party primaries. The nominations were flawed and we have decided to support an individual and not a political party in the Malindi by-election," said Chidzuga.
Mung'aro has also defended his actions and said his decision to work with the Government was prompted by his sacking as parliamentary chief whip to pave way for Wundanyi MP Thomas Mwadeghu.
Lunga Lunga MP Khatib Mwashetani of CORD affiliate party Ford Kenya has also cast his lot with ruling coalition
In Nyanza Migori Governor Obado, MPs Aluoch, Onyango K'Oyoo (Muhoroni) and Omondi Muluan who were elected on CORD affiliate parties, and their attempts to return to ODM are being undermined by their potential rivals who says they should not be trusted.
As Raila prepares to take another shot at the Presidency, the CORD leader has for the past four months been calling for tolerance and offering an olive branch to those who defected from ODM in 2013 after the shambolic primaries.
Reports by David Ohito, Rusdie Oudia, Patrick Beja