Jubilee affiliate parties exude confidence of merging by December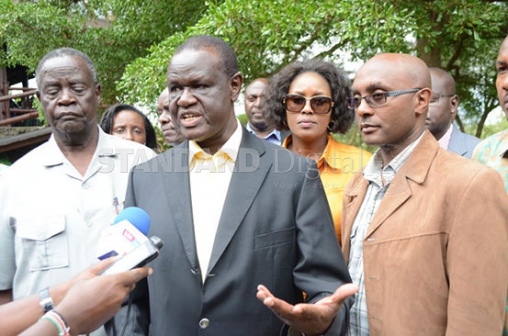 NAIVASHA: The Jubilee coalition affiliate parties will now collapse and form one party by the end of this year.
The coalition's national steering committee announced that they had finalized all the necessary documents for all parties to form The Jubilee Party.
According to the committee's chairman Kiraitu Murungi, there will be a national convention next month where the 12 parties of the coalition will come together and join the new party.
Murungi said currently they were discussing the new party's structures colours, Logo and slogan.
"Our Main purpose is to break the balkanization of our politics through negative ethnic and regional parties in order to have a strong regional party".
The Meru Senator was speaking to the press during a retreat of the National Steering committee and National executive members of the 12 parties in the Jubilee coalition at the Great Rift Valley lodge in Naivasha.
He said after the meeting, the coalition will meet governors and members of county assemblies ahead of the expected merger later next month.
'The meetings have will be conducted beginning next week in every county and we have planned to meet the coalition's parliamentary group, and leaders at the county level".
The chairman said the specific parties have been scheduled to convene their respective National Governing Council that will now approve the merger to the new party.
"The train has already left the station and we are not looking back therefor we are determined to make The Jubilee Party the largest and the most vibrant in the country".
The committee's co- chairman Noah Wekesa on his part said they were building a party that will last for decades in the country.
"We are not making this for elections only but for the future and we want a system like the one in India, USA and Britain where two or three parties are major parties".
The former minister said the door was still open and said that other likeminded parties were welcome to join the new outfit.
TNA chairperson Johnson Sakaja on the other hand downplayed fears that there was discontent among member parties over dissolution of their parties.
Sakaja said they had all agreed in principal of the new Jubilee Party adding that all the necessary legal and institutional measures were being put in place.
"We are confident that we will join the jubilee party by the 19th of December this year because the party is not about individuals but for Kenyans at large".
Kipipiri MP Samuel Gichigi on his part termed the new party as the party of choice and one to watch out during the next general elections.