Corruption, tribalism conspire to hold Kenya to ransom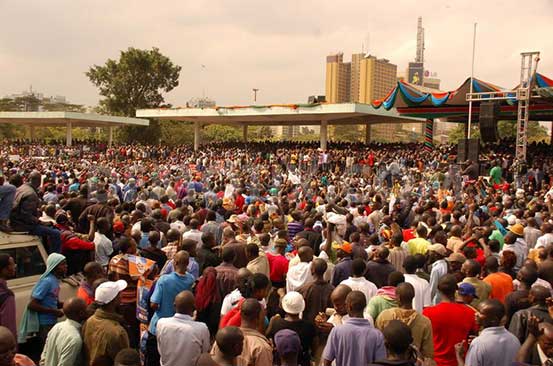 NAIROBI: Corruption is deeply entrenched in the Kenyan society and government, such that it is now challenging the existence of the very networks it thrives on.
Multiple sources within and outside government tell the story of "a captured state" managed from the periphery by shadowy characters working in cahoots with powerful mid-level bureaucrats who "move things" within the system.
This makes substantive office holders unable to have firm control of their institutions or even issue simple directives to junior officers.
Nothing best demonstrates this than President Uhuru Kenyatta's directive to have all procurement and accounts officers in his office transferred. He was defied.
"I said this recently, if the country, citizens and the political class, through moral conviction, ethical courage, and political resolve, do not in a principled and consistent manner rise up against corruption, then we risk having corruption as the fourth, if not, the only, arm of government in Kenya," Chief Justice Willy Mutunga told The Standard on Sunday.
Dr Mutunga warned that corruption in Kenya is worse because it has interlocked with ethnicity and captured political processes.
Indeed, there are those who say President Kenyatta's directives have never moved beyond that because he is a victim. "I will reiterate what I have said before because this is the truth. The irreducible minimum for a successful corruption fight is a political leadership that is committed, one that is ready to pay an electoral price to win the war," Mutunga said.
The President's adviser on legal and constitutional affairs Mohamed Abdikadir agrees with the CJ. He says the Presidency fully appreciates the magnitude of the problem and its potential to shake the foundations of the state.
"That is why the President drew the red-line in the first place. He is genuinely committed to fight. If he was not serious, why would he ask his top ministers to step aside? He was close to some of them. Some of them were political assets to him if you look at it from the point of view of raw politics," Abdikadir said.
Those who buy this view say the anti-corruption purge is costing the President twice through pressure from his coalition partners to have suspended Cabinet Secretaries back and pressure to keep them out.
Abdikadir however, says although a lot of focus is given to the leadership of the ministries, the elephant in the room is the mid-level bureaucrats who are deeply entrenched within the system.
"The pervasive nature of corruption is such that away from the officialdom, parallel structures are set up within governments making it difficult to slay the dragon. That requires a lot of strategy, patience and political will," Abdikadir added.
Dr Francis Owakah, a consultant on African philosophy, culture and value analysis however, believes the problem lies in the lack of political will at the top. He says Jubilee's ascendancy to power in 2013 was devoid of an underpinning ideology which would anchor their actions and behaviour.
He says at the time it was easy for Jubilee to make all manner of corruption in light of former President Kibaki and former Prime Minister Raila Odinga's grand coalition progressive years in power.
"Just look at the Cabinet as constituted right now. Did you know any of those people before? Apart from one or two, what mark did they make wherever they were? They needed to lace their Cabinet with men and women who can make tough decisions when they have to, not boys who want to grow potatoes in Tigoni," he said.
According to Owakah, the nature of public leadership is such that if you are not sacrificing as a leader, your followers will equally hold back their sacrifices.
"Tell me, why do you have to be honest in Kenya? Why should you when it does not pay? That is the kind of reasoning going out there. People can see everyone eating right, left and centre with no meaningful reprimand. It has reached a level where the few honest people around give up," he said.
Former anti-corruption boss in the Narc administration John Githongo concurs with Owakah saying despite clear and articulate pronouncements against corruption by the top leadership, there doesn't seem to be any serious interest to tame graft.
"Under President Kibaki, there was a measure of genuine will and a lot was achieved in a very short period of time. But under the current regime, corruption is not a major agenda. People may have stepped aside yes, but you see this stepping aside has become a dance of sorts. No one takes it seriously anymore," Mr Githongo says.
The former anti-graft boss says the crisis of corruption at the moment is nothing new. He notes that it has been persisting since 2013 but it's now being "brought home" to ordinary Kenyans through harsh economic times occasioned by over-borrowing, overspending and over-stealing within government.
"That does not mean it's not a crisis. In fact, the most damaging thing is when perception overtakes reality like it is happening right now. It makes for a perfect recipe for political volatility," he warns.
The despondency in anti-corruption drive is further exacerbated by weak legal framework presided over by a distrusted Legislature which has disbanded anti-corruption institutions whenever they touched their interests.
Members of Parliament, however, remain defensive on this matter: "Corruption is fought at society level. It's largely a moral fight at individual level. You pinpoint an institution and blame it for the corruption we are witnessing around. It's a collective responsibility," Dagoretti South MP Dennis Waweru told The Standard on Sunday.
The Truth, Justice and Reconciliation Commission (TJRC) report of 2013 complained about the failure to fully entrench Ethics and Anti-Corruption Commission (EACC) in the 2010 Constitution. Although established by the Constitution, EACC is the only commission whose functions are not prescribed in the Constitution.
"It's a glaring omission that left room for speculation, ambiguity or interference while enacting the respective enabling statutes. More ambiguity and confusion manifested itself in the definition of integrity threshold and the interpretation of the role of EACC, especially in ensuring compliance with Chapter Six together with the Leadership and Integrity Act."
"This may perhaps explain the varied definitions of the integrity threshold to be applied to those seeking public office, by Parliament, the Judiciary and civil society," the TJRC report said.
The report warned that Kenyans may have to wait longer to enjoy the fruits of leadership governed by integrity due to failure to get it right before the first election under the new Constitution in 2013.
The report accused the Judiciary for creating this confusion by stopping former EACC chairman Mumo Matemu from accessing the commission on account of claims but allowing Jubilee leaders "indicted by the ICC and facing trial" to ascend to presidency.
Experts now say the despondency created by runway corruption under the Jubilee administration is dangerous:
"Until now, people had not felt the pain of corruption. They are starting to feel it. In such circumstances, you only need one match stick to light a fire which will consume one and all," Owakah, who also teaches philosophy at the University of Nairobi warned.