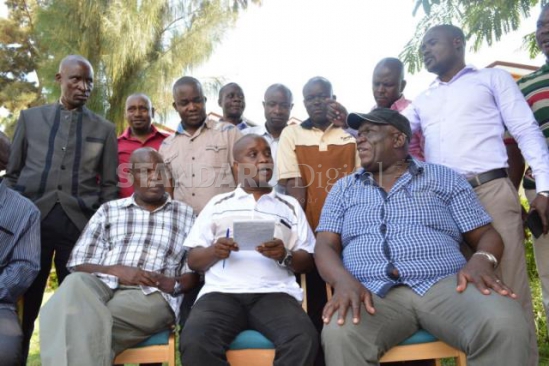 Kakamega Members of County Assembly (MCAs) have given President Uhuru Kenyatta a one week notice to cancel a sugar trade pact with his Ugandan counterpart Yoweri Museveni.
The ward representatives noted that if the President fails to withdraw the agreement, they will mobilise sugarcane farmers and transport them to State House, Nairobi to camp there until he acts.
The MCAs who were speaking at a Kisumu hotel also condemned MPs from Nyanza and Western regions for being compromised and sell-outs who are ready to abandon their people for selfish gains.
"Some of us have been given air tickets by MPs to travel to Nairobi so that we join them and go to State House. We understand that the MPs want us to support the sugar deal by the President. We will not do this as it is betrayal to our people," said Robert Makhanu, the county assembly majority leader.
He added, "We are appealing to voters to put on notice those MPs who are out to kill the sugar industry. They are the ones who cry loudly that the industry is dying yet behind the farmers' backs, they are going to President for hand-outs."
Stephen Ambulwa, chairman of the county's trade committee condemned the Jubilee government and MPs who are not keen to see the sugar sector is revived.
"Our leaders are malicious, cheap and whose only interest is self-enrichment. They are even willing to sell their motherland," Ambulwa said.
The leaders noted that they can't keep quiet as sugar farmers continue to suffer.
"Our people have suffered enough and with the new Constitution that supports devolution, we shall not allow the country's leadership to continue marginalising the region economically."
Alex Khamasi who chairs the Environment committee called on the Jubilee government not to punish those who did not vote for it.
"We have no apologies to make for not voting for Jubilee as this is our democratic right. The Government is keen to kill the sugar industry as it develops coffee and tea," Khamasi noted.
He added, "Sugar farming supports 500, 000 people directly and one million people indirectly. If we let it die, we are killing many livelihoods."
Namamali ward MCA Kelvin Olengo (elected on a Jubilee ticket) called on the President to withdraw the sugar deal for the sake of Kenyans.
"Let the President revoke the agreement and continue rescuing the ailing industry. He gave Sh1 billion to Mumias factory and promised us Sh4 billion more. Let him revive Mumias and the rest of the sugar firms to save our people," Olengo said.