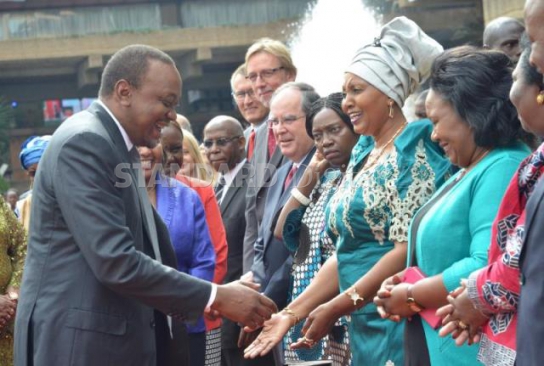 President Uhuru Kenyatta has backed women's quest to have the two-thirds gender rule implemented.
But the President also challenged women, who are the majority of the population, to use their numbers and voting power to ensure their voice is heard in national affairs.
Controversy has erupted over constitutional requirement to have women have no less than a third of all elective posts.
Speaking yesterday during a meeting of women leaders in Nairobi, the President said it is his obligation to protect the Constitution, including its provisions on gender equality.
"The Constitution imposes a duty on the State to use legislative and other measures including affirmative action to realise gender equality," he said, adding: "Gone, then, are the days when these issues could be taken lightly or glossed over. Gone are the days when empowering women was viewed as a favour to our women or an attempt to make us look good."
Read More
He wondered why women cannot increase their representation when they form at least half of the voting population.
Runyenjes MP Cecily Mbarire, who is also the chair of the Kenya Women Parliamentarians, called on the President to join the two-thirds campaign by prevailing upon MPs in the Jubilee Alliance to vote for it.
Majority Leader Aden Duale has introduced the Two-Third Gender Laws (Amendment Bill) 2015 seeking to effect the constitutional principle.
"We have been lobbying our male MPs to support the bill and adding your voice would help mobilise more support in Parliament," she said.
The conference brought together gender and women affairs ministers from Africa. The meeting is meant to take stock of the progress made in empowering women in the last 30 years after the 1995 Beijing Plan of Action.
The President said that Kenya has made strides in gender employment including 25 per cent representation in Parliament and 31 per cent in Cabinet. Also present was Devolution and Planning, Cabinet Secretary Anne Waiguru.