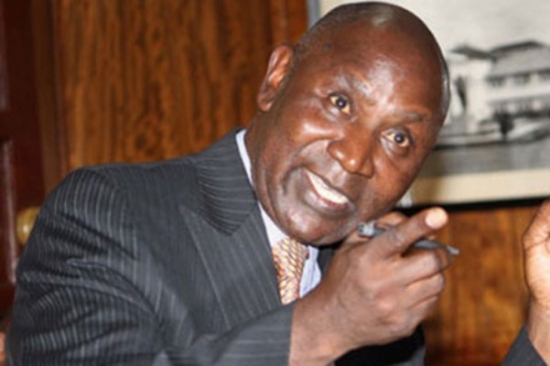 Nyandarua Governor Daniel Waithaka faces a fresh onslaught from his political rivals following revelations by the Auditor General that Sh400 million may have been lost by the county government.
The row between the governor and his adversaries led by Senator Muriuki Karue culminated in an ugly incident last week at Olkalou trading centre where the senator was stoned at a public meeting he had organised to discuss the audit report.
Area MPs led by JM Waiganjo (Ol Jororok) Waweru Nderitu (Ndargwa) and David Kiaraho of Ol Kalou have also weighed in on the issue, demanding that the Governor accounts for the lost funds.
Karue was forced to cancel his meeting after a group of rowdy youths shouting slogans in support of the governor demanded that it be stopped.
"This is public money and residents have a right to know how it is being spent. I have no problems with anyone. I am only opposed to corruption getting its way in Nyandarua," he said, accusing the governor of hiring goons to disrupt the meeting.
Read More
The political heat generated by revelations that the county may have lost more than Sh400 million in the 2013/14 financial year has forced the governor to suspend 13 senior officers in his administration.
Among those suspended is the County Roads Executive and the Chief Officer in charge of Finance.
Since taking office, Governor Waithaka has reshuffled his Cabinet several times in a bid to assert his authority following differences with his deputy Waithaka Mwangi Kirika.
Among the irregularities cited by the Auditor General is the controversial procurement of a feasibility study of OlKalou town sewerage system through an agreement with Tahal Group of Israel.
MCAs' threat
The Sh54 million deal was the source of a fall out between the governor and his deputy early this year.
The report further shows that the county government irregularly leased county offices at a building in Olkalou town through single sourcing.
But the Governor and his supporters accuse Karue of trying to use the Auditor General's report to revive his dwindling political fortunes.
"Everyone knows the channel to use to solve the problem and not incite the public. This is politics of yesteryear," the Governor told a crowd.
But local MPs have vowed to put pressure on him in a bid to end corruption in his administration.
The tussle between the governor and the legislators seems to have also sucked in the county assembly after MCAs passed a Motion to register displeasure with the Senator.
The MCAs said they will send their complaints to Senate Speaker Ekwe Ethuro.
Majority Whip John Gachari accused the Senator of disregarding the assembly, which he argued has oversight over the Executive.