Yes, many cops are sick in the head, and it's all work-related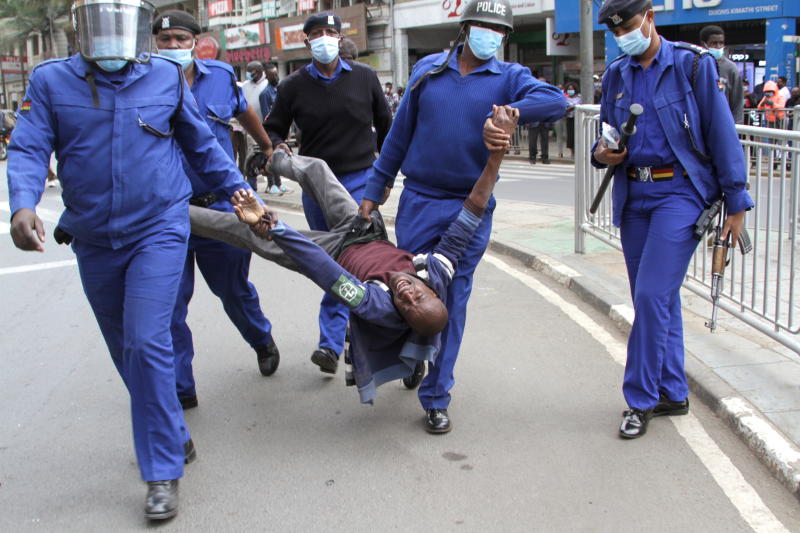 The Inspector-General of Police, Hillary Mutyambai, said some 2,000 officers are suffering from one form of mental illness or another. That's about 0.02 per cent of our force comprising some 100,000 officers. This is statistically negligible, unless of course you bring all the crazy cops into one station.
Well, most Kenyans probably feel as though all stations are manned by crazy cops, given the sort of antics that get reported from time to time.
IG Mutyambai being a good and sane cop, however, attributes this phenomenon to poor screening at the point of recruitment, perhaps due to financial inducement, which allows recruiters to take in unhealthy candidates.
That's an insane proclamation to make, but that's not to say there is neither corruption in the recruitment process, nor the possibility of unhealthy cops being recruited. Rather, IG Mutyambai needs to take a long shot at existing policies and concede that some are pretty insane.
If a perfectly healthy young man or woman is recruited into the police force by slapping some thousands of shillings onto the palm of a recruitment officer, this is a business investment that will drive the cops nuts, if they can't recoup it fast enough.
After all, the cop is joining the force premised on a few things: that by bearing black boots and a baton, blue uniform and a sash, the policeman's fortunes will transform overnight.
As we read in the newspapers this week, a cleaning supervisor with the Kenya Prisons Service 'miraculously' acquired an estate worth Sh257 million, even though his monthly salary is only Sh20,000.
Our policeman will probably access even higher stashes of cash at the local branch of a national bank that he's deployed to guard. But unless he conspires with crooks to make a dash for the cash, he might be shot in the leg to distance him from the heist, and he will never be able to touch even a fraction of the loot recovered from the prisons cleaning man.
Rather, he will discover he needs to bribe even more people to get a deployment to the traffic unit, which is considered lucrative, or else his house will never smell of frying onions, as his neighbour's.
In fact, his neighbour is actually a roommate, since their units are separated by a flimsy curtain, as he's trying to save his salary and send younger siblings to school. Still, he's grateful he is not living out of the mud and wattle huts that generations of police officers were previously committed into.
We haven't spoken of the arduous walks back to base he has to bear. He long learnt that while he and his colleagues are promptly ferried to work, it's quite another matter when the work is done. They have to find their way back to base.
And unlike in the past when his uniform was enough to grant him a free pass on the defunct Kenya Bus Service, no matatu is ready to let cops travel without paying.
Still, this is the "sane" part of police work; other colleagues will be deployed to deal with marauding youth in the streets and run the risk of getting their skulls cracked open by rocks; while others will be dispatched to pick bodies where lovers ran amok and butchered their partners.
Did we talk about sites of road carnage where motorists are burnt beyond recognition? Or slum fires? And how many officers receive post-traumatic counselling? You're right, Bwana Mutyambai, police work is insane!