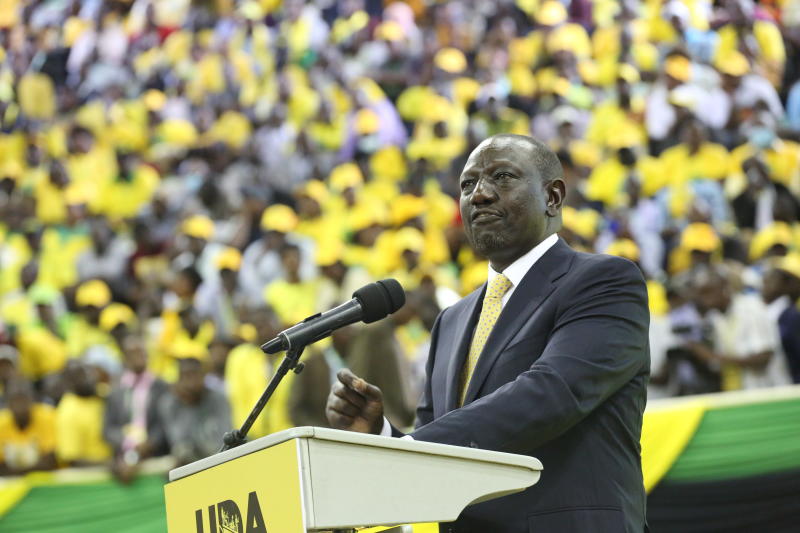 It's fascinating to see how politicians just love Kasarani, despite the visanga that unfold there! Ask Tinga aka Baba and what happened there in 2002. Or even Jimi Wanjigi aka James Bond, early this month.
This week, it was Deputy Prezzo Bill Ruto's turn, ascending to the rostrum where he was unveiled as the United Democratic Alliance (UDA) presidential candidate.
Ruto's hour of glory was preceded by a one-hour blackout, when scribes were hounded out of the stadium, or wherever the party delegates, 5,000 of them, had assembled to debate their candidate of choice. Ruto then emerged, garlanded by a staccato of sound lights and effects, holding a Bible, ready to take an oath of unspecified purpose, with his wife, Mama Rachael, beside him.
It might seem preposterous to eclipse Ruto's crowning glory, after a four-year frenzy of campaigns, riding on wheelbarrows on bumpy road, and even using a special barrow that coursed through the sea, like a whale, to deliver him to the US and the UK.
I am not persuaded, as some folks argue, that Ruto's momentary expulsion of scribes from his party deliberations signal whimsical tendencies that could jeopardise Press freedoms should he ascend to power.
I wouldn't read too much into that; after all, Ruto is just a hustler from Sugoi who sold njugu karanga by the roadside, and isn't so savvy about such things. See, even Defence Minister Eugene Wamalwa ridiculed Ruto by claiming when the DP left his audiences abroad in stitches, for bad-mouthing his boss back home, he was unable to discern those folks were not laughing with him, but at him.
Wamalwa, of course, is a sophisticated man who would understand white mannerisms. He even speaks in clipped English.
Back to Kasarani. Five thousand men and woman in yellow of all shades are assembled. The media are ushered out to wait behind the tent, as the party owners discuss modalities of picking their presidential candidate.
In the absence of media coverage, we can imagine a few possibilities. We know from past episodes that politicians mobilise their bases and bind them to an oath that commits them to offer unwavering support, or risk calamitous consequences from the ancestral spirits.
We saw it happen — or it was demonstrated in court — when one politician from Western Kenya mobilised his base at night into a private residence, stripped naked as all manner of stuff was smeared on him, as the rest were ordered to swear to support him or risk destruction.
By contrast, the deliberations between UDA delegates were held in public and in broad daylight. And since Ruto is such a strong Christian — he occasionally gets into fits of spiritual convulsions, even weeping openly and unashamedly — I am not persuaded, even for a moment, that his nyuma ya tent antic featured witches who prayed naked, facing Mount Elgon, anointing him before his swearing-in.
Yet, Ruto's expulsion of journalists from a public event is a significant on one score. If deliberations about his candidature are not canvassed and witnessed publicly, then it is a safe bet that he aims to replicate the antics he so detests about so-called Deep State.
Consequently, he should declare himself the Deep Veep, in place of the "hustler" moniker, as he seems to be replicating the bad manners from those he detests.