Why there is little love lost between Ruto and Atwoli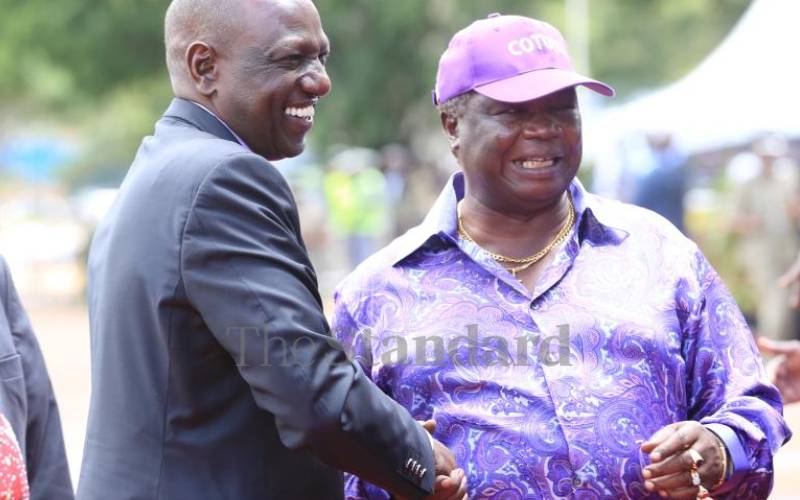 Deputy President William Ruto has been at the centre of a controversy involving Cotu Secretary General Francis Atwoli.
Addressing Kenyans living in London last week, Dr Ruto had an unflattering description of Atwoli and insisted that he had no regret about his choice of words. Previously, he had accused Mr Atwoli of other ills, besides describing him as "the old man who wears chains".
This was not the first time people have thrown unkind words at Atwoli. Mr Waithaka Waihenya, for instance, once described Atwoli as a "blabber-mouthed and temperamental character, suffering from siege mentality and…a man who sees enemies at every corner and breathes fire and growls like the king of the jungle…."
Dr Mukhisa Kituyi, too, once called him ignorant, saying that "every time he opens his mouth he just confirms our worst fears".
More recently, Mr Ahmednasir Abdullahi called him a "goon", while Mr Khakhudu Agunda, a journalist, described Mr Atwoli as "querulous and quite irritating".
Kimilili MP Didmus Barasa, too, has in the past taken a swipe at Mr Atwoli, as has Kericho Senator Aaron Cheruiyot.
But is this what Mr Atwoli is? If not, why does he spark such wrath from politicians, including the Deputy President?
How did the two differ?
It goes back to 2014, when the then Labour minister Kazungu Kambi signed a legal notice revoking the appointments of Mr Atwoli and the Federation of Kenya Employers CEO, Ms Jacqueline Mugo, as members of the National Social Security Fund (NSSF) Board. It was immediately alleged that Mr Ruto could have been behind these changes. Mr Atwoli would later hold a rally and declare to the public that Mr Ruto would never be the president of Kenya.
In 2018, during the Maragoli Cultural Week celebrations, Mr Atwoli and Jubilee Vice Chairman, David Murathe, announced that the "Kikuyu owed nothing to Ruto".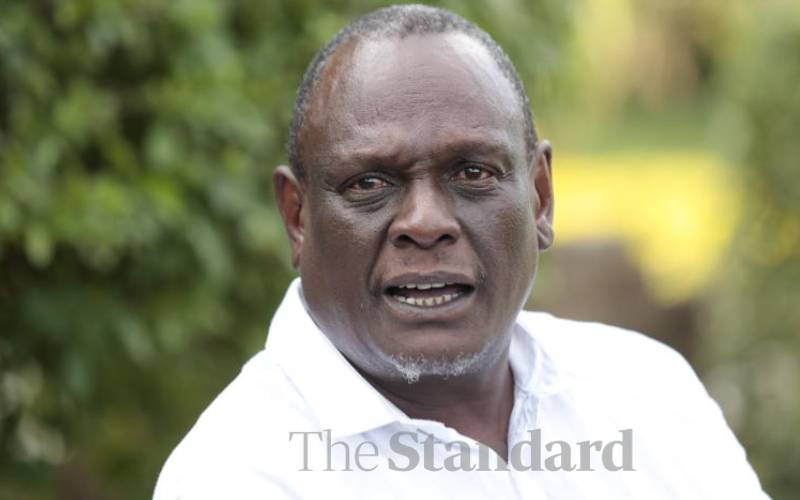 The two then criticised the Deputy President and questioned the role he played in President Uhuru Kenyatta's government.
So, when Dr Ruto made his remarks about Mr Atwoli in London, he had reached a level of built-up exasperation and this came as a result of a series of attacks made by the union leader during Azimio rallies. The most annoying, in my view, was the constant remark that Dr Ruto will never be president. Since being president is Dr Ruto's goal, this may have stung him.
But is Mr Atwoli really what his critics have described him as?
His story is a tale of a risk-taking journey; he is a man with remarkable energy who has struggled to create a world of his own. He once said; "If you count the top 20 people in this country starting from President Kibaki and you leave me out… hiyo hesabu yako utakua umekosea… (you will have gotten your numbers wrong...)"
Mr Atwoli is an ally of President Uhuru Kenyatta. He is a man who, in the 1970s, occasionally enjoyed rare attention from President Jomo Kenyatta at his Gatundu home. He has risen over time, circulating in the circles of the powerful.
Today, he has become a domestic celebrity in both social media and public sphere. Everything he does, or says, or is mentioned about him instantly goes viral.
For instance, barely two hours after the DP took a swipe at Mr Atwoli, social media platforms were teeming with memes with messaging, pictorials and demos depicting the grand old man of Butere in all manner of situations while others castigated Dr Ruto.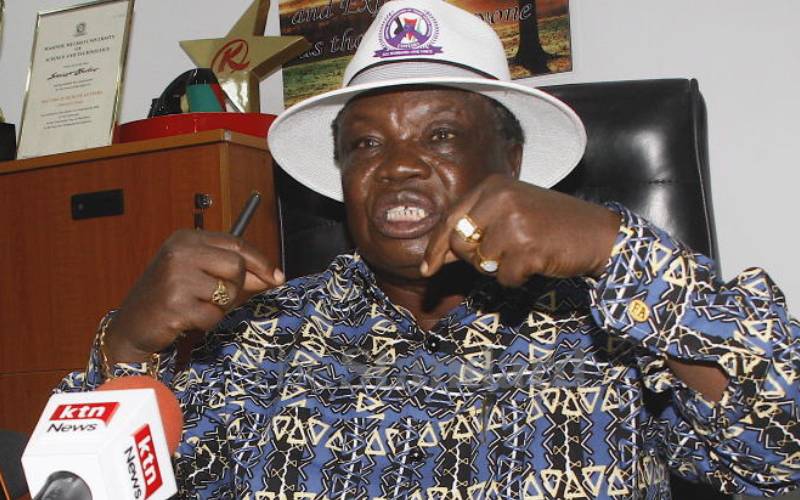 Mr Atwoli's signature exclamations of alaa! and kama sikupendi sifichi (if I don't like you I will be candid with you) have become appendices to lyrics and clips created on Facebook, WhatsApp and TikTok and quickly trend and spread like bushfire.
Thus, the most interesting thing about this Ruto-Atwoli spat is the fact that the two fight each other from different platforms. Dr Ruto does this in meetings and political rallies, but Mr Atwoli, unlike his contemporaries, is quite savvy with his online platforms, a place where thousands of young Kenyans perform and explore their identities.
Ruto seems to be easily offended and bristles at criticism directed at him, but Mr Atwoli's success in life is wired around criticism and controversies. Controversy is a cup from which Mr Atwoli drinks. He loves verbal wrestling. He does not hold an elective position but controversy is the ladder that propels him to political success. You pull him down once, he gets up more energised. In other words, engage him in public verbal war and you lose. His success as a trade unionist stems from his prowess in engaging in such controversies. And he uses humour to drive a point home.
In sum, castigating our political adversaries for their lack of understanding and calling them names is bad for our cohesion and solidarity as Kenyans. We should take a moment to pause and reflect on our own capacity for political absurdity. If we don't, the debates we need to have about our collective future might never happen.