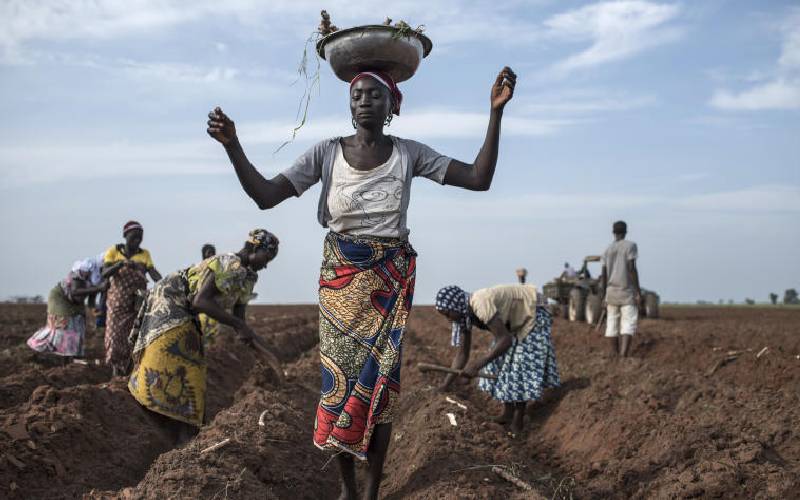 A walk in Karura Forest in Nairobi on a chilly morning is nostalgic. One cannot help but marvel at various indigenous trees and shrubs. One shrub, we learnt, is known as mutati in Gikuyu language (parasol tree).
Its leaves and branches are traditionally used for ripening bananas while its smaller twigs are used as natural toothbrushes. Another tree called muhugu (silver oak) is said to provide ideal firewood that is smoke-free and takes long before the fire goes out.
Within a 10-kilometre walk, we had acquired useful information from an urban forest that still stands due to the efforts of a woman, the late Nobel Laureate, Prof Wangari Maathai!
Women have been the custodians of the environment in traditional societies across the globe. In Africa, they have been the providers of food, stewards of seed banks and decision-makers on energy use at household level.
They have practiced what we currently refer to as sustainable agriculture and circular economy from ancient times, making use of dried elephant dung for fuel, or cow horns for drinking cups. Additionally, they have known the medicinal properties of everyday plants and herbs. All this inter-generational knowledge is disappearing as women are left out of the climate conversation.
Unpredictable weather
Climate change is a reality in Kenya and across the African continent. While Kenya and other developing economies have contributed least to the global emissions that are pushing up temperatures and causing unpredictable weather patterns, we are all bearing the brunt; from locust invasions and drought here at home to typhoons in Mozambique and other parts of the world.
The current era of globalisation and economic reforms is based on the principle of limitless growth in a world of limited resources. This notion can only exist because of the powerful grab the resources of the vulnerable, creating a culture of plunder - one in which nature, local communities and women are on the losing end of the equation.
Science exercises mastery over nature and biotechnology corporations become 'creators'. Thousands of years of community effort are invalidated by the patenting of seed and genes. Unfortunately, rather than resulting in increased food and nutrition security, these human activities are driving climate change and species to extinction.
The so-called Green Revolution has resulted in the increased use of herbicides, pesticides and terminator seeds; and has led to an industrialised agricultural sector that produces up to 40 per cent of greenhouse gas emissions. Technological fixes to the climate crisis, food crisis and energy crisis only aggravate old problems and create new ones (remember polythene bags were created ostensibly to save forests?)
Globalisation is dependent on deregulation of commerce coupled with the privatisation and commodification of seeds, land, water and people. It degrades social values, deepens patriarchy and intensifies violence against women. This results in increased economic vulnerability of women, making them even more at risk in the face of disasters including the Covid-19 pandemic, which brought with it an unprecedented level of violence against them.
While women have always been critical in ensuring the livelihoods and safety of their communities, they have been engaged for several centuries in the effort to create life-affirming societies. In the current context, where 'catch-up' development is based on 'modernisation', attention has been drawn away from women's skills in protecting sustainable local economies.
Africa's Medium Small and Medium Enterprises (MSMEs) sector is dominated by women and contributes over 80 per cent of all consumer goods. However, women are largely left out of critical conversations around the economy and the environment.
The economic interdependence and multilateral norms that globalisation emphasised over the past several decades have resulted in the creation of monocultures controlled by global corporations.
This model focuses predominantly on 'growth' and discounts women's contribution to the economy in general such as the exclusion of the contribution of unpaid work and specifically in climate action.
Despite the continuous climate change challenges in the continent, part of the solution is not more high-level events loaded with jargon and empty promises, but honest conversations that dig deeper into cultural repositories of knowledge and a mutual respect for each other and the environment.
We have homegrown solutions if we include Wanjiku and leverage on devolved functions and opportunities for public participation. Let us take up our responsibility as citizens and not remain passive victims of socio-economic systems that are not working for us and future generations.
Polluting countries
Environmental reparation is a debt owed by polluting countries to those who have contributed the least to this climate crisis. USD 100 billion annually was pledged by developed nations during the 2021 United Nations Climate Change Conference (COP26) held in Glasgow. It is time that industrial nations paid up.
Government, private sector, civil society and citizens in general can adopt policies and business models that build upon stewardship and balance. #BetterTogether is not just a hashtag but strong words that we must live by.
In the words of our young climate activist and founder of the Green Generation Initiative Elizabeth Wathuti, "I believe in our human capacity to care deeply and act collectively," our lives depend on environmental justice.
Ms Maloba is a New Faces New Voices for women in finance – Kenya Champion and an International Cooperation Advisor. Ms Wangeci is a New Faces New Voices for women in finance – Kenya Trustee and an international development consultant in inclusive market systems.